Uplynulý víkend proběhly na těrlickém okruhu další z road racingových závodů, které se letos opět vrátily do seriálu IRRC. Na trati nechyběl ani Richard Sedlák, jezdec třídy do 600 ccm, který tu promluvil do boje o co nejlepší pozice. Jak tento víkend hodnotí?
Zdroj: TZ, Foto: FB RS96, Petra Peřinová
Jedeme rubááát, Těrlicko volá. Čtvrtek příjezd, rychle postavit zázemí dokud je ještě místo a čekat na mechoše, protože je na R6 nějaká práce. Večer utekl rychle a bylo ráno. Někteří ani nešli spát, a tak se pátek nesl v duchu odpočinku, koupání v přehradě a posledních příprav včetně přejímek. Organizátoři měli připravenou autogramiádu jezdců na náměstí v Havířově, což si jezdci i návštěvníci moc užili. Večer se ještě stihla návštěva místních fanoušků na jejich obvyklém místě – stadionu. Tihle kluci zase chystají neuvěřitelnou show, takže se bude během víkendu na co těšit.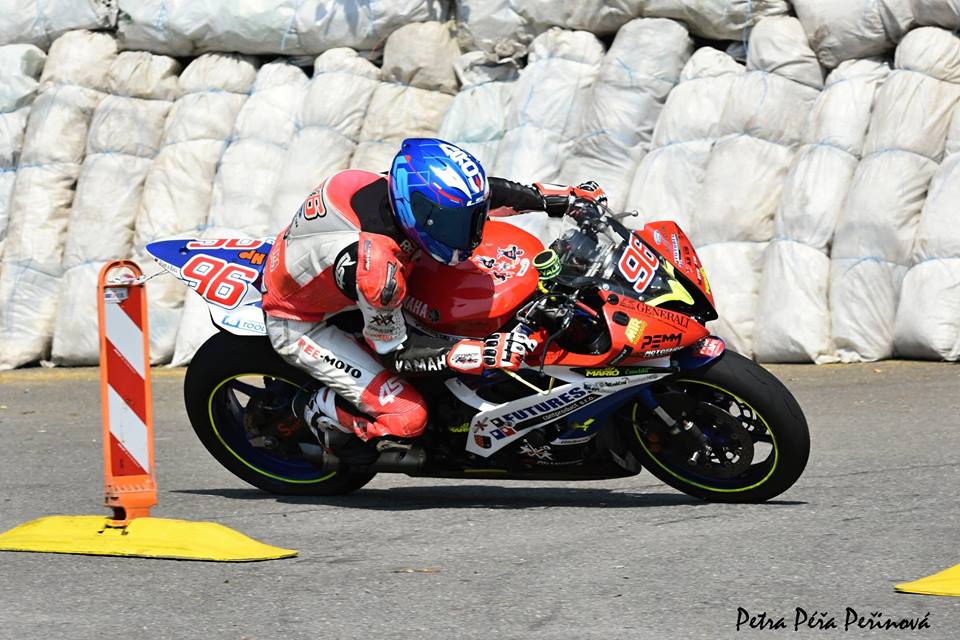 Těrlicko letos hostilo evropský šampionát IRRC, kam jsme dostali divokou kartu a spolu s třídou open do 600ccm nás čekaly čtyři kvalifikace a tři závody. Hned brzy ráno mělo IRRC připraveno Warm Up, aby se jezdci, kteří zde jedou poprvé, seznámili s tratí. Nakonec z toho byly jen dvě kola za safety carem. Ani ne za hoďku se už jela první kvalifikace IRRC. Trať se proti loňsku změnila jen pomalejším retardérem na cílové rovince.
Povedlo se nám zajet čtvrtý čas 2:25,5, takže spokojenost. Pauza cca 1,5hodiny a čekala nás první kvalda open. Zrychlení nepřišlo a čas 2:26,8 znamenal sedmý čas. Zase přestávka 1,5 hoďky a druhá kvalda IRRC. Zrychlení na 2:24,3 a páté místo. Alespoň trošku šel čas dolů. Zase pauza, už se ani nechtělo v tom vedru lézt do kombinézy… Takže druhá kvalifikace open a cíl jasný. Zlepšit čas, aby z toho byla minimálně druhá řada.
Zkusil jsem se chytnout rychlejšího jezdce a šel kousek později na brzdy, bohužel to bylo do toho pomalého retardéru, kde se brzdí z šestky na jedničku. Zatočit už nešlo, a tak jsem porazil balíky a měl pád. Motorka by byla pojízdná, ale pak jsem si všimnul, že prasklo víko motoru. Takže svozem do depa a mechanici měli hned o sobotní program postaráno. Povedlo se půjčit víko motoru od Lucy Gottardiho. Motorka se dala do pořádku a byla připravena na nedělní tři závody. Výsledek neděle byl tedy páté místo v IRRC a deváté místo ve volné.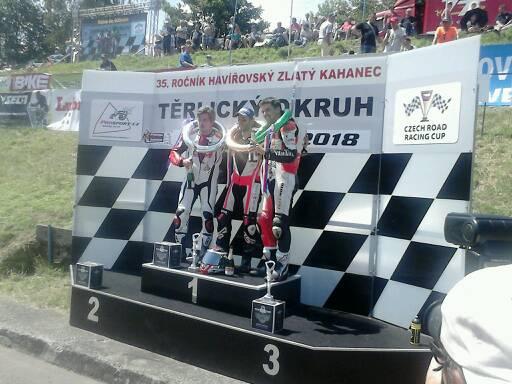 Počasí bylo milostivé a nepřineslo ani déšť. Trošku se chvílemi i zatáhlo, že nebylo tak šílené vedro. První závod se jel IRRC. Po několika soubojích jsem nakonec dojel na osmém místě a čas posunul na 2:23,1. Moc času na odpočinek nebylo, a tak jsem se už připravoval na závod open. Do něj nakonec spousta jezdců IRRC nenastoupila, tak jsem měl ze třetí řady před sebou jen jednoho jezdce. Několik kol jsem stíhal Caljouwa, ale pak přišly malé chybky, předjetí Kalliem a nebyl jsem schopen jejich tempo stíhat. Nakonec z toho bylo třetí místo a opět čas 2:23,1.
Třetí závod jsem nastupoval hlavně kvůli týmu a fandům, protože porce ježdění byla fakt velká. Tady jsem zvolil špatnou stopu do první zatáčky a šel na vnitřek, úplně zastavil a venkem mě předjelo hodně jezdců. Pak už to byla jen stíhací jízda a velký souboj s Lakim. Ten jsme si oba užívali a já hledal příležitost, kde Lakiho předjedu. To se mi asi dvakrát povedlo, ale vždy mi to obratem vrátil. Nakonec jsem cílem projel za Lakim na desátém místě. Konečně jsme si třikrát užili obrovskou show na stadionu, kde fandové měli připraveny stupně vítězů, převleky, rozhovory a tak si mohli všichni jezdci tohle naplno užít!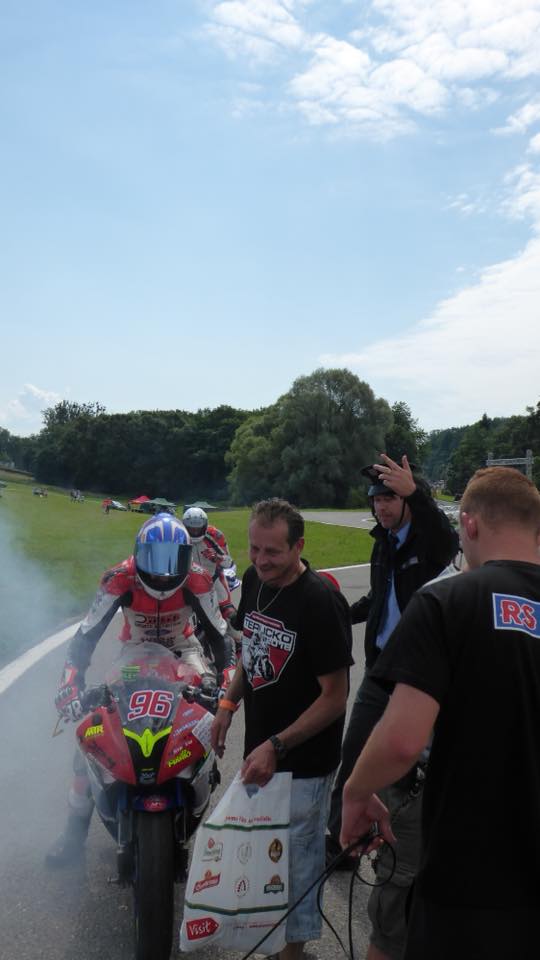 Z Těrlicka si MTR Company odváží pěkné umístění a spousty zážitků. Dalším podnikem jsou slovenské Piešťany 6. – 8.7.2018. Věřím, že se popereme opět o umístění na stupních vítězů. Díky Tomovi a Mariovi za perfektní přípravu motorky (po pádu na ní měli víc práce než jindy) a svým fandům, sponzorům a partnerům. FUTURES-CONTPRODUCT s.r.o., LASIUS Group s.r.o., MB TOOL s.r.o., Generali,
RiČi96
Video: Závod do 600 ccm
Video: Druhý závod IRRC Supersport