O uplynulém víkendu proběhla další Velká cena Piešťan, jejíž průběh pěkně zhodnotil Richard Sedlák, závodník třídy do 600.
Zdroj: TZ, FB, Richard Sedlák
Čtvrteční volno se využilo konečně ke klidnému sbalení a přesunu na Slovensko. Piešťany čekaly a my se jen strachovali, aby to nebylo jako minulý rok s tím větříkem. Počasí nás přivítalo zamračené, ufoukané s lehkými přeháňky. Vybalení zázemí na stejném osudném místě jako loňský rok a přípravy na páteční volné tréninky.
V pátek ráno přejímky, obhlídka tratě jak jsou postaveny retardéry a čekalo se na volný trénink. Organizátoři měli nelehký úkol trať na letišti z nuly postavit více méně za 24 hodin. Oproti předešlému roku se snažili víc trať zabezpečit a do retardérů se použily mimo balíků slámy, kuželů, reflexních vest ještě i nízké silniční obrubníky. Měly sloužit hlavně k tomu, aby se kolem balíků nejezdilo tak blízko a nezatáhnul se nějaký balík na trať. Účel to splnilo, ale bohužel se ukázala druhá stránka, a to ta, že když člověk nedobrzdil, tak při nejmenším rozbil ráfek nebo spadnul. Bohužel recept jak postavit bezpečný retardér neznám. Oba tréninky se absolvovaly bez problému já se snažil si najet trať a najít brzdné body do nových retardérů. Na motorce se na kvalifikace pouze změnil převod a čekalo se, jaké bude počasí.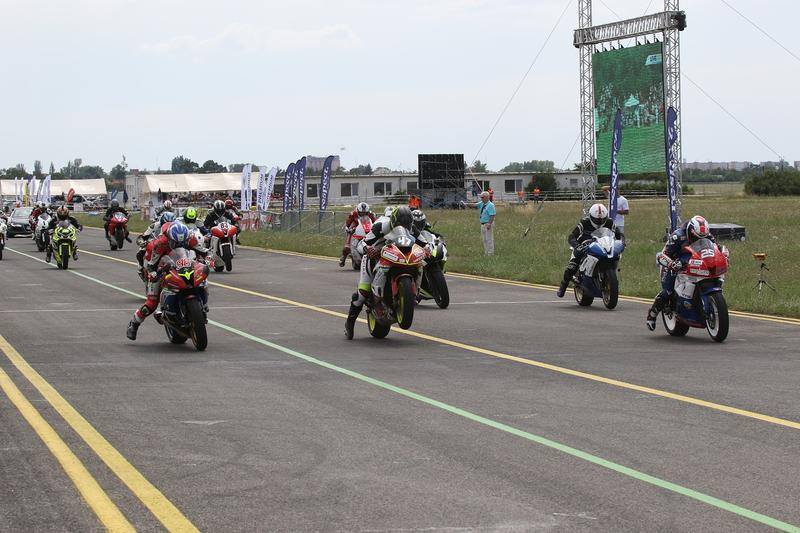 Sobota byla slunečná a čekaly nás dvě kvalifikace a závod. Hned ve čtvrtém kole první kvalifikace jsem ale okusil tvrdost obrubníku a letištního asfaltu. Přejel jsem jej oběma koly a motorka mě vykopla před sebe. Posbíral jsem sebe i motorku a dojel do depa. Tom se jen díval a přemýšleli jsme, zda se sbalit a jet domů. Bylo toho moc rozbitého. Ráfek, řidítko, stupačka, padák, brýle, přední vidlice, kádinka brzdovky, plexi, kapoty, budíky, tlumič řízení, lanko spojky….
Nakonec se do toho Tom pustil s tím, že máme snad tři hodiny čas do druhé kvaldy. Nevěřil jsem, ale dal ji za dvě hoďky do kupy a mohl jsem zkusit, zda funguje a zajet druhou kvalifikaci. Z první jsme měli tři měřená kola a třináctý čas, takže na rošt bych šel případně poslední. Naštěstí motorka fungovala a povedlo se mi zajet třetí čas, první řadu a ztrátu na Michala Vecka s Davidem Hanzalíkem asi půl vteřiny.
Start do prvního závodu byl průměrný, přede mnou byli Hanzalík, Kurina, pak hned venkem Vecko a na brzdách Tóth. Chvilku mi trvalo, než jsem se před Kurinu dostal a jezdil za dvojicí Hanzalík / Tóth, protože Michal Vecko si jel svoje. V půlce závodu jsem se dostal před Davida Hanzalíka, když trefil na výjezdu obrubník, ale ten mi to hned na rovince vrátil. Čekal jsem za touto dvojicí na chybu jednoho z nich, ale ta nepřišla. Bohužel tohle je trať, kde se stejně silný soupeř velmi špatně předjíždí. Z prvního závodu to tedy byla brambora, ale aspoň máme nejrychlejší kolo závodu. Odpoledne následovalo na náměstí představení jezdců a pozvání na nedělní závody.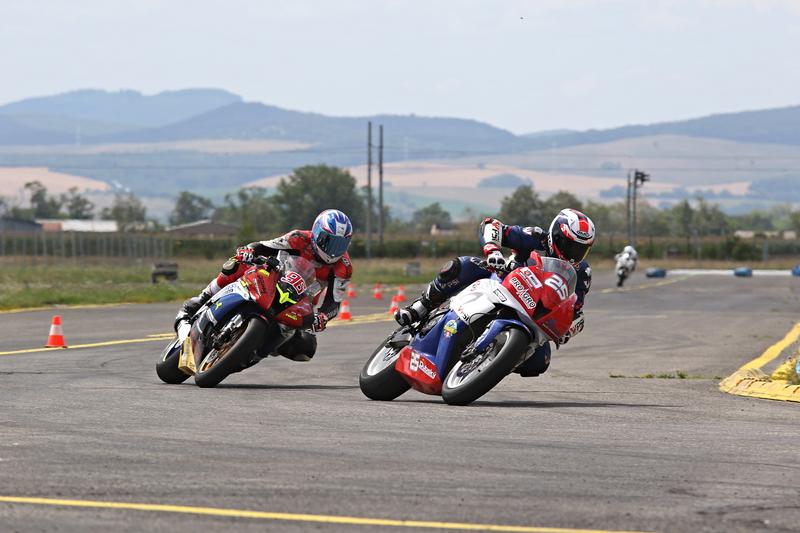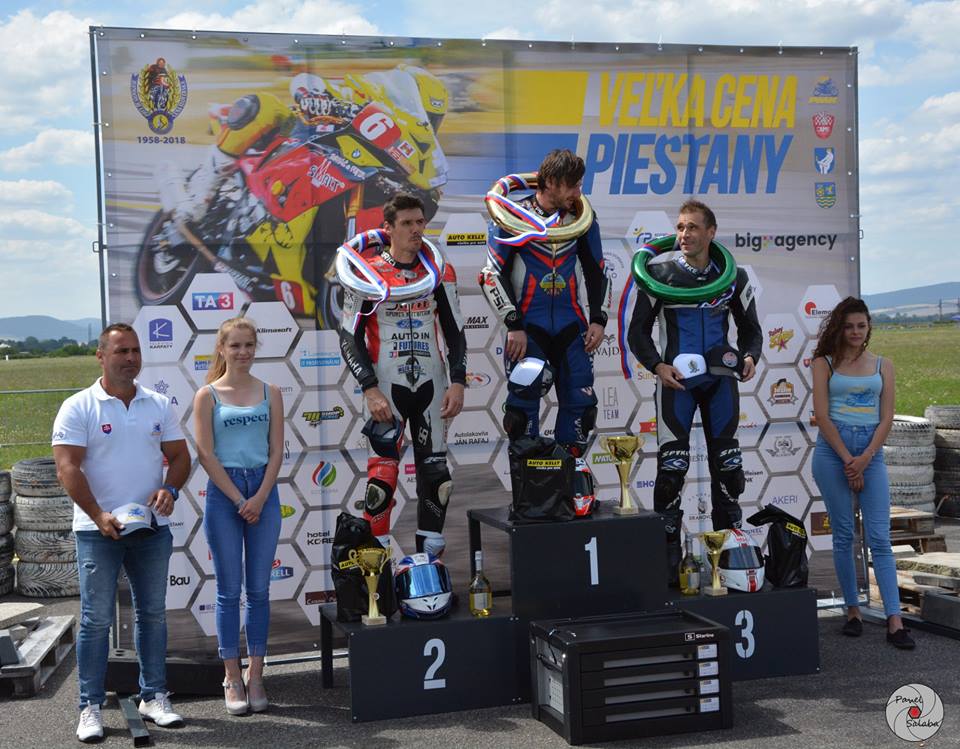 Neděle byla opět slunečná, takže se jen čekalo na druhou hodinu, kdy byl vypsán závod do 600ccm na 12 kol. Tady se mi start povedl a já najížděl do retardéru na prvním místě. Vedení jsem udržel asi pět kol než mě dotáhnul Michal Vecko a předjel mě. Pověsil jsem se za něj a hlídal si, že za námi nikdo není. Ke konci jsme předjížděli hodně kolařů a já se poslední dvě kola snažil Michala někde předjet. Bohužel se to nepovedlo a v poslední zatáčce jsem ani nestihnul kolaře předjet a bylo po nadějích na první místo. Michal jel výborně a tady je opravdu velký problém bezpečně předjet. Povedlo se opět zajet nejrychlejší kolo závodu a po tom pádu a trápení je čtvrté a druhé místo skvělé.
Musím poděkovat hlavně Tomovi, že připravil motorku tak, abychom závody odjeli! Teď už je u Maria, kde se ji snaží s Tomem dát do Radvanic do top stavu. Díky svým fandům, sponzorům a partnerům: FUTURES-CONTPRODUCT s.r.o., LASIUS Group s.r.o., MB TOOL s.r.o., Generali, MotoshopAmtrade, Yamaha Centrum PEMM Brno s.r.o., FREE-MOTO, FORD AUTO IN s.r.o., Milan Svoboda – INOX Processing, MOTO-PNEU, Motografix, MOTOZEM, ASP Group Distributing, Kola Koblížek, Yamaha Morava, Serviced By Mario.
RiČi96
Video – sobotní závod
Video – nedělní závod