Po vyzvednutí dakarské techniky v přístavu tým Klymčiw Racing čekalo první stavění zázemí, vyzkoušení motorek, technické a administrativní přejímky a následné odevzdání strojů organizátorovi do parc fermé.
Zdroj: TZ
Ještě předtím, než závodníci vyrazí na slavnostní zahajovací ceremoniál 41. ročníku rallye Dakar, měl tým Klymčiw Racing na programu vyzvednutí techniky, její zkontrolování a následné obvyklé kolečko s přejímkami.
"Máme za sebou technické přejímky a motorky jsou odevzdané v parc fermé," řekl na úvod Ondřej Klymčiw, který je na letošním Dakaru v pozici manažera týmu. "Ve čtvrtek ráno nás čekalo vyzvednutí techniky. Do přístavu jsme vyrazili o hodinu dříve, než ho otevírali, takže vše proběhlo rychle a během půl hodiny jsme měli všechnu techniku u sebe. Do bivaku u oceánu to pak bylo kolem deseti kilometrů. Motorky i auta dorazily v pořádku a zázemí jsme rychle rozbalili, protože to už máme natrénované. Stroje jsme zkontrolovali, jen na Petrově motorce ve verzi 2019 se musela vyměnit zadní nádrž, protože tam byla údajně nějaká výrobní vada, i když nám v tom místě přišla úplně stejná."
Kromě techniky je tým kompletní i v otázce jezdeckého složení, kdy se všichni postupně slétli na první místo dění a Ondra mohl ve svém týmu přivítat všechny závodníky. "Kluci jsou také připravení, cítí se dobře a těší se. Petr Vlček měl před čtyřmi týdny zlomenou zápěstní kůstku, ale to už vypadá dobře. Gee si před šesti týdny zlomil klíční kost, ale tam mu dali šroubek a destičku, takže vypadá naprosto v pohodě. Skyler je trošku nastydlý, ale včera mu zabraly léky a vypadá lépe."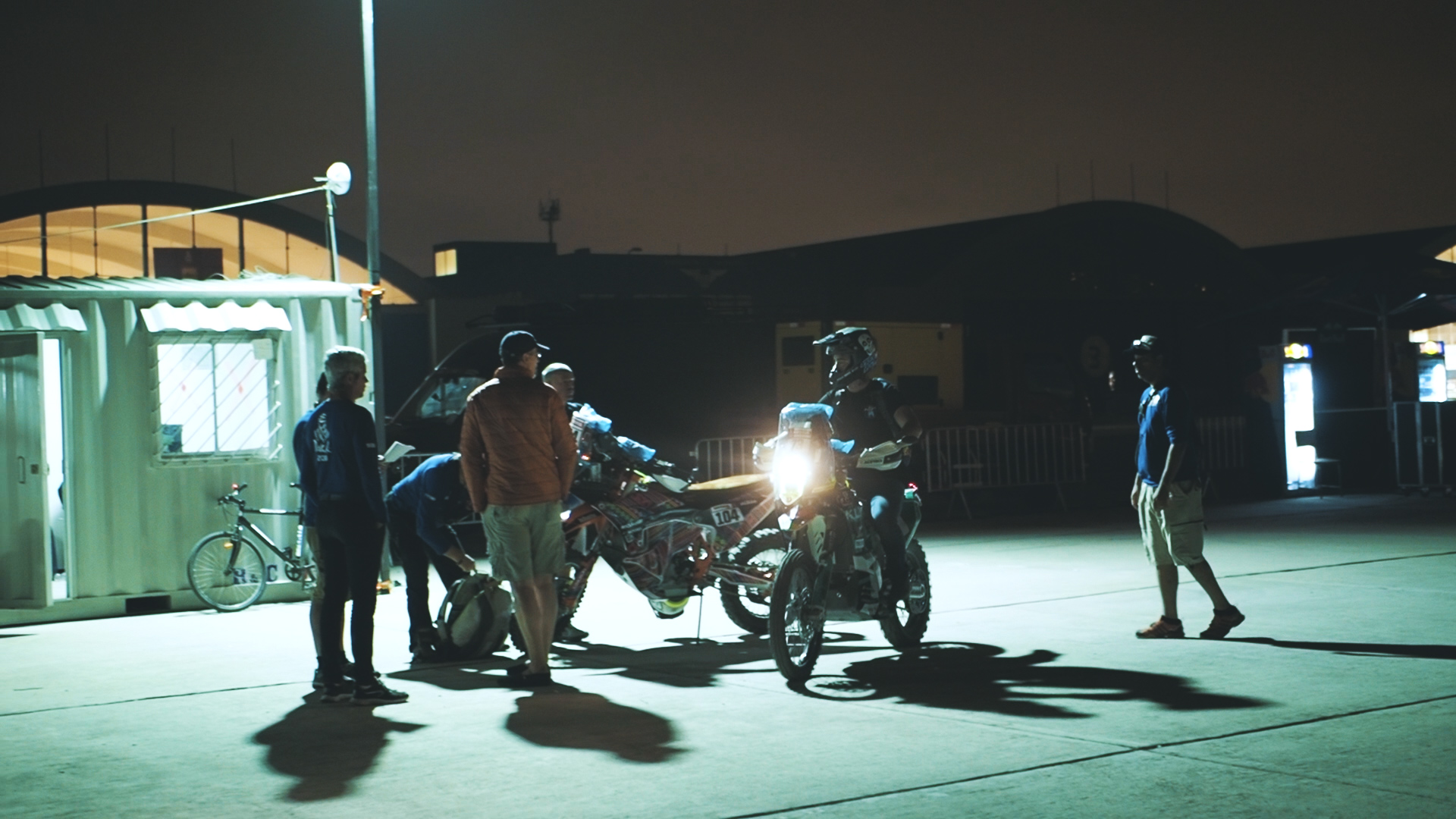 Hned v pátek čekaly tým Klymčiw Racing administrativní a technické přejímky. Na ty byli dobře připraveni, i když si organizátor opět připravil pár překvapení. Vše se ale bez problémů vyřešilo. K tomu Ondřej Klymčiw sdělil: "V pátek jsme byli poslední, kdo byl na řadě na technické přejímky. S ostatními probíhají ještě dnes a zítra. Čekalo nás tradiční kolečko. U administrativy proběhlo všechno v pořádku. U technických přejímek ale komisaři nezklamali a museli si něco najít. I když máme čtyři totožné motorky, které jsou více než dvojčata, tak si našli pár detailů. Příkladem může být velikost startovního čísla u jedné z nich či změna pozice sponzora na dresech. Při kontrole safety kitů nás překvapili tím, že tam letos nesmí být kompas do ruky a zrcátko, kdyby nebylo poznat, zda jezdec dýchá. Vše se nám podařilo vyřešit a technické přejímky jsme ukončili v půl desáté večer. Kluci pak jeli motorky odevzdat pořadateli do parc fermé."
Kromě příprav na Dakar 2019 proběhlo setkání na české ambasádě, kterého se zúčastnila Ondrova manželka Tereza. "Včera byla Tereza na setkání na ambasádě, kterého jsem se bohužel nemohl zúčastnit, což mě mrzí," pověděl Ondra. "Probíhalo od 17:30 a my měli od 18:00 zmíněné technické přejímky a když se na ně přijde o 5 minut později, platí se pokuta 100 Eur. Proto jsme na ně vyrazili raději v pět odpoledne a i tak jsme tam přijeli za deset minut šest, takže to bylo akorát. Chtěl jsem poděkovat místní ambasádě, jak se o mě postarali minulý rok a za to, jak byli nápomocni tátovi a Tereze."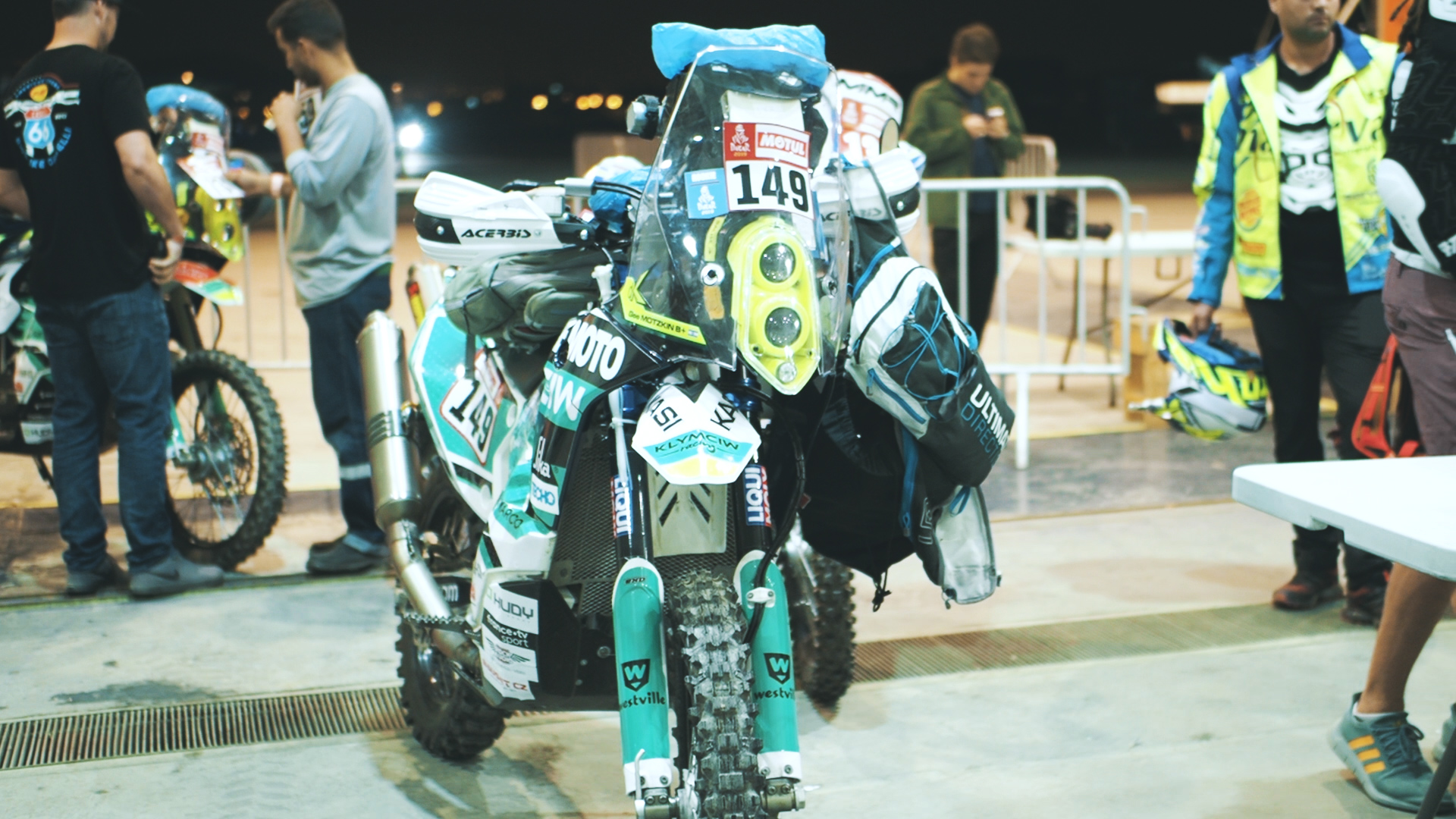 Program na dnešek je jasný: vše nachystat na zítřejší slavnostní zahájení. To bude probíhat od 15:00 místního času (21:00 SEČ) a mělo by být živě vysíláno. Naši jezdci se na něm postupně ukážou se startovními čísly: #59 Petr Vlček, #71 Garrett Poucher, #73 Skyler Howes a #149 Gee Motzkin.
"Dnes se vrátíme do bivaku, protože pořád máme co dělat. Chceme umýt a dotankovat kamion a zkrátka vše připravit. Zároveň nás čeká technická přejímka novinářského auta. Budeme také pracovat na videích, takže nikdo už nebude mít žádné volno, abychom si mohli zítřejší pódium co nejvíce užít a už se nestresovat," uvedl Ondřej Klymčiw.
Dakar byl také vždy o počasí, které nejednou sehrálo velkou roli. Nyní zatím vše vypadá dobře a členové týmu už se na sluníčku spálili. "Co se týče počasí, tak je tu krásně. Už dva dny svítí sluníčko a když se člověk nenamaže, tak se spálí. Spálí se, i když je pod mrakem, což je i můj případ. Já se spálil, když bylo úplně zataženo. Místy se udělá trochu dusno, ale je tu dobře, na Paraguay to nemá. Co mě se líbí, tak že tu dobře vaří a mají i docela dobré pivo (smích)," dodal Ondra na závěr.
Celým Dakarem 2019 vás budeme zároveň provázet prostřednictvím vlastních videí zveřejněných na YouTube kanálu. Zde je rozhovor a sestřih z dalších dvou dní:
Video: OK Dakar 2019 / Fight Ondra VS Aleš Loprais (Den 03)
Video: OK Dakar 2019 / Vyzvednutí strojů (Den 04)
Video: OK DAKAR 2019 / Náš tým a přejímka motorek (Den 05)
#KLYMCIWRACING #ONDREJKLYMCIW #DAKAR2019