Po třetí etapě rallye Dakar 2019 museli mechanici týmu Klymčiw Racing pracovat celou noc, aby všechny motorky připravili na další etapu. Vše se podařilo opravit chvíli předtím, než jezdci vyrazili do první části maratónské etapy.
Zdroj: TZ
Velice náročnou noc zažil tým Klymčiw Racing po dokončení třetí etapy. Po dlouhém přesunu z města San Juan De Marcona do Arequipy je čekaly velké opravy poškozených strojů. Dvěma jezdcům se totiž nevyhnuly nepříjemné nehody, při kterých si poškodili hlavně přední část motorek.
"Dnes to bylo náročné. Za poslední dva dny jsem spal asi čtyři hodiny, protože včera nám přijeli dvě úplně rozbité motorky," pověděl Ondřej Klymčiw, který je letos na Dakaru nejen jako manažer svého týmu, ale také jako pomocný mechanik. "Obě měly zničené přední věže. Nevím, co s tím kluci dělají, ale já v životě rozbil dvě – jednu, když jsem si zlomil pánev a druhou loni, když jsem skončil v nemocnici s páteří. Gee včera upadl za dunou, takže ho nevidělo auto a motorku mu přejelo. Motorka byla na kaši, ale dali jsme to dohromady. Ta druhá byla Skylera, kterému včera při přejezdu vjelo dítě do cesty. Aby ho nezabil, tak to asi v 90ti kilometrové rychlosti položil a při tom si navíc vykloubil rameno. U toho si také rozbil věž, takže jsme měli opravdu hodně práce."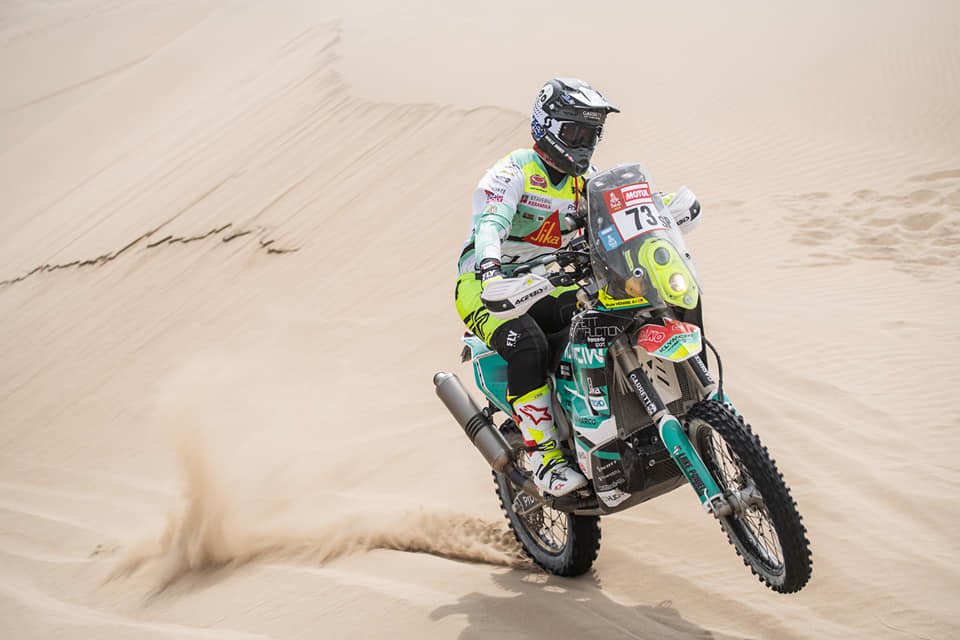 Skyler Howes k incidentu pověděl: "Jel jsem asi 90 km/h a kolem cesty byla spousta lidí. V jednu chvíli přede mě vyjelo dítě, které chtělo přejet na druhou stranu. Nemohl jsem s tím nic udělat. Pokud bych jel rovně, zabil bych ho. Jediné, co jsem s tím mohl udělat, tak to strhnout a hodně těžce jsem spadl. Naštěstí se to dítě nezranilo, ale moje motorka se hodně rozbila a vykloubil jsem si rameno. Vrátil jsem si ho zpátky, ale dost to bolelo, navíc byl přejezd dlouhý."
Tomu, že se podaří motorky opravit hned do další etapy, nevěřili ani v KTM. "Když jsem si šel v půl jedné ráno do KTM pro věž, tak mi říkali, že to nemůžeme stihnout opravit. Nakonec se na nás chodili dívat, protože nevěřili tomu, že to zvládneme. Dodělali jsme to v půl šesté a kluci mohli vyrazit do etapy," dopověděl Ondra příběh minulé noci.
Video: OK Dakar 2019 / První zranění a dvě zničený věže (Den 10, Etapa 03)
Dnes závodníci dokončili čtvrtou etapu a Ondra už ví, že je zítra bude čekat podobná práce. "Teď mi volal Garrett, že má věž také rozbitou, takže půjdu do KTMky pro třetí. Myslím, že tam ze mě budou mít srandu," dodal s úsměvem Ondřej Klymčiw.
Po čtvrté etapě zůstali závodníci v Moquegue sami bez doprovodů, protože šlo o maratónskou etapu. To znamená, že se na jejím konci musí všichni spolehnout sami na sebe, své stroje si případně opravit sami a připravit se na další etapu. Trasa pro motorky byla dlouhá 510 km, ve které bylo 406 km speciálky rozdělené na dvě části. Na úvod se jelo 205 km, následovala 55 km dlouhá spojovačka a závěrečných 146 km. Zítra bude rallye Dakar pokračovat pátou etapou a poté už přijde zasloužený den volna.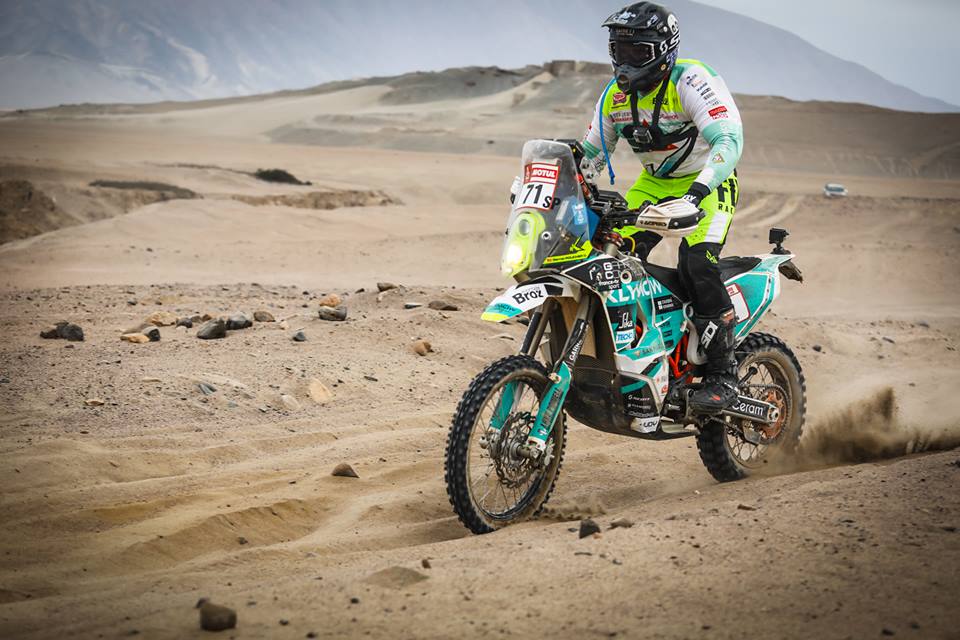 "Teď máme všechny v maratónské etapě, takže my hlavně uklízíme, pereme jezdcům oblečení a připravujeme se na jejich zítřejší příjezd. Snažíme se také dělat další videa a plánujeme živé vysílání, takže na odpočinek není moc času. Jinak je to tu dobré, trochu se ochladilo, je asi 16°C a fouká vítr, což je docela příjemné," řekl na závěr Ondřej Klymčiw.
Dnešní 4. etapa dopadla nejlépe pro Skylera Howese, který na vítěze ztratil jen třicet minut, takže obsadil 23. místo. Díky tomu je třetím nejlepším nováčkem.
Výsledky 4. etapy z pohledu týmu:
23. místo – #73 Skyler Howes (+00:30:00)
56. místo – #71 Garrett Poucher (+01:29:19 / penalizace 09:00)
90. místo – #59 Petr Vlček (+02:50:59 / penalizace 46:00)
93. místo – #57 Gabriela Novotná (+03:05:28)
104. místo – #149 Gee Motzkin (+03:36:55 / penalizace 40:00)
Celkové výsledky průběžného pořadí z pohledu týmu:
22. místo – #73 Skyler Howes (+01:36:54)
66. místo – #71 Garrett Poucher (+05:54:38 / penalizace 29:00)
90. místo – #59 Petr Vlček (+07:38:50 / penalizace 46:00)
102. místo – #57 Gabriela Novotná (+10:10:05 / penalizace 22:00)
107. místo – #149 Gee Motzkin (+11:09:54 / penalizace 01:20:00)
Video: OK Dakar 2019 / Rekapitulace s Ondrou (De 11, Etapa 04)