Čtvrtá etapa rallye Dakar, se z pohledu týmu Big Shock Racing vydařila. Martin Macík útočil na etapové vítězství a Jan Brabec naopak po loňských zkušenostech jel raději na jistotu, protože šlo o maratónskou etapu a nechtěl si stroj poškodit.
Zdroj: TZ
Výborná zpráva pro české fanoušky Dakaru. Martin Macík, 29letý pilot kamionu týmu Big Shock Racing vybojoval ve 4. etapě legendárního závodu skvělé 2. místo a posunul se na 4. celkovou pozici. S navigátorem Františkem Tomáškem a mechanikem Lukášem Kalankou dokonce podstatnou část etapy vedli a nechávali za sebou ruskou partu Kamazů. Nakonec jejich žlutý speciál značky Liaz, řečený Franta, dojel do cíle jen o minutu a 29 vteřin za prvním Rusem Andreyem Karginovem. A dobře si vedl i motorkář týmu Jan Brabec, když maratonskou etapu zakončil na pěkném 26. místě a vybojoval tak celkovou 25. pozici. Na oslavy ale nebyl čas, na závodníky po dojetí maratonské etapy čekala noc mimo bivak, kdy nemohli využít pomoc svých mechaniků a nutné opravy museli zvládnout sami.
Macík většinu závodu ve vedení
Čtvrtá etapa byla rozdělena na dvě části, spojené 50 km dlouhou neutralizací, kamiony i auta vyjížděly společně. Trať byla technická, úzká, rozbitá, rychlá s pískem feš feš, řečišti a kameny. Na takové se Martinovi Macíkovi jede dobře, a tak ukázal, co v něm je. Současně však posádka týmu Big Shock Racing do maratónské etapy vyjížděla s vědomím, že na jejím konci musí být kamion Franta v pořádku, protože s případnou opravou tentokrát nemohou pomoci mechanici. "Topili jsme, ale pořád jsme měli na mysli, že je maratónská a musíme jet s klidem. Když to šlo, byla pista, tak jsem jel. Když to bylo v řečištích hodně kamenité, jeli jsme pomaleji. Ale auto fungovalo výborně. Navigátor František se nikde neztratil. Já jsem udělal jen dvě malinké chybičky, poslal jsem to do nějakých kamenů. Jinak cajk," popisuje jízdu Martin Macík, pilot týmu Big Shock Racing.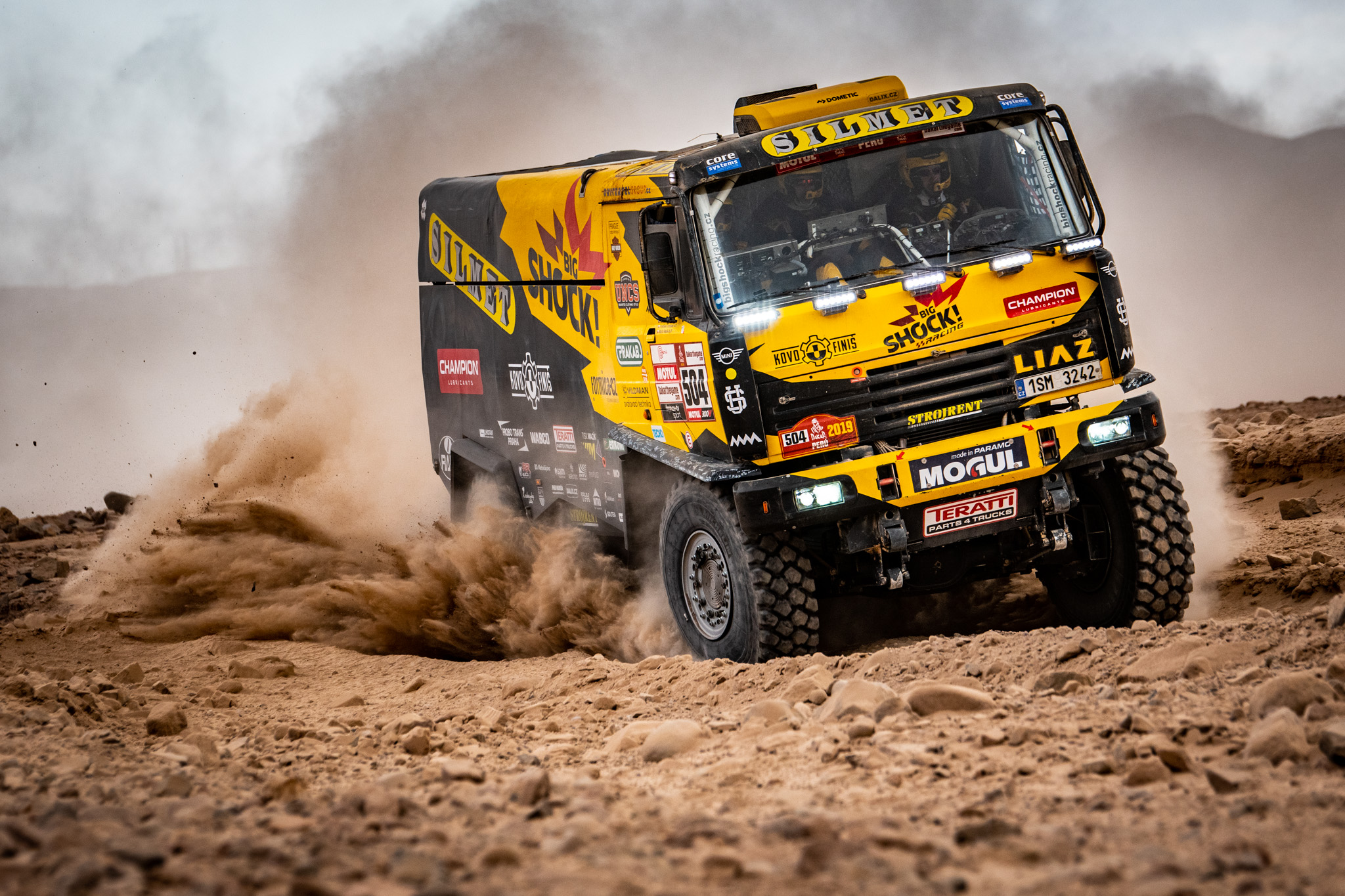 Z druhé etapové pozice mají v týmu všichni radost, ale zůstávají nohama na zemi. "Jsme rádi. Ale znáte nás, zas tolik to neprožíváme. A nezapomínejme, že jsme zatím ve 4. etapě Dakaru. Jeli jsme, jak umíme. Teď se těšíme hlavně až se vyspíme. I když to bude v improvizovaných podmínkách," doplnil navigátor František Tomášek.
Brabec šetřil Marušku
Maratónská etapa a následná noc mimo týmové zázemí čekala i na motocyklistu týmu Big Shock Racing Jana Brabce, kterému se podařilo v pořádku dovézt do cíle Marušku, svůj motocykl Husqvarna. "Doválčil jsem půlku maratónské. Nevysekal jsem se jako loni. Není tady David Pabiška, aby mi to pomohl spravit," neztrácel humor ani po náročné etapě Jan Brabec. I on byl s tratí relativně spokojen. "Jeli jsme krásné rychlé úseky, které se mi fakt líbily, ale pak přišla na řadu řečiště, která já absolutně nesnáším. Takže jsem jel na pohodičku, abych to zbytečně nezahodil. Tam se dají snadno zlomit řídítka. A my jsme dneska bez servisu. Dodrkocal jsem to do konce a teď tu sedíme s klukama. Už jsem i procházel motorku a všechno cajk," hlásil Brabec, který je aktuálně nejrychlejším českým motocyklistou, na 25. celkové pozici.
Dnes čeká na závodníky druhá část maratónské etapy, po níž se v Arequipě opět setkají se svými týmy.
Video: Etapa 04 // Dakar 2019 // Big Shock Racing