Mistrovství světa silničních motocyklů o uplynulém víkendu pokračovalo závody ve Velké Británii. Dlouhý a široký okruh Silverstone byl pro Filipa Salače novým, což bylo pro českého jezdce náročné i vzhledem k nalezení správného nastavení motorky.
Zdroj: TZ, Foto: Redox Prüstel GP Team (Ronny Lekl)
Letošní sezóna mistrovství světa silničních motocyklů minulý víkend pokračovala dvanáctou Gran Prix, která se jela ve Velké Británii na okruhu Silverstone. Oproti jiným evropských tratím byl tento okruh pro Filipa Salače nový. Kvůli jeho délce 5,9 km je nejdelší v kalendáři, takže je těžší se ho rychle naučit.
Páteční tréninky třídy Moto3 Filip Salač ukončil s časem 2:13,538, takže obsadil kombinované 21. místo. Během sobotní kvalifikace nakonec čas nezlepšil a s kolem za 2:13,633 to bylo na 24. místo na startovním roštu. Během nedělního závodu vypsaného na 17 kol bohužel ztratil několik míst hned na začátku po kolizi s jiným jezdcem. Následně se dostal do boje o bodované pozice, ale v cíli z toho bylo 21. místo.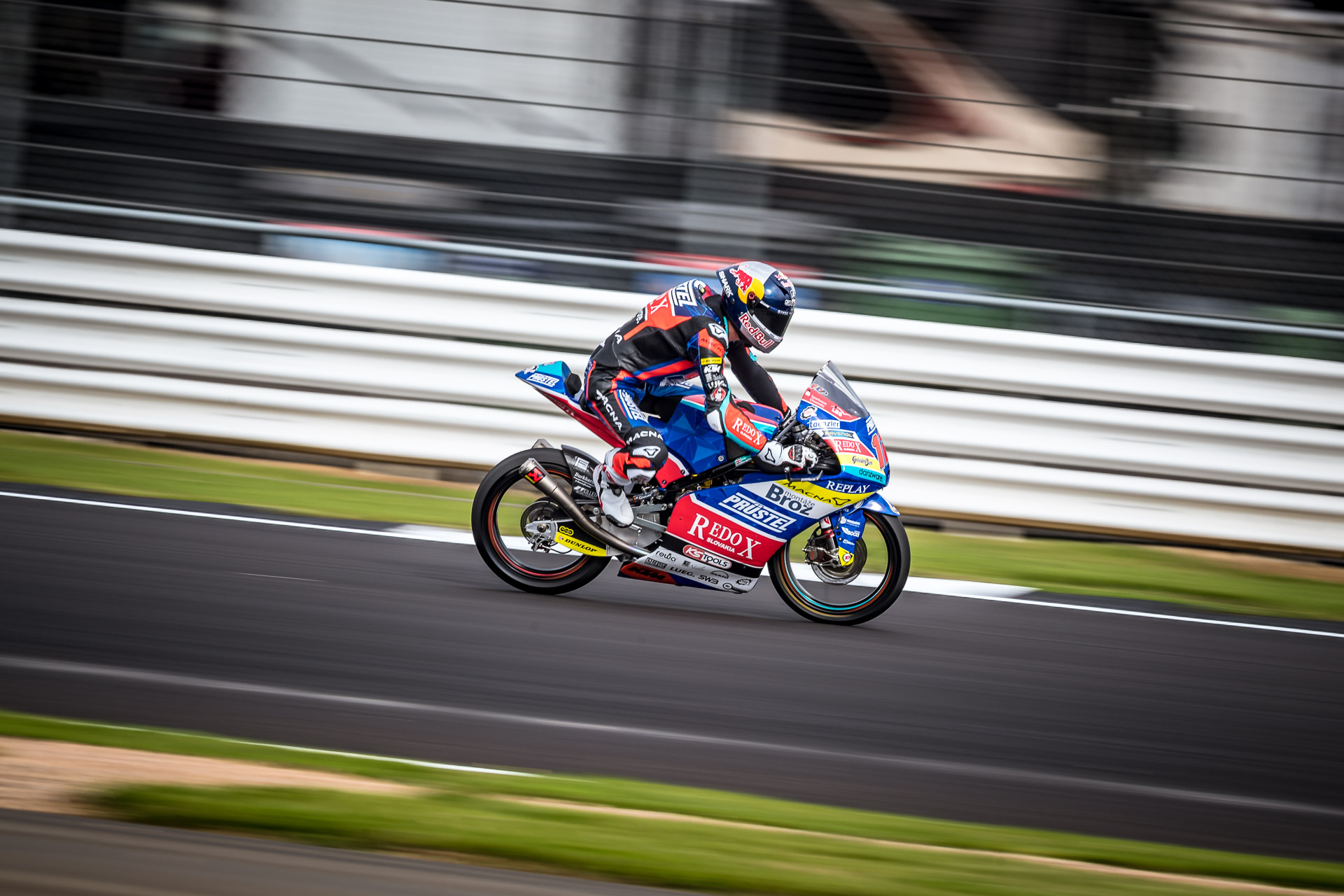 Filip Salač
"Celý víkend jsem s motorkou neměl dobrý pocit a už od prvních tréninků jsme se trápili, což mě moc mrzí. Motorka se trochu zlepšovala, ale bylo to po malých kouscích. Jakmile jsme udělali nějakou změnu, tak se naskytl jiný problém, který jsme museli řešit a tak to šlo pořád dokola. Zároveň pro mě byl Silverstone novou tratí, takže to nebylo jednoduché. Trať je hodně široká a dlouhá, takže bylo opravu těžké najít správnou stopu. V některých částech jsem byl rychlý, jinde pomalejší, ale celkově mi to nesedlo. Určitě nepatří mezi mé oblíbené tratě."
"Do závodu jsem dobře odstartoval, ale přišel kontakt s jiným jezdcem a první šikanu jsem musel projet rovně. Kvůli tomu jsem něco ztratil a byl na 28. místě. Následně jsem se dostal do skupiny bojující o 13. místo, ale sedm nebo osm kol před cílem mě přestala fungovat zadní brzda. Nemohl jsem soupeřům vracet předjetí, protože bez zadní brzdy je těžké brzdit v náklonu. Jsem zvyklý, že se díky tomu váha přesune více dozadu a nezatěžuje se tolik přední kolo. Kvůli tomu se mi zavíral předek a jel jsem na limitu."
"Závod jsem dokončil na 21. místě. Moc mě to mrzí a chci se všem omluvit za výsledek, protože to beru jako svou chybu. Myslím si, že jsme mohli zajet mnohem lépe. Do příštího závodu v Misanu budu hodně trénovat na motorce, jak fyzicky, tak psychicky. Udělám všechno proto, abych byl zpátky takový, jako jsem byl v dřívějších závodech, jako například v Německu. Děkuji všem za podporu a ještě jednou se omlouvám."
Další závody mistrovství světa silničních motocyklů se pojedou při Grand Prix San Marina a riviéry Rimini na okruhu Misano od 13. do 15. září 2019.