Závodníky rallye Dakar dnes čekala druhá rychlostní zkouška. V ní odjeli mnohem více závodních kilometrů, než v úvodní etapě. Se všemi nástrahami trati si jezdci týmu Klymčiw Racing nakonec poradili a dorazili do cíle.
Zdroj: TZ, Foto: Justin W. Coffey
Rallye Dakar 2019 dnes pokračovala druhou etapou, ve které se všichni přesouvali z Pisca do San Juanu de Marcona. Stejně jako včera, i tato etapa byla stejná pro všechny kategorie. Závodníky tak čekalo 553 kilometrů, z nichž bylo 342 kilometrů speciálky.
Ještě předtím, než se na svou trasu vydaly i všechny doprovody, vyrazil manažer týmu Ondřej Klymčiw na trať. Odtud fanouškům přes živý přenos zprostředkovával atmosféru přímo z úvodu etapy. Naplánovaná trať Ondrovi připomněla loňský závod.
"Dnes jsme se vydali natáčet na začátek etapy, kdy jsme se soustředili hlavně na přední jezdce. Tihle kluci jezdí opravdu hezky, takže je radost se na ně dívat. Videa samozřejmě zpracujeme, takže se můžete těšit na další novinky na našem YouTube kanálu. Následně jsme krátce živě vysílali u mě na facebookové stránce, aby si mohli fanoušci také užít závod. Tohle místo jsem dobře znal, protože loni bylo na konci druhé etapy. Dnes před motorkami startovala auta, ale vypadalo to tam dobře a nebylo to moc rozbité," řekl ještě před odjezdem do dalšího bivaku Ondřej Klymčiw.
Samozřejmě, že všichni s napětím sledujeme hlavně jezdce na trati, nicméně náročný den dnes zažily i jejich týmové doprovody. Více k tomu pověděla Ondrova manželka Tereza: "Dnes jsme se přesouvali z bivaku v Piscu do bivaku v San Juanu de Marcona, takže nám cesta trvala přibližně čtyři hodiny. Hned poté jsme ale strávili spoustu času před bivakem, protože to měli špatně zorganizované. Všichni tady stály a doprovodná vozidla se vůbec nemohla dostat dovnitř. Například náš kamion zde před bránou zůstal stát tři čtvrtě hodiny." To samozřejmě zdrželo i následnou přípravu zázemí pro vracející se jezdce.
Prvním jezdcem v cíli z týmu Klymčiw Racing byl Skyler Howes, který je nováčkem na rallye, takže sbírá zkušenosti a postupně se zlepšuje. Dnes se většinou pohyboval kolem 25. místa, až v závěru etapy trochu ztratil a bylo z toho výsledné 35. místo v cíli druhé etapy. Hned po dojetí do bivaku pověděl: "Dnes to bylo těžké, protože jsme jeli za auty. Motorku už znám mnohem lépe, takže jsem konečně jel tak rychle, jak jsem chtěl jet od začátku. Začínám být se sebou konečně spokojený. Moc se těším na celý týden a je mi jedno, jaké budou etapy, chci si to prostě užít. Zítra ráno budou začínat motorky, takže bude trať techničtější, protože tu nebudou vyjeté koleje. Předpokládám, že se budou mezi jezdci tvořit větší rozdíly. Doufám, že se díky tomu posunu výš."
Kromě Skylera měli dobře rozjetou etapu i všichni ostatní členové našeho týmu. Petr Vlček se pohyboval kolem 54. místa a v posledním kontrolním bodě před cílem udržoval 56. pozici. Poté ale nabral velkou ztrátu a bylo z toho nakonec 114. místo v cíli. Podobně na tom byl také Garrett Poucher. Ten na úvod etapy trochu ztratil, ale poté vše napravil a vrátil se na 57. místo. Kvůli technickému problému ale nabral také více než hodinovou ztrátu v posledním úseku trati a do cíle se dostal na 120. pozici. Gee Motzin dojel na 96. místě a hned za ním skončila Gabriela Novotná.
"Bohužel dobře rozjetá etapa se v závěru pokazila. Garrett Poucher měl problémy se zadním kolem. Zatím víc nevíme, ale jsme rádi, že nakonec všichni dorazili do cíle a jsou na přejezdu do bivaku," řekla na závěr Tereza Klymčiw.
Z druhé etapy už zpracovávají video, ve kterém se dozvíte další informace, tak nás dál sledujte. Zároveň děkují za přízeň a podporu!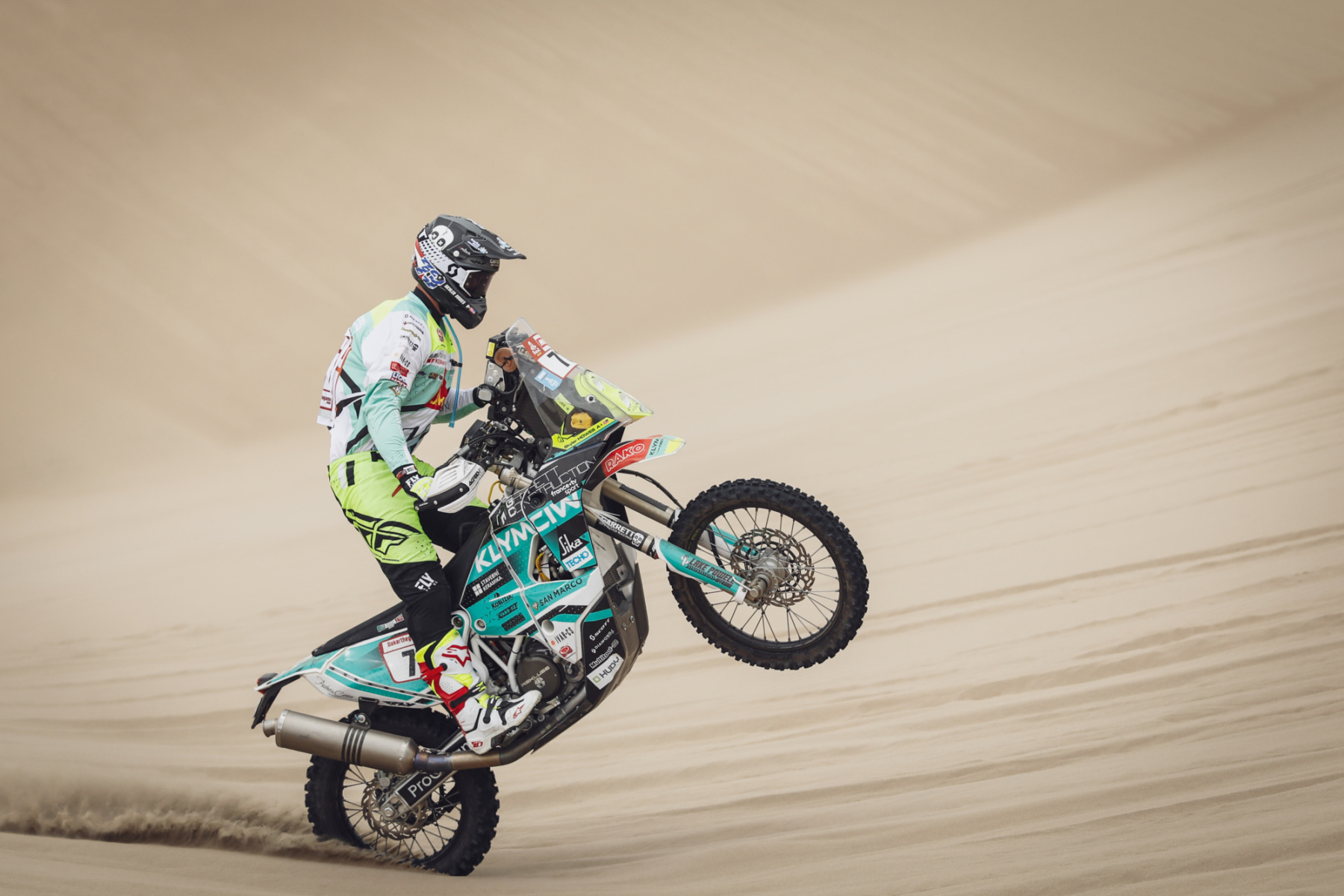 Výsledky dnešní etapy a celkové výsledky z pohledu týmu:
35. místo – #73 Skyler Howes (+00:39:55) / celkem 36. místo (+00:57:42)
96. místo – #149 Gee Motzkin (+02:12:17) / celkem 112. místo (+03:32:15 / penalizace 00:20:00)
97. místo – #57 Gabriela Novotná (+02:16:37) / celkem 102. místo (+03:01:59)
114. místo – #59 Petr Vlček (+02:53:37) / celkem 107. místo (+03:14:27)
120. místo – #71 Garrett Poucher (+03:13:30) / celkem 111. místo (+03:31:11)
Celým Dakarem 2019 vás nadále provázíme prostřednictvím vlastních videí zveřejněných na YouTube kanálu. Zde je video z první etapy:
Video: OK Dakar 2019 / Písek všude a FULL GAS (Den 08, Etapa 01)
Video: OK Dakar 2019 / Exploze zadního kola (Den 09, Etapa 02)