Poslední ostrá zkouška techniky před dalším ročníkem rallye Dakar čeká tým Big Shock Racing, který vyrazil do afrického Maroka na závody rallye du Maroc. Hned na začátku měl problémy Jan Brabec startující na motorce, kterému nechtěli schválit chrániče. Martin Macím měl naopak vše v pořádku a mohl bavit své fanoušky při živém vysílání. Nyní už je ale čeká závodní tempo a veškerá zábava jde stranou.
Zdroj: TZ
Pilot Martin Macík ve svém žlutém kamionu Liaz a Jan Brabec na motocyklu Husqvarna dnes startují do šestidenní Rallye du Maroc. Téměř 2000 kilometrů dlouhá trať otestuje poslední technické detaily před odesláním Franty, závodního speciálu Martina Macíka, do Jižní Ameriky na Dakar 2019. Po návratu z marocké rallye totiž mechanici týmu Big Shock Racing budou mít poslední měsíc na finální vyladění formy závodních strojů. Druhým podstatným důvodem pro start týmu v marockém závodě je oživení navigačních dovedností, protože systém i přístrojové vybavení je zcela totožné s dakarským. A také terén trati bude obdobný, jako v lednu v Peru. Rallye du Maroc je tak poslední ostrou prověrkou před blížícím se Dakarem. Fanoušci mohou českým závodníkům fandit až do 9. října, kdy po napínavých dunových etapách dojedou do cíle závodu.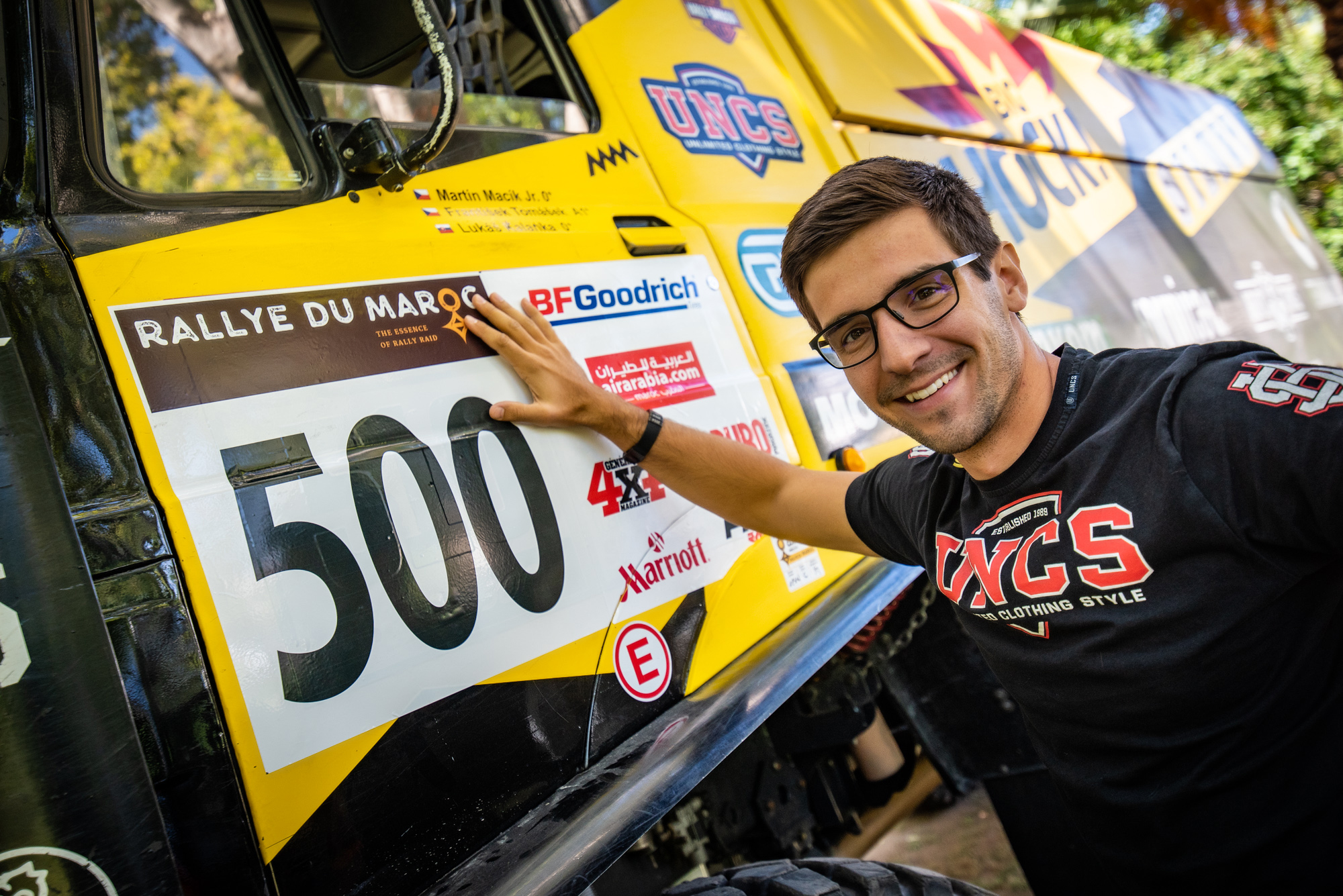 Macík vyladí kamion, Brabec ještě motorku nevybalil
Mechanici týmu Big Shock Racing do Maroka vyrazili s předstihem po silnici, aby přepravili závodní stroje. Ve středu, kdy na místo přiletěl zbytek týmu, už stál bivak a vše bylo připraveno pro hladký průběh technických přejímek. Ty český tým prošel bez zaváhání i navzdory divoké administrativě. Jen Jan Brabec si musel do startu sehnat jeden chránič a pokud jste sledovali jeho Instagram, bylo o zábavu postaráno.
Na závodníky v Maroku čeká zajímavá trať tvořená pískem a dunami, tedy terénem, který bude převažovat také v Peru. "Říká se, že Maroko je náročné na kola. Kamení se střídá s pískem, takže je potřeba hodně pracovat s tlakem v pneumatikách a s rychlostí. To je pro nás ideální, protože potřebujeme na Frantovi ještě otestovat pár vylepšení, na kterých jsme pracovali. Pořád si hrajeme s výkonem a chlazením motoru, brzdnou soustavou i vybavením kabiny," prozrazuje Martin Macík, pátý nejrychlejší pilot kamionu na Dakaru 2018.
To Jan Brabec těsně před odjezdem do Maroka obdržel svůj nový model dakarského speciálu Husqvarna. "Nová dakarka mi přišla v neděli, sotva jsem ji stihl vybalit, takže v Maroku budu závodit ještě na své staré motorce a na novou se vrhnu hned po návratu. Tady se chci soustředit hlavně na navigaci," vysvětluje Jan Brabec.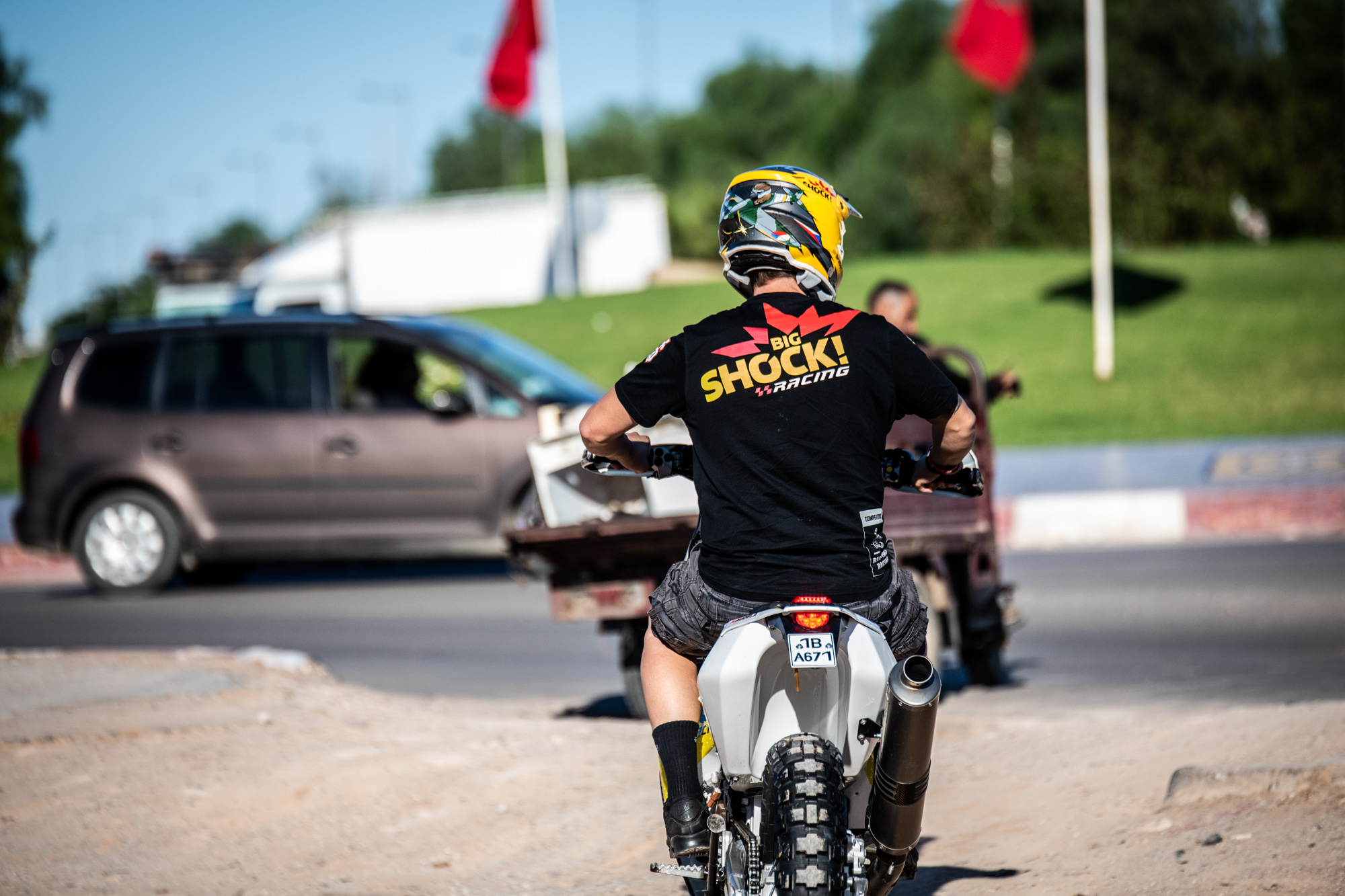 Navigační rozcvička a tradiční viróza
"Žádný z evropských závodů, které jsme během roku absolvovali, nemá stejnou navigaci, jako je na Dakaru, kromě Maroka. Tady jedeme podle stejných přístrojů, jaké budou v lednu v Peru. Navigátor František Tomášek si tu pořádně provětrá své orientační smysly. To se pár měsíců před Dakarem určitě hodí," vysvětluje Martin Macík jeden z důvodů, proč letos tým startuje v Rallye du Maroc.
Stejnou příležitost využije i týmový motocyklista Jan Brabec, několikanásobný mistr ČR v motokrosu, který se v lednu postaví na start svého druhého Dakaru. Honza své navigační dovednosti piloval už během jarního tuniského soustředění, ale teď se těší na navigační špeky, které si organizátoři pro jezdce připravili. "Už jsem mnohem jistější. Po Dakaru a Merzouga Rally je Maroko můj třetí velký závod s dakarskou navigací. Ale pořád se s ní ještě v té obrovské rychlosti na dlouhých tratích sžívám," říká Jan Brabec, který drží týmovou tradici a na Rallye du Maroc přijel s virózou. "Tentokrát jsem to vyžral já a na závody jsem přijel s rýmičkou. Ale v rámci možností se mi podařilo dát se před startem do pořádku," popisuje Jan Brabec.
Ve čtvrtek odpoledne jezdci odstartují do prologu a fanoušci mohou jejich cestu pouštním závodem sledovat na https://rallyemaroc.com/ a také na sociálních sítích týmu Big Shock Racing, Martina Macíka a Jana Brabce.
Video: Živé vysílání Martina Macíka