Závod v Argentině nevyšel podle představ ani jednomu z jezdců týmu Redox Prüstel GP. Jakub Kornfeil, který usiloval o zisk mistrovských bodů bez varování spadl a poté už bylo po všech nadějích.
Zdroj: TZ, Foto: Redox Prüstel GP Team (Václav Duška Jr.)
Jakuba Kornfeila při druhém podniku mistrovství světa silničních motocyklů provázela smůla. Na okruhu Termas de Rio Hondo v Argentině se nejprve trápil v kvalifikaci a snahu o zisk bodů do celkového hodnocení překazil pád. Kuba startoval do závodu jako šestnáctý. Během prvního kola si o místo pohoršil a dostal se do kolize se soupeřem Kazuki Masakim. Následoval výjezd mimo trať a ztráta mnoha pozic až na konec startovního pole. Několik pozic se našemu jezdci podařilo získat zpět. Byl jednadvacátý, když přišla další rána. Při nájezdu do zatáčky číslo třináct mu uklouzl předek a odporoučel se k zemi. I když motocykl rychle zvedl a dostal se zpět na trať, v cíli z toho bylo pouze čtyřiadvacáté místo a ztráta čtyřiceti sekund na vítěze. Z Argentiny tedy Jakub Kornfeil odjíždí bohužel bez bodů. Šampionát bude pokračovat za dva týdny Velkou cenou USA na okruhu Circuit of the Americas v Texasu.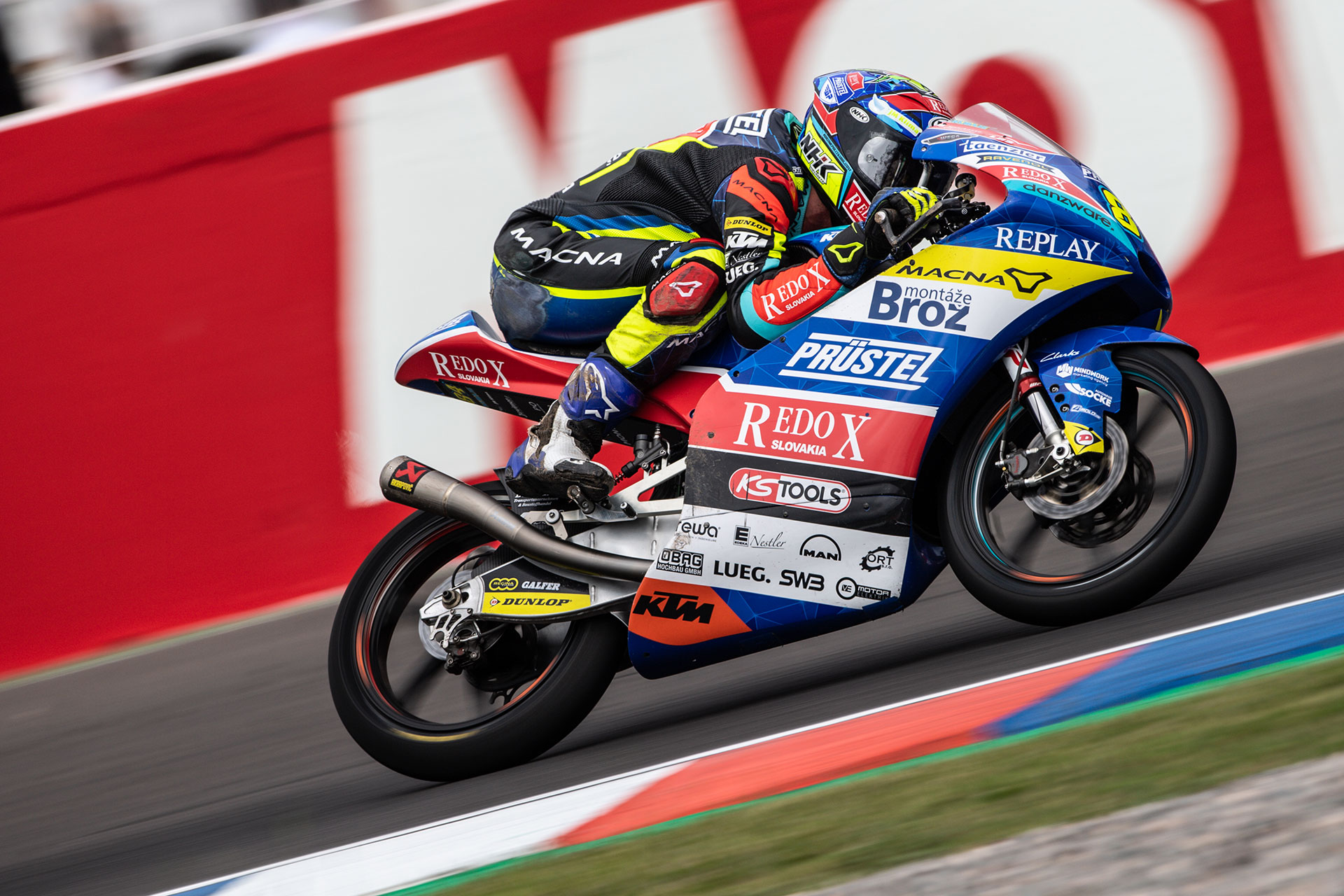 Jakub Kornfeil
"Tento víkend nám to opravdu nepřálo a vygradovalo to závodem. Po startu jsem se snažil chytnout Gabriela Rodriga, protože mně bylo jasné, že půjde dopředu. Jenže v prvním kole jsem nic moc nezískal a ve druhém kole a druhé zatáčce se pak dostal do kontaktu s Kazuki Masakim. Takže jsem šel na úplně poslední místo a mohl začít dotahovat. Pár jezdců jsem předjel, dostal se na 21. pozici. Při snaze dotáhnout jezdce před námi jsem upadl na brzdách do zatáčky číslo třináct a bylo hotovo. Ten pád přišel z ničeho nic. Nebyly tam žádné agresivní brzdy, ani odlišná stopa ve srovnání s minulými koly. Na datech jsme také nenašli nic, co by bylo neobvyklé. Víkend jako tento je třeba co nejrychleji zapomenout a soustředit se na Ameriku."