Závodní víkend v Argentině dnes neskončil pro Filipa Salače šťastně. Při souboji ve skupině na začátku závodu spadl. I když závod s poškozenou motorkou a rozepnutou kombinézou dokončil, je zklamaný.
Zdroj: TZ, Foto: Redox Prüstel GP Team (Václav Duška Jr.)
Druhá Velká cena letošní sezóny mistrovství světa silničních motocyklů je minulostí a svůj závodní debut na okruhu Termas de Río Hondo v Argentině má za sebou Filip Salač. Závod třídy Moto3 byl první na programu a jel se na 21 kol. Předpověď počasí, která hlásala déšť, se nevyplnila a jelo se na suché trati.
Jezdec týmu Redox Prüstel GP do závodu dobře odstartoval a snažil se udržet skupiny bojující o bodované pozice. Nakonec se vše zásadní událo o chvíli později. Chybou soupeře se český mladík ocitl ve druhém kole na zemi a tím bylo rozhodnuto. Filip se ale nevzdal a s poškozenou motorkou a rozepnutou kombinézou v závodě pokračoval. Chvíli jel se svým týmovým kolegou Jakubem Kornfeilem, který také spadl, ale v závěru už to bylo o tom závod dokončit a nabrat další zkušenosti. Filip Salač byl v cíli na 25. místě.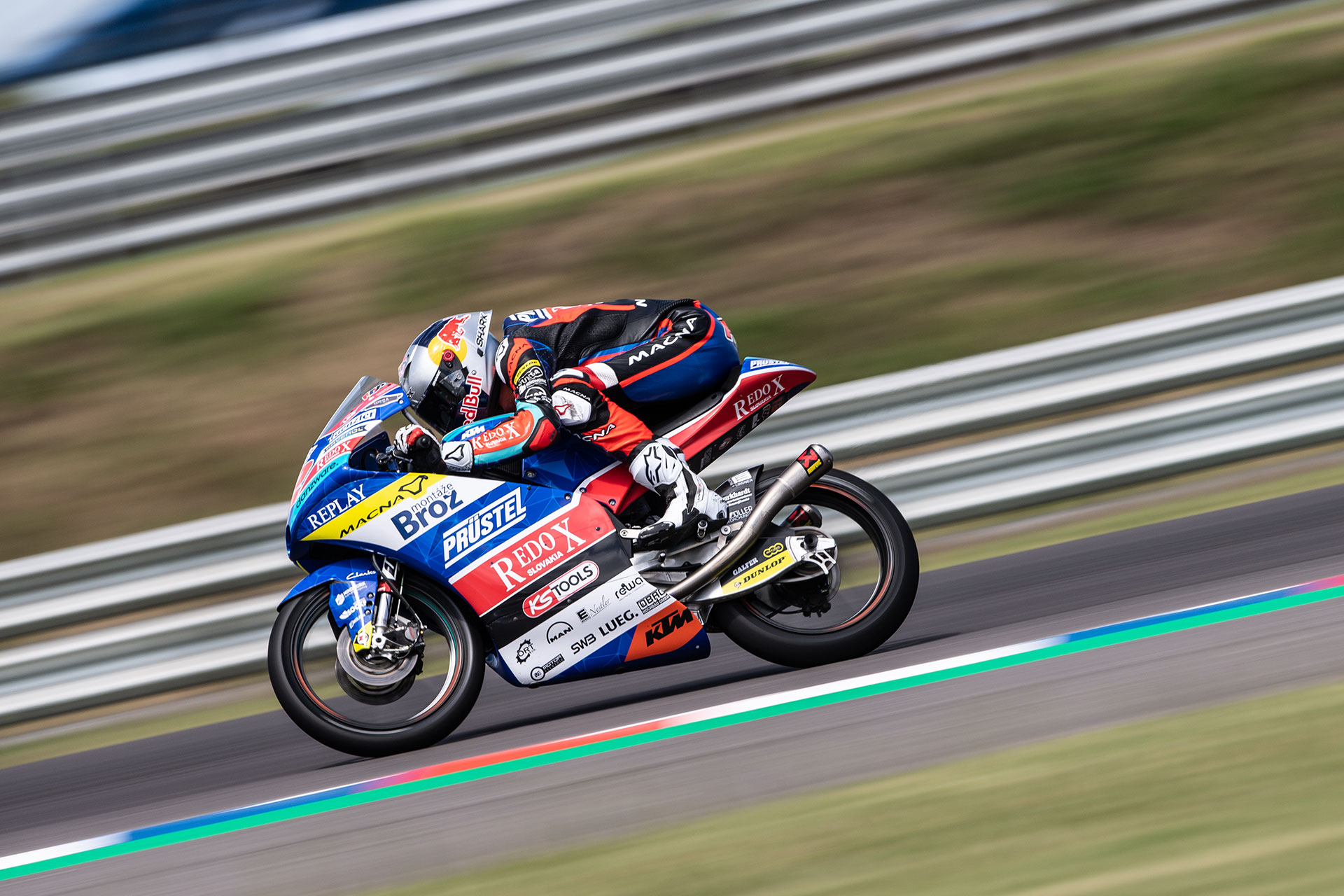 Filip Salač
"Nedělní program v Argentině začal Warm Upem, kde jsme měli velké problémy s přilnavostí zadního kola, ale do závodu se nám to podařilo opravit. Do závodu jsem dobře odstartoval, ale ve druhé zatáčce jsem udělal chybu a trochu ztratil. Přesto jsem měl chuť předjíždět, držel se skupiny a první kolo se mi líbilo. V předposlední zatáčce dalšího kola mě podjel jeden závodník, ale byl dlouhý a shodil mě. Já spadl, ale nebyla to moje vina. Pokud by mě trefil do boku nebo do těla, možná bych to ustál, ale nadzvedl mi řidítko a přední kolo, což se nedalo udržet."
"Motorku jsem zvedl a do závodu se vrátil, ale byla tam velká ztráta. Ta se na této trati nedá dohnat. Poté spadl i Kuba, takže jsme spolu a s Masakim bojovali ve skupince. Pár kol jsem zajížděl stejné časy jako oni, ale s ohnutým řidítkem a brzdou a otevřeným airbagem se jet nedalo. Při pádu se aktivoval airbag a abych mohl jet dál, musel jsem si trochu rozepnout kombinézu. Ta se mi v průběhu závodu rozepla úplně a hrudní chránič mi spadl dolu na břicho. Kvůli tomu bylo těžké se ohýbat a zalehávat."
"Jsem z toho hodně zklamaný a nevím, proč mám takovou smůlu. Na druhou stranu si myslím, že jsme oproti Kataru udělali pokrok jak v časech na kolo, tak že už se dobře známe s mechaniky. Šéfmechanik ví, co je na mě potřeba. Za dva týdny nás čeká Amerika, tak uvidíme. Moc se omlouvám a zároveň všem děkuji za podporu, panu Štovíčkovi, rodině, všem partnerům a týmu za tento víkend."
Příští závod šampionátu MotoGP se pojede za dva týdny od 12. do 14. dubna 2019 na okruhu COTA v americkém Austinu, kde to bude pro Filipa Salače další závodní premiéra.