O novém městském okruhu v Indonésii se mluví jako o něčem speciálním, co se zapíše do historie Grand Prix. Půjde o okruh ve městě, přesto má splňovat všechny bezpečnostní podmínky.
Zdroj: Crash.net
Během zimní přestávky bylo potvrzeno, že šampionáty MotoGP a WorldSBK budou od roku 2021 navštěvovat nově postavený městský okruh v oblasti Mandalika na ostrově Lombok v Indonésii, což se nachází nedaleko ostrova Bali. Tato země naposledy hostila závody Grand Prix v roce 1997 v Sentulu a od té doby se místní snažili závody MotoGP získat zpátky. I když jde o novinku do kalendáře MotoGP, spousta lidí se má na pozoru hlavně kvůli bezpečnosti, zda je vhodné tak výkonné stroje pustit na městský okruh.
Během úvodní Grand Prix sezóny se tyto negativní názory snažili zvrátit Mark Hughes z indonéské turistické společnosti a také Carmelo Ezpeleta, výkonný ředitel Dorny.
"Jsme velice potěšen, že jsme mohli představit tento projekt, ke kterému spousta lidí vyjadřuje skepsi kvůli konceptu městského okruhu," pověděl na úvod Mark Hughes. "Musíme jasně říct, že trať byla navržena a bude postavena tak, aby odpovídala bezpečnostním pravidlům FIM pro MotoGP."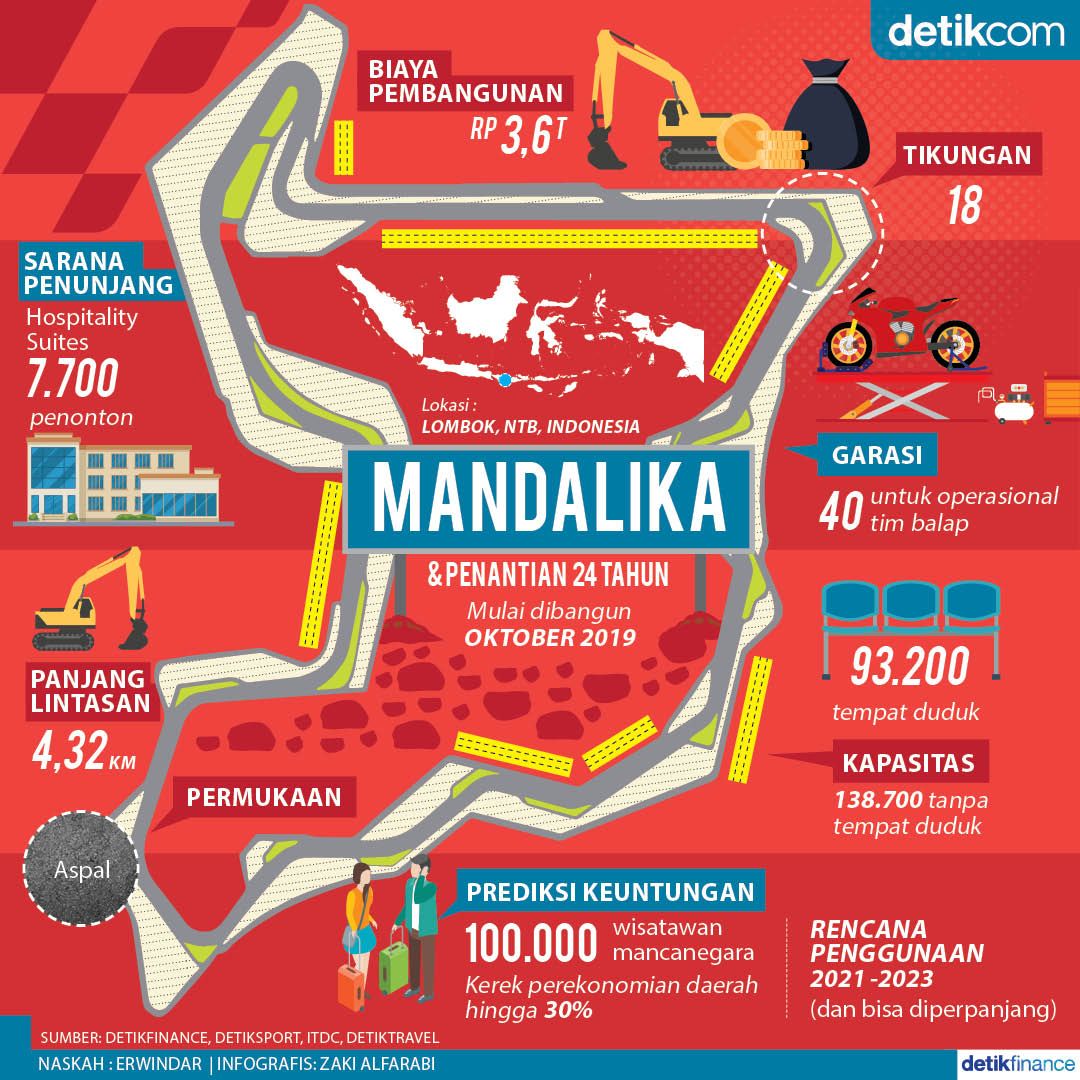 "Vždycky jsme mluvili o tom, že nezávodíme na městských okruzích, ale tato trať má všechny aspekty městského okruhu – je uprostřed města, jsou tu hotely – ale zároveň jezdcům zajistí plnou bezpečnost," slíbil Carmelo Ezpeleta.
Zdá se, že půjde o stálý okruh s běžnými únikovými zónami, ale během roku bude využíván i k běžnému provozu.
"Hlavní plány rezortu byly dokončeny ještě předtím, než jsme se do toho zapojili a s Roadgrip, MRK1 a ITDC jsme diskutovali návrh trati," pověděl Mark Hughes. "Věděli jsme, že do toho nemůžeme vstoupit a úplně to celé změnit, protože už do toho bylo hodně investováno. Za podpory Dorny a také FIM jsme udělali některé malé změny, abychom vyhověli bezpečnostním požadavkům pro získání licence třídy A. Pokud přijedete na závodní akci, bude to jako byste přijeli na jakoukoliv jinou trať MotoGP. Bude mít kompletní infrastrukturu, ale velká část toho se poté stane běžnou silniční sítí tohoto resortu po zbytek roku. Myslím, že je to pro Indonésii velice důležité. Indonésie je tak rozlehlá země, že mít tu stálý okruh na jednom místě nedává smysl, ale tohle je skvělé využití oblasti na Mandalice. Například budeme mít postavenou fantastickou budovu, která bude rozšířena o konferenční a výstavní centrum, takže bude využita i mimo závody a bude součástí infrastruktury pro turistickou destinaci."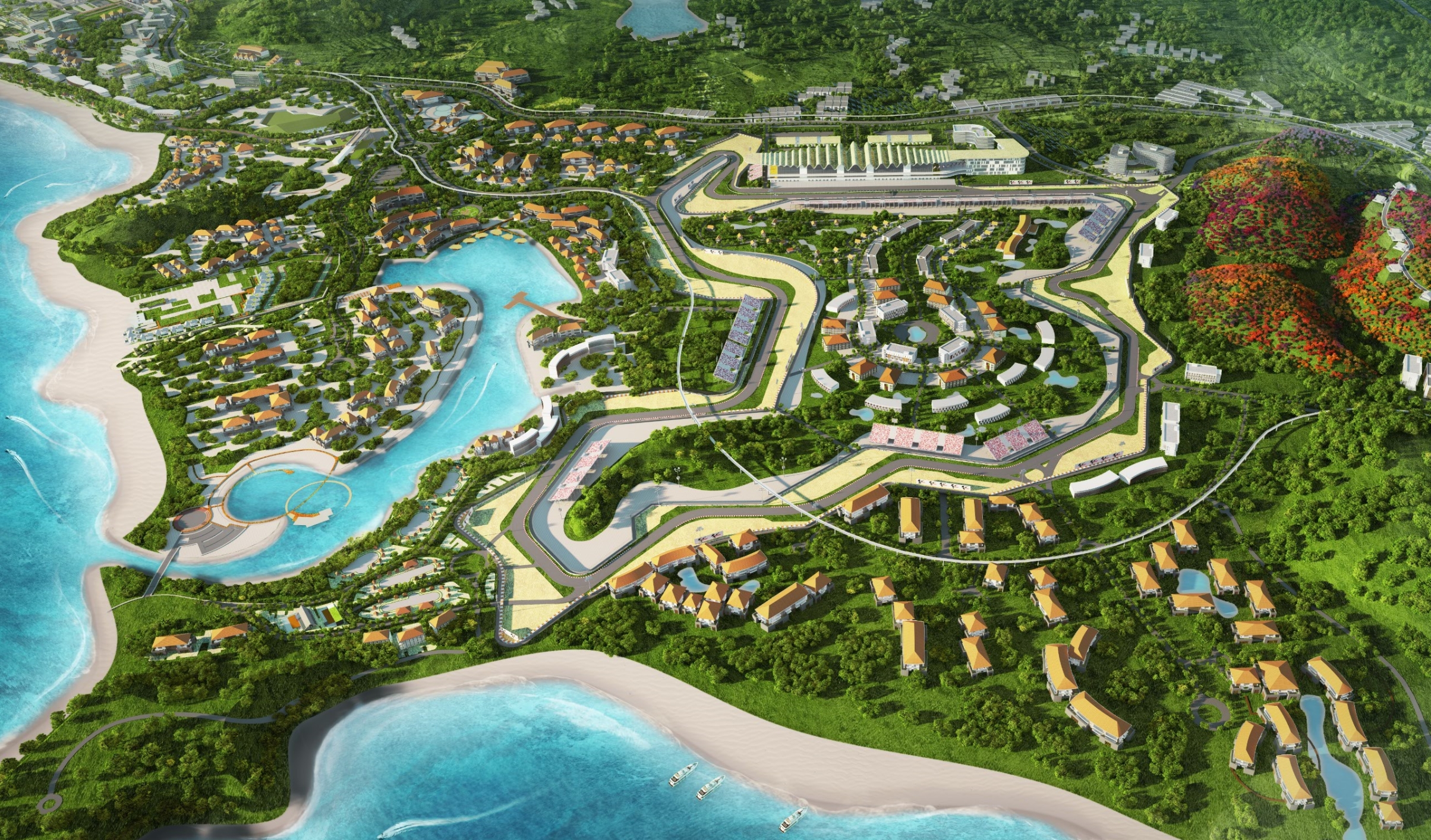 Otázkou je, v jakém stavu bude asfalt, když bude běžně používán, protože jak je známo, okruhům pro motocyklové závod auta škodí.
"Jednou z hlavních obchodních činností našeho partnera Roadgrip je pokládání povrch a stavění letištních ploch, takže mají velice dobré technické zázemí, se kterým řeší specifika asfaltu," řekl Mark Hughes. "Budeme mít standardní procedury, které budou limitovat druh dopravy, který může tyto silnice okruhu během roku používat, abychom minimalizovali úroveň poškození, risk kontaminace a zároveň máme speciální vybavení pro udržení úrovně přilnavosti okruhu. Stojí za tím velký výzkum, který nemusí každý pochopit, ale my jsme se o to postarali."
Kromě znepokojení o kvalitu asfaltu se také diskutovalo rozložení okruhu, kde to vypadá, že budou hlavně pomalé zatáčky, ale Carmelo Ezpeleta upozorňoval na to, aby se nedělaly závěry jen z pohledu na mapu.
"Podle našich zkušeností není možné se podívat na rozložení trati na papíře a říct, zda je to dobrý okruh nebo ne. Myslíme si, že při návrhu odvedli dobrou práci. Dívali jsme se na to a diskutovali to s Francem Uncinim a dalšími lidmi z FIM a náš názor je takový, že závodní trať bude v pohodě. Zda se na ní bude dobře jezdit nebo ne? Upřímně, dostali jsme různé názory od jezdců na 19 okruhů, protože to záleží na jejich výsledcích," pověděl Ezpeleta.
Okruh v Mandalice bude mít jen 4,3 km, celkem 19 zatáček a 50 000 míst k sezení, ale celková kapacita je 100 000 lidí.
"Jsme si velice dobře vědomi toho, že fanouškovská základna v Indonésii je velká. Uvidíme tu jeden z největších, ne-li vůbec největší, dav lidí při závodě MotoGP. Bude to něco velice speciálního v historii MotoGP," uzavřel Hughes.