Milan Engel, Tomáš Kubiena a Olga Roučková hodnotí čtvrtou etapu rallye Dakar, což byla zároveň první část maratónské etapy.
Zdroj: TZ
Ve čtvrtek čekala jezdce rallye Dakar 4. etapa (Arequipa -> Moquegua): 405 kilometrů dlouhá měřená první část maratónské etapy, což v praxi znamená, že se závodníci po etapě nevrací ke svým asistencím a mechanikům. Bivak mají zajištěný od organizátora, včetně noclehu v místní tělocvičně.
Dvě minuty před šestou ranní do čtvrté etapy Dakaru 2019 vyrazil Milan Engel. Českého závodníka zatím v každé etapě potkala komplikace s navigací a tak doufal, že konečně prolomí smůlu a nebude ztrácet zbytečné minuty hledáním bodů, které musí projet. "Jsem v cíli čtvrté etapy, motorku mám nachystanou, vše by mělo být v pořádku, nic není poškozeného. Dnes jsem jel tak nějak ten svůj střed, ve fesh fesh mi to vůbec neutíkalo, pak jsme jeli na maximálce nějakých 140km/h, takže jsem to tam pral co to šlo. Všechny body jsem sesbíral, takže dnes takový normální den. Teď už jsme v maratónském bivaku, konečně můžu odpočívat a nabrat síly na zítra," dodal Milan Engel z bivaku v Moquegua. Etapu nakonec dokončil na 31. místě ze ztrátou 37:14 na vítěze. V celkovém pořadí je zatím 32., ale odstupy mezi jezdci nejsou vůbec velké.
Tomáš Kubiena se do čtvrté etapy vrhl po hlavě a hned od začátku ukazoval, že patří mezi absolutní elitu a favority tohoto závodu. Až do WP4 se držel na prvním místě v kategorii QUAD a vzhledem k rozestupům vypadaly vyhlídky na zbytek etapy velice optimisticky! Poté ale musel Kubiena zpomalit kvůli technickým problémům na své KTM 690 Hawk. Čtyřkolka začala ztrácet olej, což bylo úplně to stejné co se mu stalo před pár dny na motoru, který musel být vyměněn. Aby toho nebylo málo, ke konci měřeného úseku ještě trefil velký kámen a to zrovna v etapě, kdy bude nocovat bez asistence není optimální. "Fesh fesh řečiště.. Zase prokluzuje spojka a výkon nění. Poté jsem nabral fesh feshem zase do motoru prach a žeře mi to olej. Ptal jsem se asi dvaceti lidí, zda nemají olej, ale nikdo neměl, nebo mi nechtěl dát. Tak jsem musel jet na půl plynu. No a na závěr v řečišti jsem urazil ráfek, takže jsem musel dojet na prázdném kole. Takže super den a zítra uvidíme," poslal Tomáš Kubiena vzkaz z bivaku. Díky problémům nakonec ztratil nejen vedení v etapě, ale bude muset doufat, aby se dostal do cíle páteční páté etapy. V celkovém pořadí je pátý.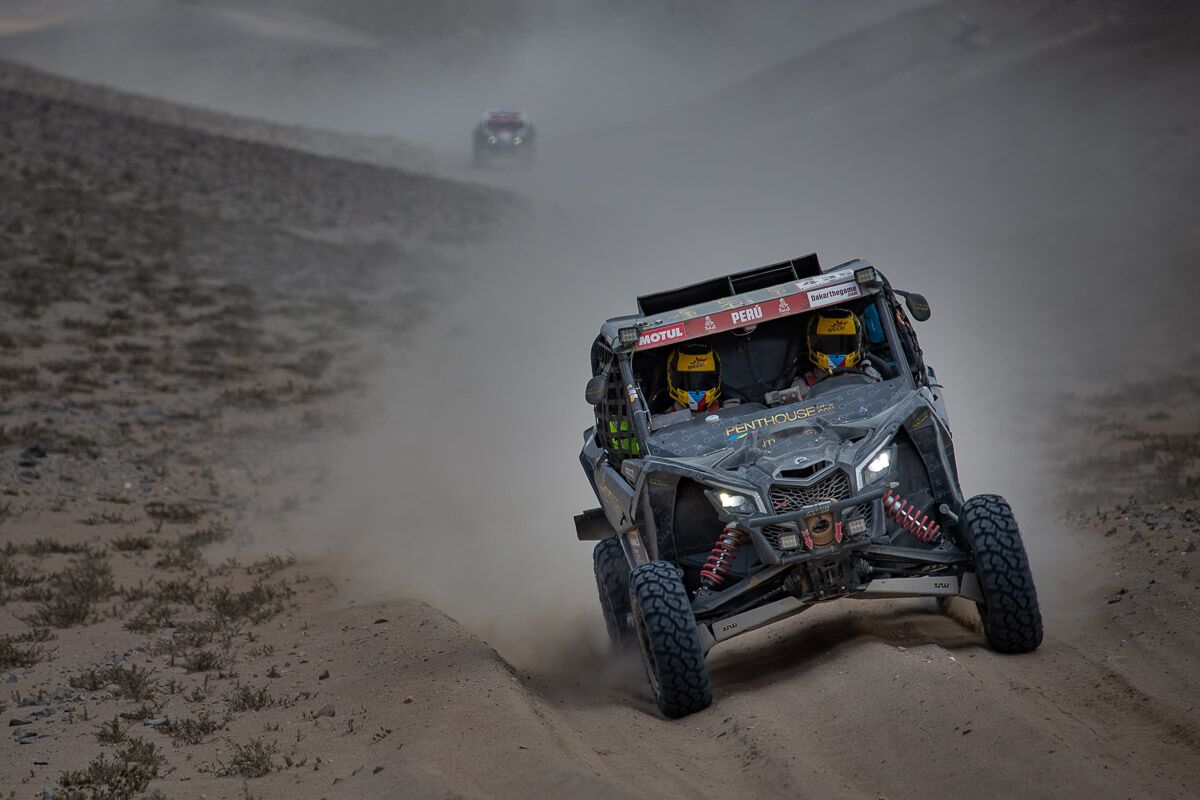 V kategorii SxS dále pokračuje Olga Roučková spolu se svým navigátorem Danielem Zelenkou. Jejich Can-Am funguje zatím skvěle a tak mohou pokračovat relativně bez větších problémů. Po dlouhém téměř 500 kilometrovém přejezdu z cíle třetí etapy dorazily do bivaku před maratónskou etapou až ve tři hodiny ráno, přičemž do etapy museli odstartovat v devět. Mechanici makali na Maverickovi až do ranních hodin. V zásadě se ale jednalo o základní údržbu, takže vše stihli připravit na 100%. Celou čtvrtou etapu jela Ollie 7 hodin a 30 minut a do bivaku před jedenáctou večerní. "Nenávidím fesh fesh, bylo to dnes zase dlouhé. S Danem jsme to ale snad zvládli bez ztráty kytičky. Maverick funguje skvěle. Do cíle jsme dorazili sice až za 7 hodin, ale jsem ráda, že jsme to zvládli." Ollie dorazila do cíle na 25. místě a v celkovém pořadí je 26. a s časem na trati téměř už 21 hodin.
Dnešní druhá část maratónské etapy bude ještě náročnější s celkovou délkou 776 kilometrů.