Filip Salač hodnotí první závodní víkend letošní sezóny v mistrovství světa silničních motocyklů, který byl ovlivněn těžkým pádem.
Zdroj: TZ, Foto: Redox Prüstel GP
O uplynulém víkendu se na katarském okruhu Losail rozjela letošní sezóna mistrovství světa silničních motocyklů. Na start se těšil také český závodník Filip Salač, který je letošním nováčkem ve třídě Moto3.
Program závodního víkendu začal pátečními volnými tréninky, kde Filip navázal na práci z testů a zároveň využil svých soupeřů na trati. Se zajetými časy byl spokojený a věřil si na dobrou kvalifikaci. Bohužel před ní došlo k nešťastnému a hlavně těžkému pádu, po kterém musel na vyšetření do nemocnice. Žádná závažná zranění se nepotvrdila, takže i přes to, že byl Filip dost potlučený, nastoupil do nedělního závodu. V něm jezdec týmu Redox Prüstel GP dojel na 21. místě.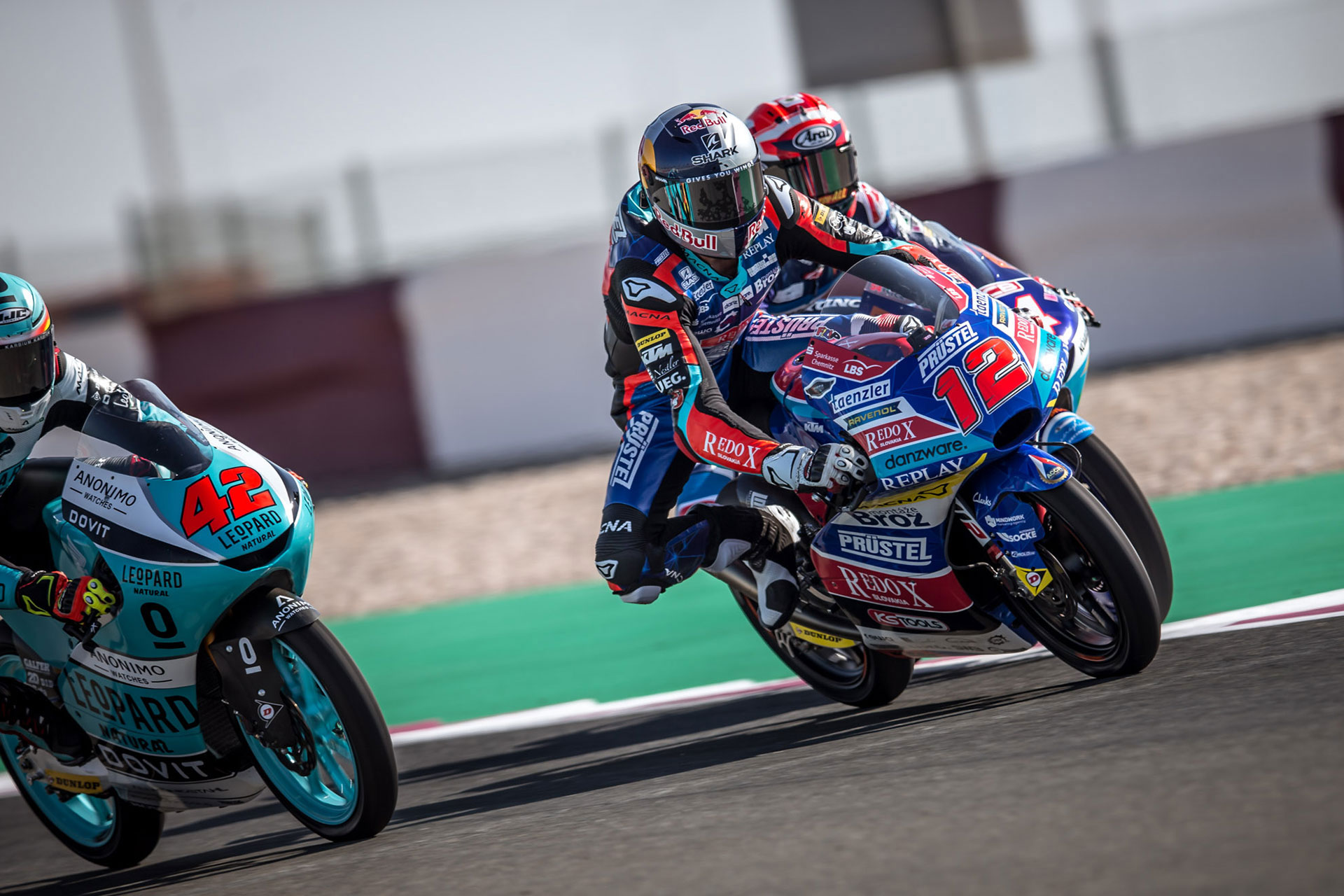 Filip Salač
"V pátečních trénincích se mi vedlo docela dobře. Ve druhém tréninku se mi podařilo zajet 2:06 a byl jsem spokojený. Nejel jsem na plno, ale ve skupině ve vláčku a nechal se vést. Motorka fungovala suprově a po prvním dni jsem byl spokojený.
Ve třetím tréninku jsem měl těžký pád, tuším, že ve čtvrtém kole. Byla to souhra větru a kluzké trati po ránu. Stopa ještě nebyla vyjetá a přes noc se na ní navál písek. Zadním kolem jsem trochu vyjel za obrubníky a jak jsem jel ve smyku, tak se mi zadní kolo přes hranu obrubníku smeklo. V Kataru jsou obrubníky vyšší, takže jsem dostal highsidera a hned dvojitého.
Při tom prvním to byla velká rána do břicha od nádrže a hodně jsem se bouchl do pravé nohy. Jak jsem dopadl na zem, tak jsem špatně spadl na bok a hlavu, takže to byl těžký pád. Nechtělo se mi zvedat, bolela mě noha a špatně se mi dýchalo. Hodně lidí říkalo, že je to z airbagu, ale to nebylo, protože jsem spadl i při testech, takže vím, jak je aribag cítit. Ještě dnes mám naražená žebra a bolí mě i noha, ale už je to lepší.
Po pádu mě odvezli do medical centre, kde jsem jim všechno řekl, ale nemluvil jsem o bolesti hlavy z obav, aby mě pustili jezdit. Odtud mě poslali do nemocnice na CT vyšetření, aby se ujistili, že nemám žádná vnitřní zranění. To trvalo asi tři nebo čtyři hodiny. Byl jsem hodně naštvaný a chtěl podepsat revers, abych stihl kvalifikaci. To by mi nakonec nepomohlo, protože jsme potřebovali papír, že jsem v pořádku a nemám žádná vnitřní zranění. Pokud bych to podepsal a odešel bez výsledků, tak by mi to IRTA nevzala.
Domluvili jsme se tak, že budu nakonec startovat z předposledního místa. Ve warm upu to bylo v pohodě, byl jsem na 21. pozici a byl rád, za umístění a že to i přes bolest to šlo.
Do závodu jsem dobře odstartoval a předjel řadu přede mnou. V první zatáčce jsem zvolil taktiku, že pojedu venkem. Bohužel tam došlo ke kontaktu u jiných jezdců, jeden z nich to narovnal a mě vyvezl ven. Tím jsem ztratil a byl opět předposlední. V prvním kole byla navíc bouračka a kvůli ní nám ujela první skupina. Poté jsem se nemohl udržet Andrey Migna a Johna McPhee, kteří mě předjeli. Nevyhovovalo mi to a hlavně mě hodně bolela pravá strana, takže jsem měl do pravých zatáček problém s náklony a rovnováhou, abych to pořádně vyvažoval.
Závod dopadl tak, jak dopadl, měl jsem velkou ztrátu od prvního a to mě hodně mrzí. Měl jsem na to, abych jel líp. Doufám, že to v příštích závodech bude lepší, ale na druhou stranu jsem rád, že mi po pádu nic není. Vypadalo to blbě na klíční kost a kotník, ale tělo mě podrželo. Nabral jsem nové zkušenosti do dalších závodů. Věřím, že to bude lepší, že s týmem budeme hodně pracovat a brzy dosáhneme na první světové body."
Závodní sezóna Grand Prix pokračuje Velkou cenou Argentiny od 29. do 31. března 2019.