O víkendu se ve španělském Albacete odjelo předposlední kolo letošní sezóny šampionátu FIM CEV Repsol, kde ve třídě Moto3 juniorského mistrovství světa závodí Filip Salač. Filip během víkendu zajížděl slušné časy na kolo, ale v úvodu mokrého závodu ztratil pár pozic. To v průběhu napravil a cílem projel desátý.
Zdroj: TZ
Předposlední kolo letošní sezóny španělského šampionátu FIM CEV Repsol zavítalo na okruh v Albacete. Pravidelným účastníkem tohoto šampionátu je Filip Salač, který sem zamířil po nedávných testech, takže měl motorku před víkendem lépe připravenou.
"Už od čtvrtečních tréninků se nám dařilo, protože jsem měl motorku nastavenou z testu. Dolaďovali jsme jen malé detaily a snažili se zlepšit čas. V prvním tréninku jsme se trochu trápili, protože jsem měl špatný grip na předním kole a hodně se mi předek zavíral," zhodnotil Filip první vyjížďku ve třídě Moto3 na trati v Albacete a pokračuje: "V pátek jsme udělali nějaké další změny a byl to krok správným směrem. V odpoledním tréninku jsem měl velmi dobré tempo a podařilo se zajíždět slušné časy, jen o desetinu pomalejší, než v kvalifikaci."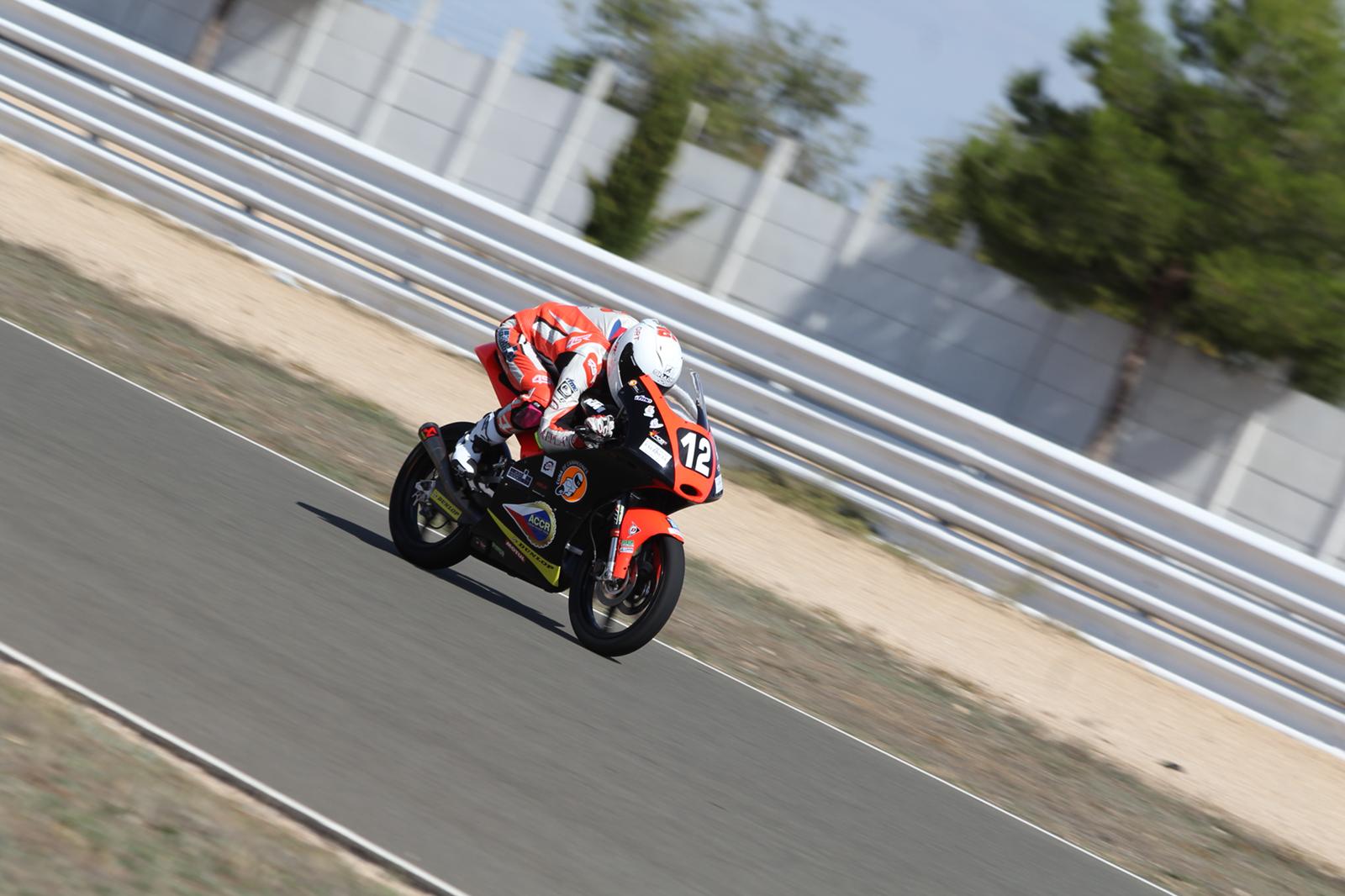 V sobotu byly na programu dvě kvalifikace. Výkon v té první ovlivnila stará pneumatika z roku 2016, kterou nedopatřením dostal od Dunlopu. Ve druhém měřeném tréninku si Filip zlepšil čas na konečnou hodnotu 1:34,791. V kombinaci obou kvalifikací z toho byla výchozí 15. pozice na startovním roštu se ztrátou necelé jedné vteřiny na prvního.
"Do první kvalifikace se jelo brzy ráno. Díky tomu, že není dopoledne takové teplo, máme lepší přilnavost pneumatik, motorky jedou lépe a časy na kolo jsou rychlejší. Na začátku jsem zajel pár kol na nové zadní střední pneumatice a staré přední. Následně jsme přezuli na nové měkké pneumatiky vpředu i vzadu, ale už po jednom kole jsem musel zajet do boxů. Měl jsem z pneumatiky špatný pocit a vůbec nedržela. Po zkontrolování tlaků se to ani ve druhém výjezdu nezlepšilo, takže jsme se vrátili k pneumatice ze začátku kvalifikace. Ta měla najeto už asi sedm kol. Kvůli tomu jsem nezajel žádný lepší čas a skončil na 24. místě. Po kvalifikaci jsme zjistili, že šlo o starou pneumatiku z roku 2016. Šlo o chybu Dunlopu, který nám tuto pneumatiku poskytl, navíc jsem nebyl jediný, komu se to stalo."
"Do druhé kvalifikace jsem byl namotivovaný k zajetí dobrého času a nakonec jsem skončil šestý. Celý víkend jsem zajížděl dobré časy, navíc jsem jezdil sám a za nikým se nevyvážel. Na startu z toho bylo patnácté místo v kombinaci obou kvalifikací."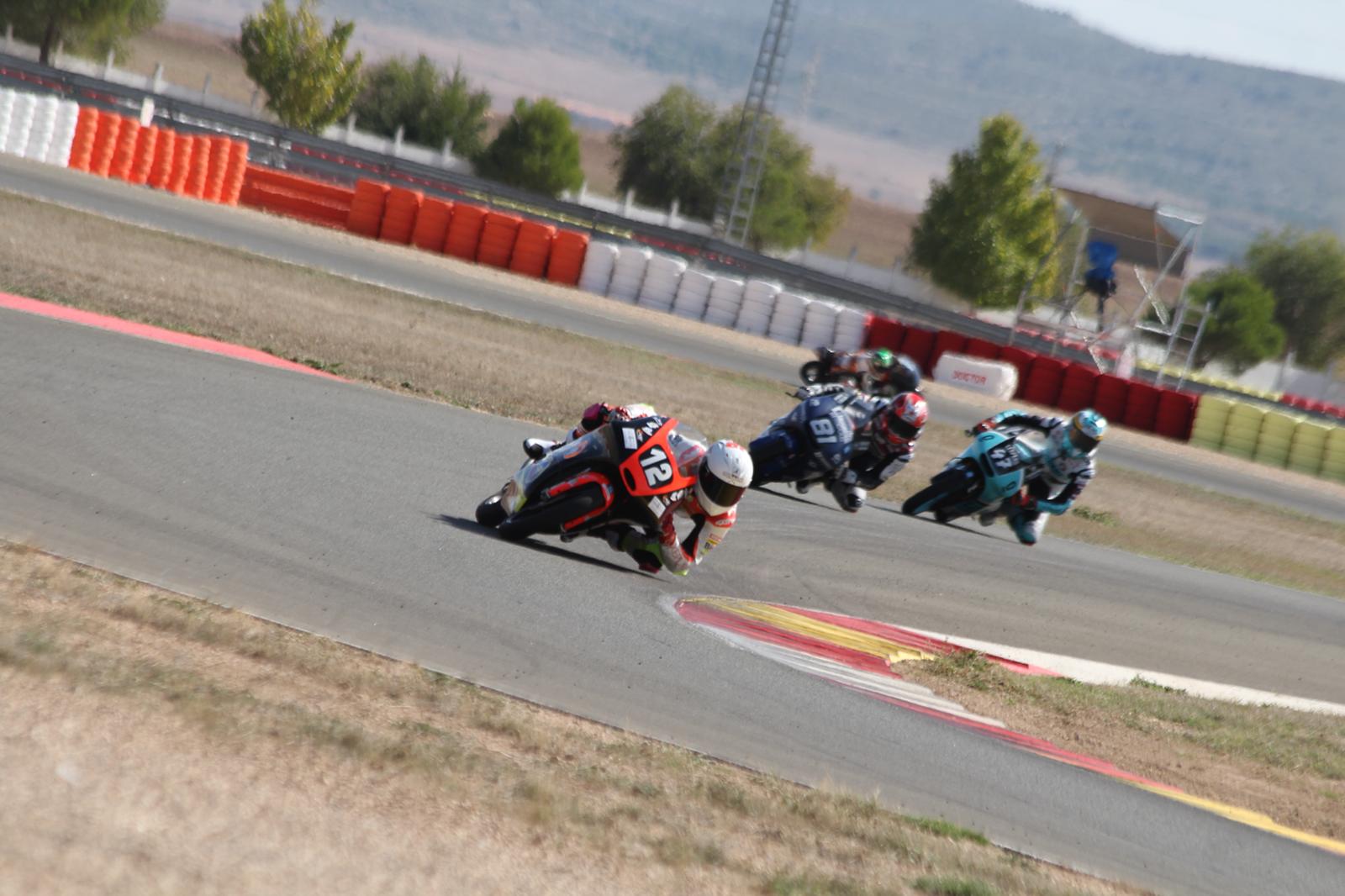 V neděli ráno byla možnost naposledy vyzkoušet motorku v ranním zahřívacím tréninku, který se jel ještě na suché trati. "Do závodu jsme nevěděli, jestli bude pršet nebo ne. Ve warm upu jsem měl s motorkou super pocit. Zajel jsem třetí čas, což byl můj nejlepší výsledek víkendu."
Před závodem se potvrdila předpověď počasí a začalo pršet. Veškerá práce ze suchých tréninků byla pryč, protože se muselo přizpůsobit novým náročným podmínkám. Oproti minulým závodům v Jerezu se tento víkend jel jen jeden závod, který byl na 3,5 kilometrové trati vypsán na 19 kol. Filip závod takto hodnotí:
"Do závodu začalo pršet, takže jsme vyjeli na mokrých pneumatikách, ale ke konci závodu začala trať osychat. Na začátku jsem potřeboval dostat motorku pod kontrolu, protože jsme oproti tréninkům na mokru nic nezajeli. Bohužel jsem nestihl akceptovat tempo ostatních a ti mi ucukli, takže jsem se po prvních třech kolech pohyboval kolem 23. místa. Postupně jsem se začal dostávat do tempa a získal pozice. Nakonec z toho bylo 10. místo v cíli, navíc jsem zajel čtvrtý nejrychlejší čas závodu, což je super. Mrzí mě zmíněný začátek závodu, ale poučil jsem se a doufám, že to bude v příštích závodech lepší."
"Chci poděkovat Autoklubu České republiky, panu Šťovíčkovi, Matějovi Smržovi za koučink, který mi pomohl, rodině, všem sponzorům a celému týmu za práci, kterou jsme odvedli. Po Jerezu jsme udělali další pokrok vpřed, za který jsem rád. Už se těším na příští závody ve Valencii a ještě jednou moc děkuji," dodal závěrem Filip Salač.
Závěrečné kolo letošní sezóny juniorského mistrovství světa silničních motocyklů se pojede ve Valencii od 23. do 25. 11. 2018.