Na německém Sachsenringu se o víkendu jely další dva letošní závody Red Bull MotoGP Rookies Cupu. Filip Salač potvrdil svoji skvělou formu čtvrtým a třetím místem. V konečném součtu se mu podařilo nasbírat dalších 29 bodů, což znamená prozatímní třetí místo. Před Filipem se drží pouze bratrské duo Can a Deniz Öncü.
Zdroj: TZ
"Do prvního závodu jsem startoval po diskvalifikaci P. Paavilainena z páté pozice. Start se mi celkem podařil a brzy se vytvořila čtyřčlenná skupinka jezdců bojujících o druhé místo. První Denis nám trochu poodjel. Po celý závod jsme se předjížděli a naše souboje byly velmi vyrovnané. V poslední zatáčce jsem byl ještě třetí, ale najel jsem ji trochu více z venku a o devatenáct tisícin vteřiny mě překonal Yamanaka. Dojel jsem tedy čtvrtý," hodnotí první závod Filip Salač.
"Start druhého závodu mně taky docela vyšel, ale hned nám začali ujíždět první tři jezdci. Postupně jsme na ně ztráceli něco kolem dvou a půl vteřiny. Pohyboval jsem se mezi čtvrtým a šestým místem, ale pak jsem se naštval a podařilo se mi probojovat do čela druhé skupinky a postupně stáhnout i třetího Yamanaku. Byl to souboj na ostří nože, protože v těsném závěsu za mnou se drželi další jezdci. Pořadí se ještě několikrát měnilo. Yamanako šel trochu později na brzdy, a tak jsem věděl, že budu lepší na výjezdu. Těsně vedle mě se ještě držel Carrasco, byl jsem mezi nimi jako sendvič. Nebylo to nic jednoduchého, ale tentokrát těch pár tisícin chybělo Yamanakovi, takže jsem mu to vrátil," poznamenává s úsměvem Filip Salač a pokračuje: "Chtěl bych poděkovat mým mechanikům a celému Red Bull MotoGP Rookies Cupu, rodině, fanouškům a hlavně našim partnerům, především pak Autoklubu ČR, jehož prezident pan Jan Šťovíček mě opět přijel podpořit osobně."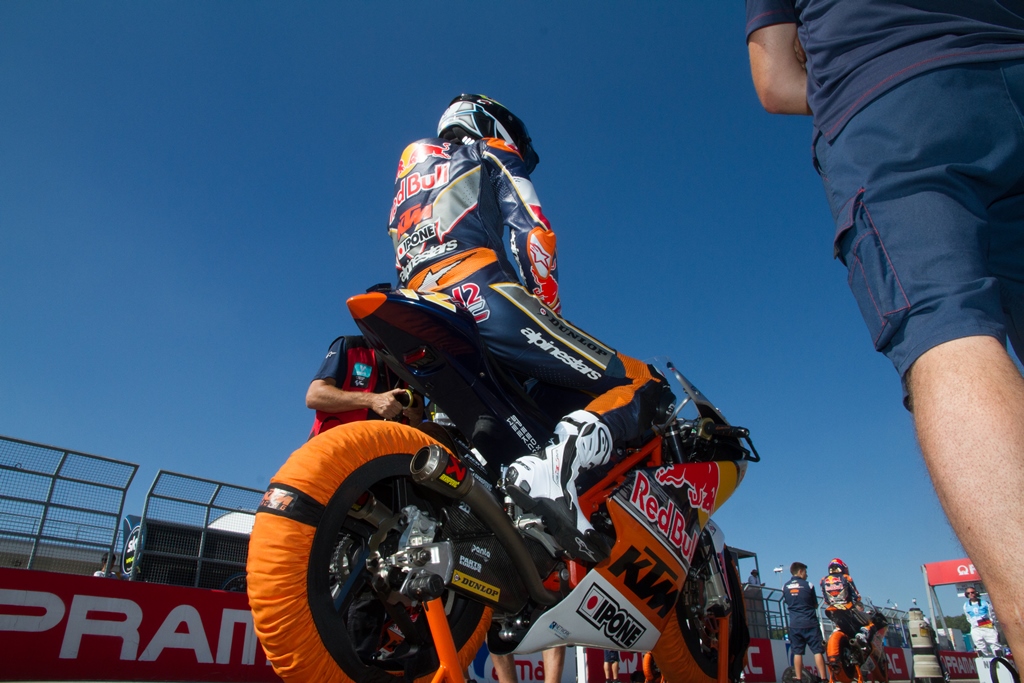 "Teď už se chystám na týdenní tréninkovou dovolenou do Španělska, kde mě čeká na konci července závod mistrovství světa juniorů Moto3 – FIM CEV Repsol. A nejvíc se samozřejmě těším na můj první závod Moto3 v Brně, kde budu startovat na divokou kartu! Bude to hodně těžké, pojedu mezi nejlepšími jezdci této kategorie, ale přesto se moc těším na fanoušky a pokusím se ze sebe dostat maximum," dodává Filip Salač ke svému letnímu programu.
Krátce před startem se na Filipa přišel podívat Alain Bronec, majitel týmu CIP Green Power a také šéf technického oddělení KTM Christian Horner. Oba jsou v motocyklovém sportu velmi uznávanými odborníky a dobře se s nimi zná také prezident Autoklubu ČR, pan JUDr. Jan Šťovíček, Ph.D.
"Svět motorsportu je opravdu malý. Alaina Broneca znám už 20 let. Tehdy jel s Michalem Bursou v týmu Fast Bee čtyřiadvacetihodinovku v Le Mans a já jsem byl týmovým manažerem. Moc rád jsem ho zase potkal a těší mě, že jsem mu mohl představit Filipa," komentuje setkání s Alainem Bronecem JUDr. Jan Šťovíček a dodává: "Christian Horner mi během osobního setkání potvrdil, že Filip je na seznamu talentovaných jezdců, které hodlá KTM i nadále podporovat, a to je pro nás skvělá zpráva."
Filip Salač dokončil všech sedm odjetých závodů letošního Red Bull MotoGP Rookies Cupu na bodech a potvrdil tak, že i přes své mládí je velmi rychlým, dravým a vyzrálým jezdcem.