Osmnáctá Grand Prix letošní sezóny mistrovství světa silničních motocyklů byla dnes zahájena na mezinárodním okruhu Sepang v Malajsii. Filipa Salače opět čekala nová trať, na které se mu nakonec během prvního dne podařilo zajet dobrý čas.
Zdroj: TZ, Foto: Ronny Lekl (Redox Prüstel GP Team)
Letošní sezóna mistrovství světa silničních motocyklů se chýlí ke konci. Dnes se na mezinárodním okruhu Sepang rozjela Grand Prix Malajsie, která je osmnáctou Velkou cenou z celkových devatenácti. Zároveň tím také končí zámořská šňůra závěru sezóny.
Sepang je typický svým počasím, kdy je velké horko, během chvíle prší a hned svítí slunce. To také zažili jezdci třídy Moto3 během prvního volného tréninku. V něm se Filip Salač musel vypořádat nejen s těžkými podmínkami, ale zároveň se učil další novou trať. Na úvod dne obsadil 24. místo s časem 2:28,422. Během odpoledne už byly podmínky lepší a jelo se na suché trati. Výsledkem toho bylo, že si český závodník zlepšil čas na 2:13,024 a se ztrátou 0,558 s obsadil pěkné 12. místo. Tím si zároveň zajistil prozatímní postup do druhé části kvalifikace, což je cílem udržet i zítra a díky tomu si v kvalifikaci vyjet co nejlepší pozici na startu.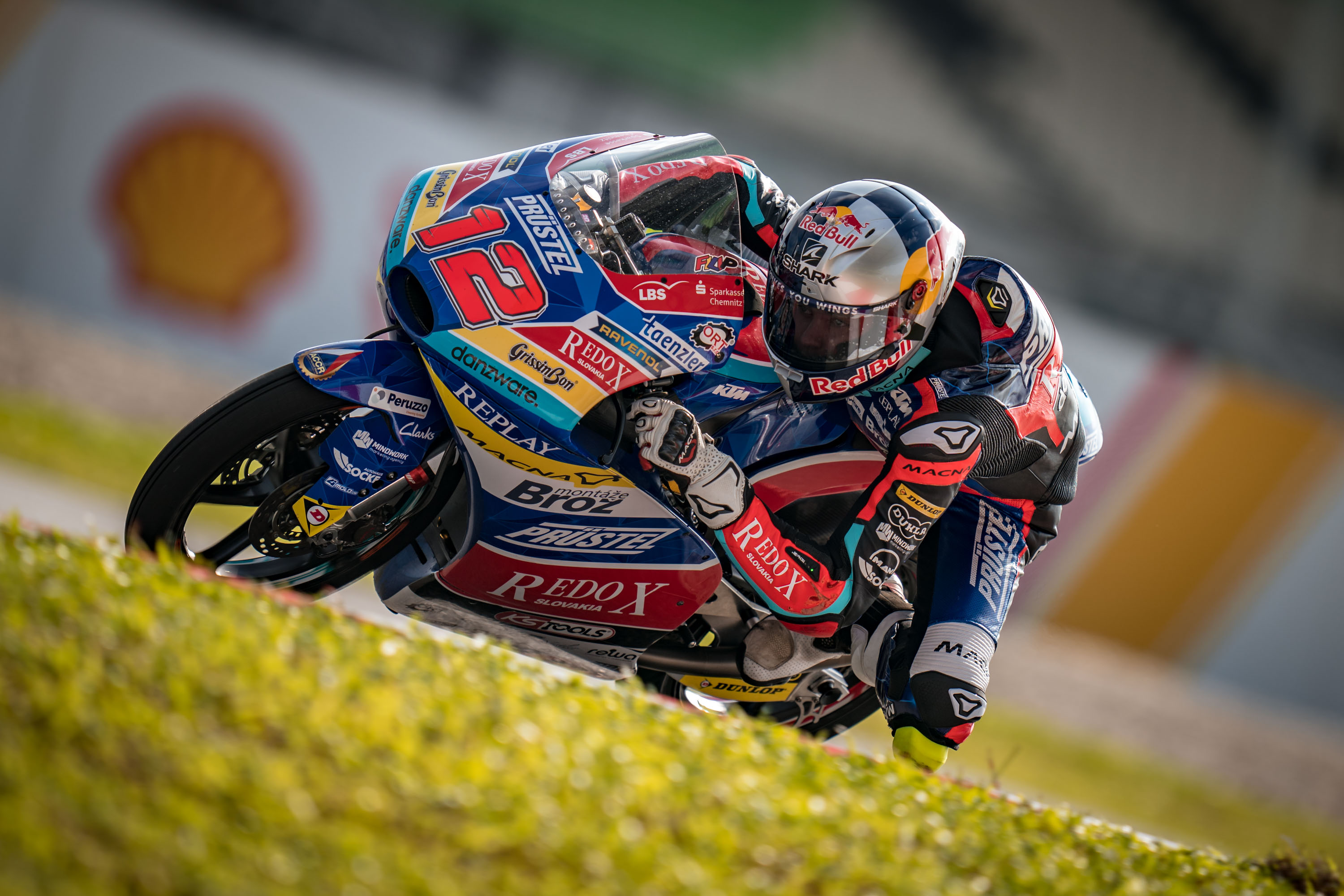 Filip Salač
"Dnes to pro mě byl první den na nové trati v Sepangu v Malajsii. Nakonec jsem si to docela užil, ale v prvním volném tréninku jsem se hodně trápil. Nejen, že to bylo poprvé na trati, ale venku svítilo sluníčko a trať byla mokrá. Jeli jsme na mokrých pneumatikách a ze začátku se suchým nastavením, protože jsme mysleli, že to hned uschne. Když jsem zajel do boxu, tak jsme to trochu změkčili, ale pořád to nebylo ideální. Trať postupně osychala a na posledních pár minut několik jezdců vyjelo na slickách. Já bych přehodit pneumatiky už nestihl, ale ani mi to nevadilo, protože jsem si říkal, že jde o první volný trénink a že druhý bude suchý. Najel jsem si trať, poznal nerovnosti, stopu a brzdné body."
"Ve druhém volném tréninku se jelo na suchu a od začátku jsem se pohyboval v první desítce. Poté jsem se propadl na 18. místo, ale na použitých pneumatikách jsem jel stabilní časy. Pneumatiky po přibližně osmi kolech ztratily výkon. Poté jsem se s novými chytil docela dobré skupinky, kde byli Lorenzo Dalla Porta, Marcos Ramirez a Alonso Lopez. Stáhl jsem je, navíc s nimi jel Can Öncu, kterého jsem předjel. Zajel jsem svůj nejlepší čas 2:13,0, což je na poprvé hodně dobré. Jsem spokojený s 12. místem. Motorka docela funguje, musíme ještě vyřešit problém s přední částí motocyklu, kde se mi to dost zavírá. Myslím si, že to bude dobré a už se na další den těším. Děkuji všem, co mě podporují, do kvalifikace dám všechno."
Harmonogram třídy Moto3 Shell Malaysia Motorcycle Grand Prix (časy uvedeny v SEČ):
Sobota 2. 11. 2019: 3. volný trénink (02:00 – 02:40), kvalifikace (05:35 – 06:15 – 2 části)
Neděle 3. 12. 2019: Warm Up (01:40 – 02:00), Závod 05:00.