V malajském Sepangu dnes pokračoval program osmnácté Grand Prix letošní sezóny mistrovství světa silničních motocyklů. Filip Salač po dobrém pátku bohužel čelil problémům, ať už se soupeři, či s motorkou, takže s dneškem není tak spokojený.
Zdroj: TZ, Foto: Ronny Lekl (Redox Prüstel GP Team)
Předposlední Grand Prix letošní sezóny MotoGP je v plném proudu a jezdci mají za sebou poslední volné tréninky a kvalifikace Velké ceny Malajsie. V Sepangu dnes vydrželo dobré počasí a suchá trať. Filip Salač si dnešního ranního tréninku moc neužil kvůli incidentu s Romanem Fenatim, po kterém spadl a rozbila se motorka, hlavně řidítko a přední brzda. Na závěr tréninku stihl Filip zajet už jen jedno měřené kolo a s časem 2:13,385 obsadil 25. místo. Kvůli tomu musel nastoupit do první části kvalifikace. Poškozená brzda se nakonec projevila i v kvalifikaci, kde postupně ztratila výkon a český jezdec nemohl jet naplno. S časem 2:13,778 si do zítřejšího závodu vyjel 26. místo na startovním roštu.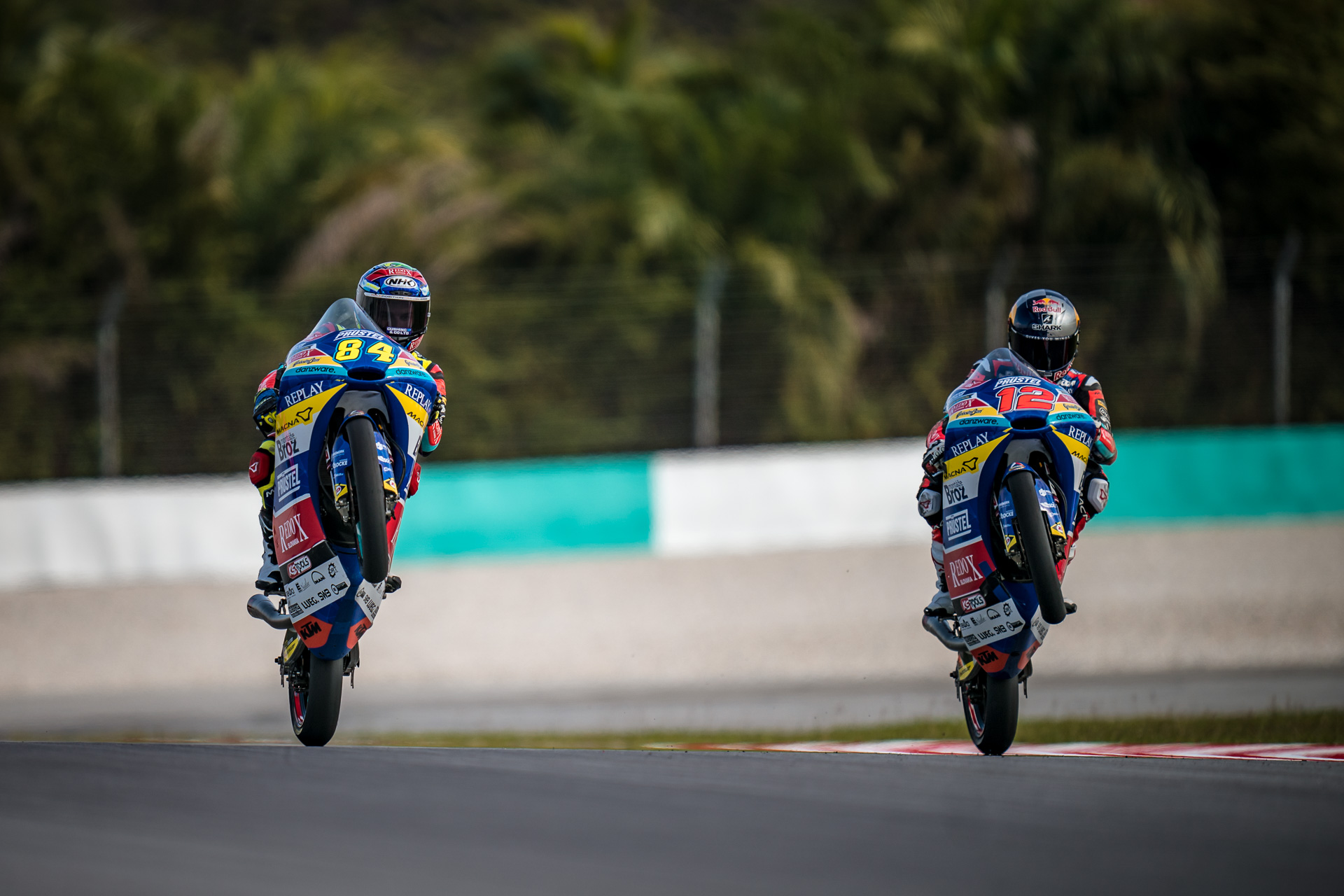 Filip Salač
"Dneska to pro mě byl těžký den. Do třetího volného tréninku jsem nastoupil s použitými pneumatikami a hned v prvním měřeném kole jsem měl dobrý čas. Bohužel v dalším kole do mě v rychlé druhé zatáčce narazil Romano Fenati. Nevím, co to udělal, ale je to Fenati… Měl jsem zlomené řidítko, takže jsem s motorkou nemohl zajet do boxů a čekali jsme, než nám ji přivezou na opravu. Museli jsme vyměnit plyn, brzdovou pumpu a další drobnosti. Do tréninku jsem vyjel až na poslední rychlé kolo, ale bojoval se mnou Can Öncü, který volil zvláštní stopu. I když jsem byl celkově rychlejší, předjel mě v zatáčce, kde se jinak předjet nedá. Docela mě to štve, protože bych kolo dokázal zajet rychleji. Přede mnou jel Alonso Lopez, kterého jsem chtěl sledovat a který postoupil do druhé části kvalifikace. Já jsem kvůli horšímu času dál nepostoupil."
"V první části kvalifikace jsem vyjel rovnou s novými pneumatikami, protože jsme nevěděli, jestli bude pršet kvůli blížícím se mrakům. Už ve třetím volném tréninku mi přišlo, že mi měkne brzda, ale myslel jsem si, že je to normální kvůli horku, které tu je. V kvalifikaci mi brzda znovu fungovala jen jedno kolo a pak už ne. Páčku jsem mačkal až k plynu a na zajetí do boxu nebyl čas. Kolo se tu jede za 2:20 a tím bych o všechno přišel. Musel jsem to objet tak, jak to šlo. Brzda se mi propadla úplně, takže jsem měl obavy i někoho předjíždět, abych je nesrazil. Moc mě to mrzí, ale jsem rád, že jsem to dojel, protože to bylo hodně na limitu. Vím, že mám na víc, protože tady umím jet rychle i předjíždět. Možná, že budou ještě penalizace a dostanu se o nějaká místa dopředu, ale dnešek nebyl můj den a štěstí mi nepřálo. Uvidíme zítra, dám do toho úplně všechno. Pokusím se jet ještě lépe, než v Austrálii. Od prvního kola pojedu naplno, aby mi skupina neujela. Děkuji všem, co mě podporují."
Harmonogram třídy Moto3 Shell Malaysia Motorcycle Grand Prix (časy uvedeny v SEČ):
Neděle 3. 12. 2019: Warm Up (01:40 – 02:00), Závod 05:00.