Se sedmnáctou Grand Prix se šampionát mistrovství světa silničních motocyklů přesunul na okruh Phillip Island v Austrálii. Pro Filipa Salače je to další nová trať, kterou se musí rychle naučit, navíc měl dnes technické problémy.
Zdroj: TZ, Foto: Ronny Lekl (Redox Prüstel GP Team)
Zámořská šňůra mistrovství světa silničních motocyklů tento víkend pokračuje na Phillip Islandu v Austrálii, kdy jde zároveň o sedmnáctou Velkou cenu letošní sezóny. Český závodník Filip Salač opět čelí výzvě v podobě nové trati, navíc ještě není ve 100% formě po zranění z Japonska.
Páteční program se rozjel prvními volnými tréninky, které se jely na mokru. Filip Salač v tomto tréninku postupně zrychloval a nakonec obsadil 20. místo s časem 1:52,093. Odpoledne už trať oschla, takže časy na kolo šly dále dolu a Filip zajel kolo za 1:38,665. Nakonec se ztrátou 1,856 s obsadil 24. místo a to měl rozjeté ještě lepší kolo, ale zabránily tomu technické problémy.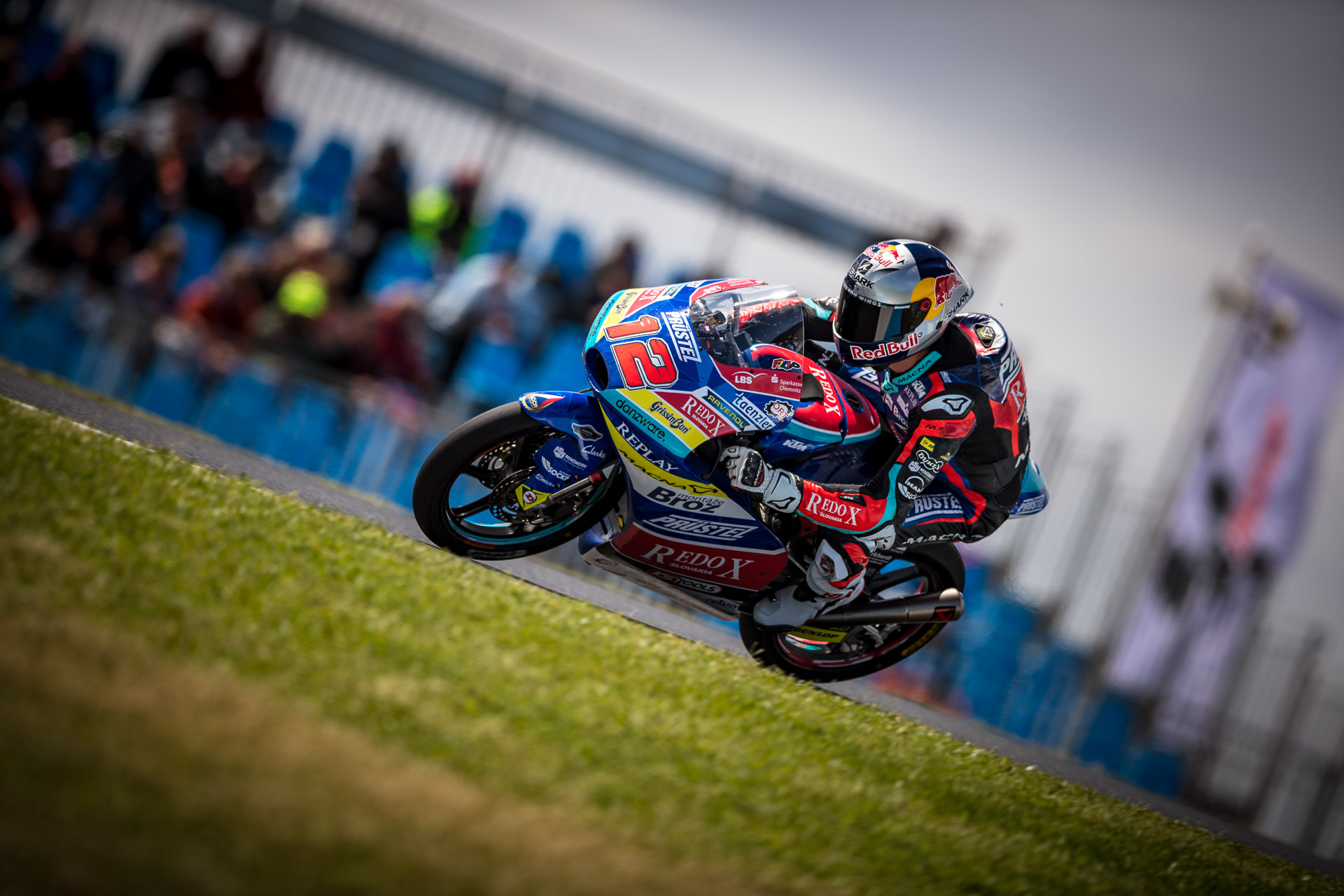 Filip Salač
"Dnes to pro mě byl první den na nové trati. Okruh na Phillip Islandu je hodně těžký, je úzký a rychlý. Co se týče mojí fyzičky, tak se cítím lépe, ale noha i záda mě pořád bolí, protože to není úplně uzdravené. Díky adrenalinu při jízdě na motorce to tolik necítím a nejvíc mě to bolí až po dojetí tréninků. V prvním volném tréninku jsme jeli na morku, ale pro první výjezd jsem měl nastavení na sucho, protože jsme si mysleli, že to bude osychat. Nakonec začalo ještě více pršet, tak jsem kvůli tomu zajel do boxu. Změnili jsme nastavení na mokro a v každém kole jsem o vteřinu zrychloval. Když jsem se dostal na čas 1:52, tak jsem věděl, že mám poslední kolo. Po druhé zatáčce jsem byl o 0,4 vteřiny rychlejší, než v tom předchozím kole, tak jsem si řekl, že na to budu tlačit dál, ale ve čtvrté zatáčce přišel highsider a spadl jsem. Byl to jeden z těch lehčích highsiderů, neproletěl jsem se jako v Japonsku. Motorku jsem zvedl a dojel do boxu. Škoda, že jsem kolo nedokončil, protože to mohl být slušný čas."
"Ve druhém volném tréninku se jelo na suchu. Bylo po dešti, takže trať neměla moc gripu. Při prvním výjezdu se mi motorka při výjezdu ze zatáčky ve velké rychlosti zvedla na zadní kolo a když kolo dopadlo, tak se ohnuly brýle. Kolo jelo rovně, ale já měl zatočená řidítka. Rychle jsem zajel do boxu, kde jsme to vyměnili a rovnou přezuli na nové pneumatiky. Když jsem vyjel na trať, tak přišly problémy s převodovkou, hlavně se třetím rychlostním stupněm. Přeskakovalo to z dvojky na čtyřku a poté se to vracelo na trojku. Kvůli tomu jsem nemohl zajet rychlé kolo. Zajel jsem jen jedno a raději zajel do boxu, aby mi to nezničilo motor. Ještě jsme to nevyřešili, možná jde o elektronickou chybu, možná o následek pádu. Uvidíme, zítra je další den. S pozicí zatím nejsem spokojený, ale na poprvé jsem zajížděl slušné časy a dávám do toho všechno. Trať se mi docela líbí, ale zítra sem má podle předpovědi přijít menší hurikán, vítr má dosahovat 100 km/h a má pršet. Uvidíme, zda se vůbec pojede. Děkuji všem za podporu."
Harmonogram třídy Moto3 Pramac Generac Australian Motorcycle GP (časy uvedeny v SEČ, pozor na nedělní změnu času z letního na zimní):
Sobota 26. 10. 2019: 3. volný trénink (00:00 – 00:40), kvalifikace (03:35 – 04:15 – 2 části)
Neděle 27. 10. 2019: Warm Up (00:40 – 01:00), Závod 02:00.