Během uplynulého víkendu se ve španělském Jerezu odjel další závodní podnik juniorského mistrovství světa ve třídě Moto3, které se jezdí při závodech španělského šampionátu. Filip Salač v konkurenci téměř čtyřiceti závodníků získal dvě umístění v Top10.
Zdroj: TZ
Ve španělském Jerezu se poslední zářijový víkend konalo další kolo letošní sezóny šampionátu FIM CEV Repsol, kde se třída Moto3 jede zároveň jako juniorské mistrovství světa. Hned po posledních závodech Rookies Cupu v Aragónu sem proto přijel Filip Salač, který tu jezdí v barvách českého talent teamu za podpory Cuna de Campeones. Závodní víkend začal již ve čtvrtek, kdy si mohli jezdci poprvé vyzkoušet trať.
"Od čtvrtka jsme se snažili nastavit motorku, ale moc se nám to nedařilo. Měl jsem velice špatnou přilnavost na zadním kole. To se nám podařilo do pátku vyřešit, takže jsem zajížděl slušné časy – v pátek už to bylo 1:47,5. S tím jsme byli spokojeni, protože v loňském roce by to stačilo na sedmou pozici v kvalifikaci," řekl Filip Salač k volným tréninkům na trati v Andalusii.
Samozřejmě, že důležitější část víkendu začala v sobotu, kde se ve dvou kvalifikacích rozhodovalo o postavení na startovním roštu pro nedělní závody. V Moto3 bývá zvykem, že se jezdí ve skupině, ale Filip Salač jezdil sám, navíc se musel potýkat s pomalejšími jezdci na trati.
"V sobotní kvalifikaci jsem všechna kola zajížděl sám a podařilo se mi zajet čas 1:47,4. V posledním kole jsme dali nové pneumatiky, ale kvůli pomalejším jezdcům, které jsem musel předjíždět, jsem zajel jen 1:47,2. To stačilo až na 14. místo," tak zhodnotil Filip první kvalifikaci s očekáváním, že čas bude ještě lepší, což nakonec nevyšlo. "Do druhé kvalifikace už bylo mnohem tepleji, ale v prvním kole jsem málem spadl při highsideru. Vše jsem ustál, ale prasklo mi plexisklo a musel jsem zajet do boxů na výměnu. Poté už se nezrychlovalo a neposunul jsem se, takže mi zůstala 14. pozice."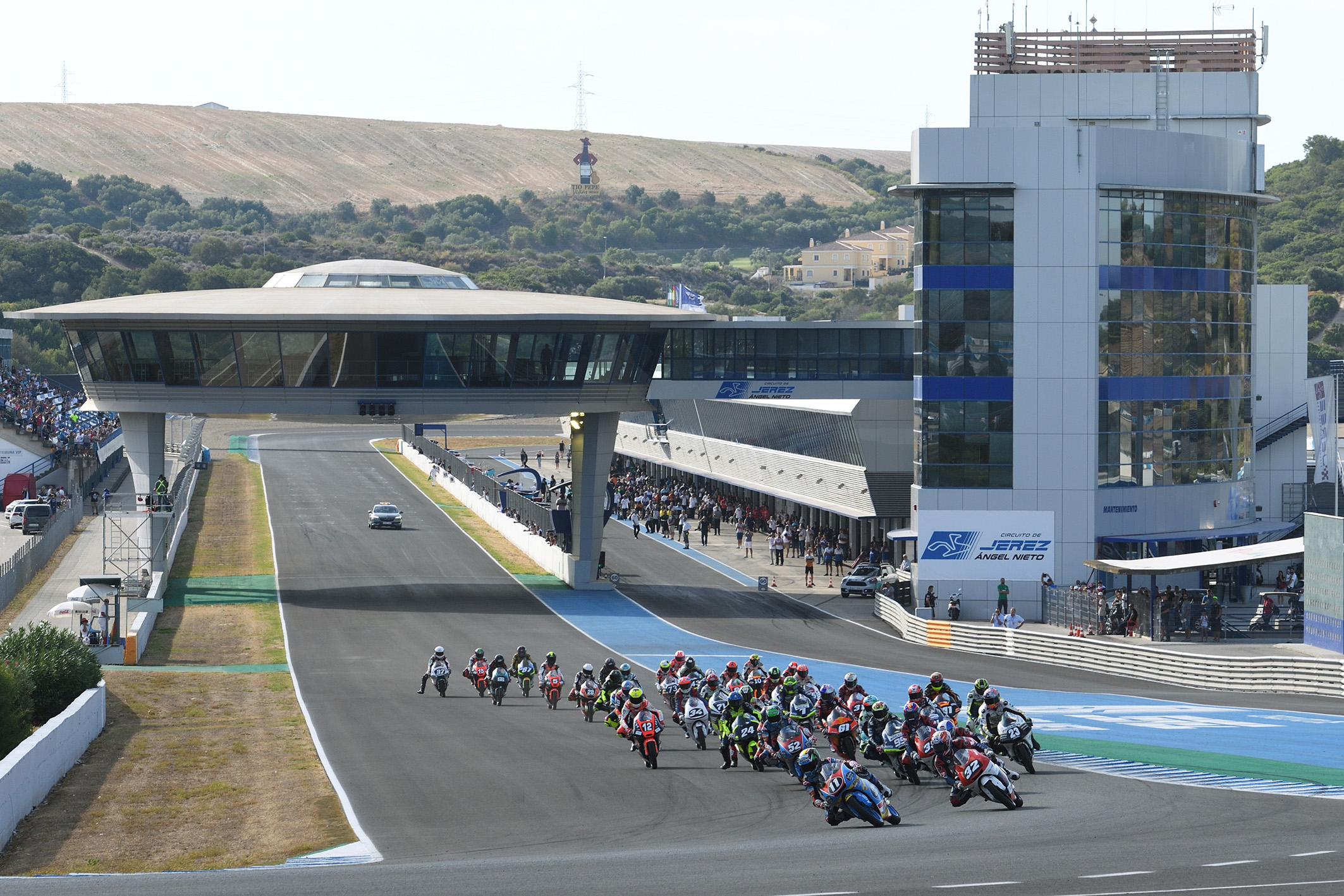 Ještě před nedělními závody bylo možné motorku naposledy vyzkoušet v krátkém tréninku. "V ranním warm upu jsem také zajížděl všechna kola sám a poslední tři kola, když jsem chtěl zajet rychlý čas, se mi tam opět zapletli pomalejší jezdci, které jsem musel předjíždět." A poté už přišly na řadu závody, které se v tomto šampionátu jezdí dva za den. Filip Salač tak potřeboval z páté řady co nejlépe odstartovat, aby se dostal do přední skupiny a bojoval o co nejlepší pozice.
"Do prvního závodu jsem měl normální start a v prvním kole jsem se držel na startovní 14. pozici. V závodě jsem jel ve skupině, kde jsme bojovali o 10. nebo 9. místo. Nakonec v první skupině někdo spadl a já dojel devátý. Desítka byla dobrá, polepšil jsem si oproti startu, ale spokojený jsem nebyl. Chtěl jsem bojovat v první skupině, protože vím, že jsem na ně měl, takže je to škoda. Do druhého závodu jsem dobře odstartoval, byl jsem z prvního závodu vyhecovaný a šel do nich natvrdo. Každým kolem jsem se posouval, až jsem se dostal k první skupině. Bohužel tam byl Carlos Tatay, který byl pomalejší. Vždycky, když jsem ho předjel, tak mi to vrátil na brzdách. Poté nám první skupinka ujela a když jsem ho chtěl předjet a dohnat ty před námi, tak už se mi zavíral předek. Společně jsme tak bojovali o sedmé místo. Do poslední zatáčky jsem ho předjel, měl jsem lepší výjezd, ale on mě předjel ze slip streamu a poté mě začal vytlačovat loktem. Nakonec mě předjel o šest tisícin vteřiny, takže jsem dojel na osmém místě. Letos již potřetí, což mě mrzí, protože vím, že jsem mohl být lepší," i přes to, že dokázal porazit spoustu soupeřů, protože jich na startu bylo 39.
"S týmem jsme udělali velký krok dopředu a doufám, že v Albacete to bude ještě lepší, že se nám povede lepší kvalifikace a budu bojovat s první skupinou. Chci moc poděkovat všem partnerům, panu Šťovíčkovi, Autoklubu České republiky, panu Ortovi a Ort s. r. o., Montáže Brož, všem fanouškům a hlavně rodině za podporu," dodává Filip Salač na závěr.
Předposlední závodní podnik tohoto šampionátu se pojede v Albacete od 12. do 14. října 2018.