Mistrovství světa silničních motocyklů se přesunulo do zámoří a tento víkend se rozjela Grand Prix Thajska na okruhu Chang v Buriramu. Pro Filipa Salače je to nový okruh, ale hned od prvních tréninků měl dobré tempo. Bohužel poté přišla nepříjemná penalizace.
Zdroj: TZ, Foto: Ronny Lekl (Redox Prüstel GP Team)
Letošní patnáctá Grand Prix mistrovství světa silničních motocyklů se dnes rozjela na mezinárodním okruhu Chang v thajském Buriramu. Tím se rozjela čtveřice zámořských závodů závěru sezóny 2019. Po spoustě evropských tratích, které Filip Salač zná z dřívějších závodů, měl před sebou další novou výzvu v podobě neznámého okruhu. Nakonec se během dnešních tréninků ukázalo, že pro českého nováčka v mistrovství světa není trať tak těžká a celou dobu se pohyboval mezi nejrychlejšími jezdci.
V prvním volném tréninku se Filip Salač na chvíli dostal i do vedení, ale nakonec obsadil 9. místo s časem 1:43,640 a ztrátou 0,851 s. Ve druhém tréninku všichni čelili velkému horku a to se také projevilo na časech, kdy se zlepšili jen někteří. Jezdec týmu Redox Prüstel GP zajel čas 1:43,863 a obsadil 18. místo. V kombinaci obou tréninků se díky rannímu času umístil na 15. místě. Bohužel po tréninku přišla penalizace za pomalou jízdu ve druhém tréninku a kvůli ní bude muset v nedělním závodě startovat z chvostu startovního pole.
Zítra ráno je na programu třetí volný trénink a odpoledne kvalifikace. Vzhledem k penalizaci Filip Salač využije tréninky hlavně k přípravě na nedělní závod. Upozorňujeme na velký časový posun harmonogramu v Thajsku oproti středoevropským časům.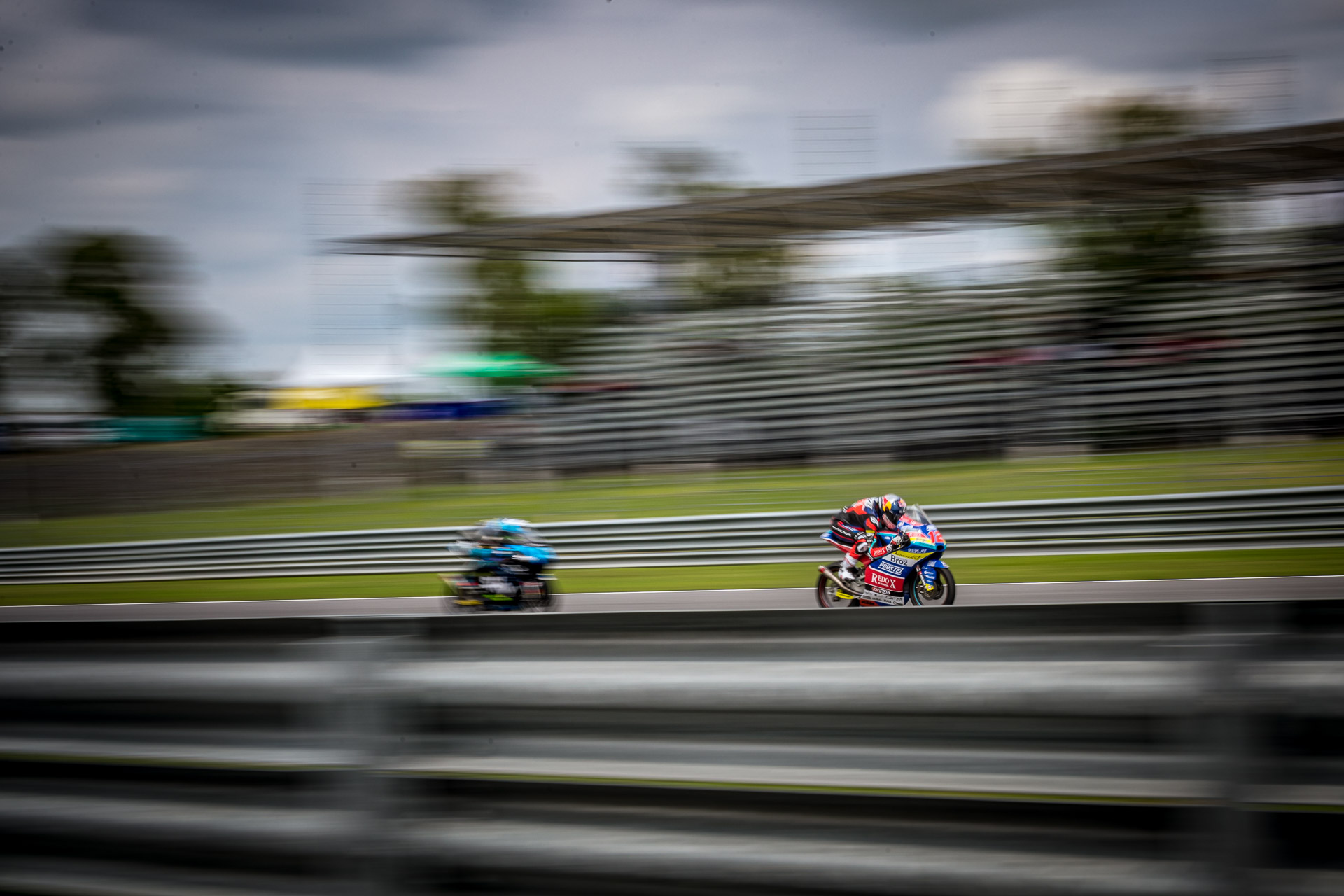 Filip Salač
"První trénink pro mě byl hlavně seznamovací. Na trati jsem byl poprvé a také jsem se snažil adaptovat na velké horko. Od prvního kola jsem byl rychlý a trať mi přijde poměrně jednoduchá. První dva sektory jsou hlavně o motoru a až ve zbytku jsou zatáčky. V prvním tréninku jsem byl spokojený s tím, jak motorka skvěle fungovala. Poté jsem měl problémy s předním kolem, ale nebylo to nic vážného a hned jsme to vyřešili. Na konci tréninku jsem pár minut vedl a nakonec dojel devátý. Mohl jsem být ještě o tři desetiny vteřiny v čase na kolo rychlejší, ale na přístrojové desce mi nefungovaly časy za sektory. Měl jsem pocit, že jedu pomalu, ale jel jsem rychleji a v červených číslech. Nakonec mě to stálo nejrychlejší čas na kolo, kdy jsem mohl zajet 1:43,3 a tím se prozatím dostat do druhé části kvalifikace."
"Ve druhém tréninku se hodně oteplilo a horko bylo opravdu velké. Trať měla kolem 60°C a ani pneumatiky to nezvládaly. Motorka se také hodně hřála a spousta ostatních jezdců měla drobné úpravy na výfucích a další různá chlazení. My jsme to neměli a připravíme to na zítra. Snažil jsem se, jak to šlo. Na telemetrii jsem jel v zatáčkách rychle, ale hodně jsem ztrácel na rovinkách, hlavně v prvním sektoru. V prvním sektoru jsem byl na 29. místě a v posledním sektoru, kde jde o technickou pasáž, jsem byl pátý nejlepší."
"Bohužel mi po tréninku přišla penalizace za pomalou jízdu a budu muset startovat z konce startovního pole. Myslím si, že tady to není takový problém, protože je tu trať hodně široká a loni tady všichni jeli ve velké skupině. Určitě by bylo lepší startovat vpředu, ale myslím si, že ani tak není nic ztraceného. Kvůli tomu využijeme kvalifikaci jako simulaci závodu, vyjedu hned a budu se snažit jet v co nejvyšším tempu. Penalizaci jsem nedostal sám, takže nebudu startovat úplně poslední. Do závodu se budu snažit co nejlépe odstartovat a pak uvidíme. Děkuji všem, co mě podporují a fandí mi."
Harmonogram třídy Moto3 PTT Thailand Grand Prix (časy uvedeny v SEČ):
Sobota 5. 10. 2019: 3. volný trénink (04:00 – 04:40), kvalifikace (07:35 – 08:15 – 2 části)
Neděle 6. 10. 2019: Warm Up (03:40 – 04:00), Závod 06:00.