V thajském Buriramu dnes pokračoval program 15. Grand Prix letošní sezóny MotoGP. V ranním tréninku bylo mokro, odpoledne naopak sucho a ukázalo se, že je i za těchto měnících se podmínek Filip Salač stále konkurenceschopný.
Zdroj: TZ, Foto: Ronny Lekl (Redox Prüstel GP Team)
Patnáctá Velká cena letošní sezóny mistrovství světa silničních motocyklů se tento víkend jede v thajském Buriramu na mezinárodním okruhu Chang. Český závodník Filip Salač navázal na včerejší dobré výkony a i přes to, že je na trati poprvé, byl konkurenceschopný za všech podmínek.
V ranním tréninku bylo mokro a zde Filip Salač obsadil s časem 1:56,153 a ztrátou 1,164 s třinácté místo. Bohužel kvůli tomu, že se jel trénink na mokré trati, už nemohl zabojovat o přímý postup do druhé části kvalifikace. Odpoledne tak zamířil do první části, kde si vyjel postup. Zajímavostí je, že s Julianem Jose Garciou zajeli na tisícinu stejný čas v hodnotě 1:44,034, nicméně český závodník byl tím, který postoupil. Ve druhé části kvalifikace obsadil s časem 1:43,446 čtrnácté místo, přestože motorka nejela tak, jak měla. Vzhledem ke včerejší penalizaci ale nebyla výsledná pozice rozhodující a šlo hlavně o přípravu na závod.
Zítra je na programu ranní zahřívací trénink a závod. Vzhledem k penalizaci pojede Filip Salač ze zadních pozic. Upozorňujeme na velký časový posun harmonogramu v Thajsku oproti středoevropským časům.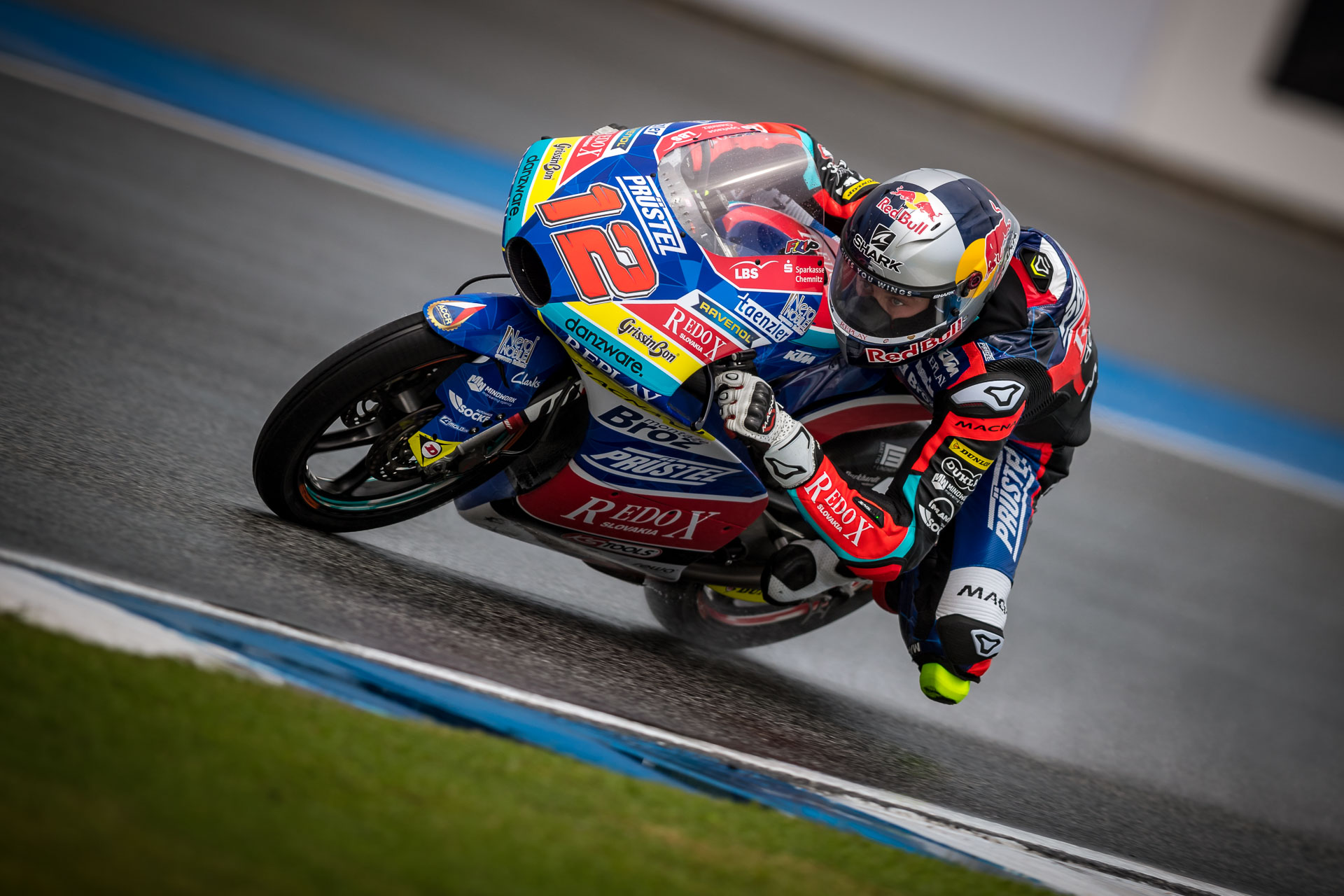 Filip Salač
"Ráno nám pršelo, takže to znamenalo, že jsem odpoledne musel nastoupit do první části kvalifikace, kdy mi postup utekl jen o pár tisícin a jednu pozici. Trať měla na vodě docela slušný grip, což jsem ani nečekal. Jediná první zatáčka hodně klouzala a bylo tam hodně aquaplaningu, takže to nebylo jednoduché. V každém kole to bylo na hranici pádu. Ke konci jsem jezdil kolem čtvrtého místa. Pak přišlo rychlé kolo, kde jsem byl ve druhém sektoru tři desetiny vteřiny za prvním, ale bohužel přišel lehký pád na přední kolo, kdy jsem to přebrzdil. Věděl jsem, že jsme rychlí na mokru i na suchu."
"Do kvalifikace jsme zvolili taktiku na dva výjezdy. První jsem jel se starými pneumatikami a zajel sám docela rychlé kolo. Při druhém výjezdu na nových pneumatikách jsme se domlouvali s Raulem Fernandezem, že pojedu před ním jedno kolo a poté pojede on přede mnou. Nakonec to vyšlo jen na jedno měřené kolo a Raul Fernandez zastavil. Využil jsem toho a jel sám. Jel jsem bez slipstreamu čas 1:43,8, což nebylo špatné a postoupil jsem do druhé části kvalifikace. V ní jsem při prvním výjezdu zajel hodně slušný čas 1:43,4 na použitých pneumatikách, což bylo dobré a chvíli jsem vedl. Když jsem zajel do boxů pro nové pneumatiky, tak jsme změnili palivovou mapu. Bohužel telemetrista udělal chybu a motorka se dusila, takže se sní nedalo jet. Podle dat jsem měl v zatáčkách rychlé časy i na použitých pneumatikách a ideální kolo jsem měl 1:42,9, což by bylo na 7. – 8. místo. Je to štěstí v neštěstí, protože mám penalizaci. Kdybych ji neměl, tak bych byl naštvaný, ale jelikož mám penalizaci startu z posledního místa, tak mě ani ta chyba nemrzela. Na zítra jsme připraveni, kola jsem zajížděl sám. Těším se na závod, protože pojedu zezadu a bude to zábavné, budu moct předjíždět. Pokusím se dobře odstartovat a dát do toho všechno. Nebude to jednoduché vzhledem k velkému horku, protože je po každém kole cítit únava, ale máme to všichni stejné. Budu se snažit rychle tlačit dopředu a zůstat na trati. Děkuji všem, co mě podporují a fandí."
Harmonogram třídy Moto3 PTT Thailand Grand Prix (časy uvedeny v SEČ):
Neděle 6. 10. 2019: Warm Up (03:40 – 04:00), Závod 06:00.