V italském Mugellu se odjela další Velká cena letošní sezóny mistrovství světa silničních motocyklů. Filip Salač celý víkend bojoval s nastavením své KTM a v závodě jeho výsledek ovlivnila chyba soupeře a tři penalizace.
Zdroj: TZ. Foto: Redox Prüstel GP Team (Ronny Lekl)
Mistrovství světa silničních motocyklů má za sebou další Grand Prix, která se odjela v italském Mugellu. Celý víkend na toskánské trati panovalo dobré počasí a v závodní neděli bylo nejtepleji, když měl vzduch kolem 30°C. Ještě před hlavním programem měli jezdci k dispozici krátký zahřívací trénink, ve kterém Filip Salač se svým týmem Redox Prüstel GP zkoušel další změny v nastavení motorky. Ty nebyly vůbec dobré, proto se pro závod rozhodli vrátit k nastavení ze třetího volného tréninku, ve kterém zajel nejlepší čas a cítil se dobře.
Do dvaceti kolového závodu třídy Moto3 se Filipovi Salačovi podařilo výborně odstartovat a okamžitě získal několik pozic. Plánem bylo se udržet přední skupiny a dostat se do boje o mistrovské body. Jeden ze soupeřů ale udělal chybu a tím pádem zůstal Filip ve druhé skupině. Snahou vše napravit nováček ve třídě udělal chybu v podobě překračování limitů trati a přišly tři penalizace. V cíli z toho nakonec bylo 20. místo.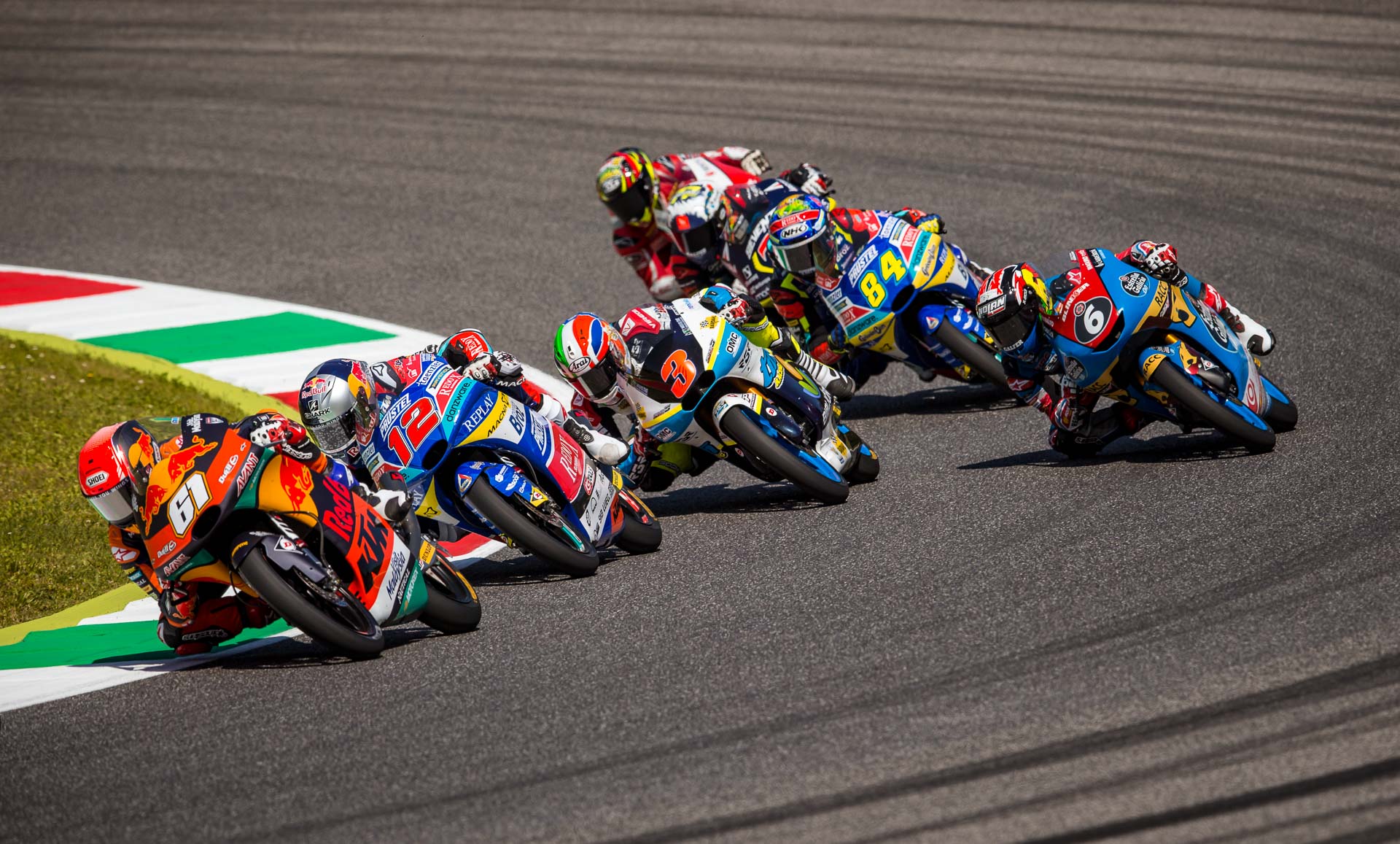 Filip Salač
"Ráno jsme vyjeli do Warm Upu, kde ale motorka vůbec nefungovala. Zkoušeli jsme změny v nastavení, ale vše, co jsme chtěli, bylo opačně. Motorka nezatáčela a byla bez gripu, takže jsme museli udělat velkou změnu. Já jsem chtěl použít nastavení ze třetího volného tréninku, kde jsem zajel nejrychlejší čas. To jsme udělali a v závodě motorka fungovala dobře. Skvěle jsem odstartoval a předjel asi šest jezdců v první zatáčce. Poté mi to jeden vrátil ve druhé zatáčce, ale stále to bylo v pohodě, protože jsem se držel s první skupinou. Ta se postupně začala trhat a já věděl, že se musím dostat přes Makara Yurchenka a udržet se Alberta Arenase. To se mi podařilo, navíc se za mnou Yurchenko vyvezl a chtěl mě předjet v první zatáčce. Já už jel v náklonu, ale on kolem mě proletěl rovně, trefil mě do kolena a málem jsme spadli. Vyjeli jsme ven a ostatní už neměli takové tempo, takže jsme ztratili kontakt s první skupinou. Proto jsem jezdil s druhou skupinou, kde jsme bojovali o 15. místo."
"Nakonec jsem dostal dvakrát penalizaci v podobně dlouhého kola za přejíždění limitů trati. Byla to moje chyba, ale dvakrát se mi povedlo dojet skupinu přede mnou, což bylo super. V cíli jsem byl kolem 17. místa, ale dostal jsem další tři vteřiny penalizace a ani nevím za co. Na tento víkend chci zapomenout, moc se nedařilo. Povedl se jen třetí volný trénink a zajetý čas 1:57,4, který je na Mugello dobrý. Nyní se budu připravovat na Barcelonu. Věřím, že to tam bude lepší, že prolomím smůlu a začnu konečně jezdit v první skupině. Děkuji všem za podporu, panu Štovíčkovi, rodině, fanouškům a všem sponzorům, kteří mě podporují."
Příští závody mistrovství světa silničních motocyklů se jedou za dva týdny ve španělské Barceloně v termínu od 14. do 16. června 2019.