Ve španělském Aragónu dnes skončila letošní sezóna šampionátu Red Bull MotoGP Rookies Cup. I přes to, že se Filip Salač po včerejším pádu necítil dobře, dnešní závod ukončil na sedmém místě v minimálním rozestupu na vítěze.
Zdroj: TZ AČR, Foto: Red Bull MotoGP Rookies Cup
Sezóna 2018 šampionátu Red Bull MotoGP Rookies Cup dnes skončila na okruhu ve španělském Aragónu. Poslední závody tak čekaly i českého závodníka Filipa Salače, který po třech letech v tomto seriálu v příští sezóně přestoupí do mistrovství světa třídy Moto3.
Do dnešního závodu Filip Salač nenastupoval v nejlepší pohodě, protože mu po včerejším velkém pádu nebylo dobře. Při něm si totiž narazil nejen bok, ale velkou ránu dostal i do hlavy a je možné, že měl lehký otřes mozku. I přes to v závodě opět bojoval ve přední skupině a celou dobu držel kontakt s vedoucími jezdci. O výsledcích víceméně rozhodlo až poslední kolo a slip stream na rovinkách. Filip nakonec závod ukončil sedmým místem, ale s minimální ztrátou na jezdce před sebou. Letošní ročník, který se řadí k těm nejtěžším historie tohoto šampionátu, zakončil na celkovém čtvrtém místě.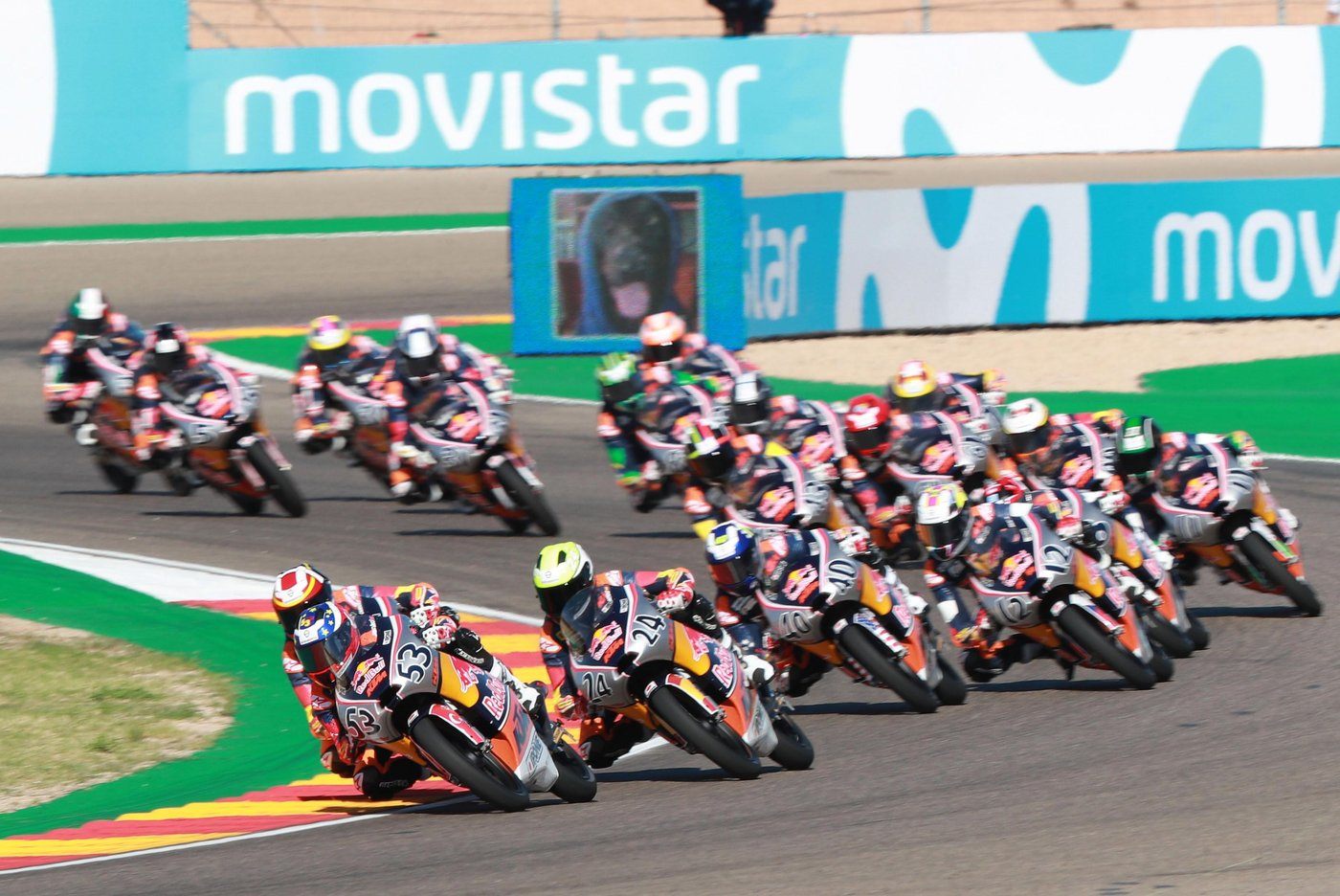 "Do závodu se mi opět start moc nepovedl, propadl jsem se během prvního kola a většinu závodu jsem jezdil kolem šestého, sedmého nebo osmého místa," řekl na úvod Filip Salač hned po závodě. "V posledních třech kolech jsem se dostal na čtvrté, páté místo. V posledním kole jsem udělal chybu a té hned využili dva Japonci, takže jsem opět ztratil pár pozic. V poslední zatáčce už s tím nešlo nic udělat, protože jsem neměl dobrý pocit na předku. Pořád mi to klouzalo a s tím jsem se trápil celý víkend. Bylo to špatné a mrzí mě, že jsem poslední víkend v Rookies Cupu ukončil sedmým místem. Bohužel mi už před závodem nebylo dobře, buďto na mě leze nějaká chřipka nebo jsem měl včera otřes mozku, protože jsem se při pádu hodně bouchl do hlavy a helma byla dost odřená, takže je to možné. Uvidíme, zítra půjdu ještě k lékaři."
"Chci také poděkovat celému Rookies Cupu za možnost, že jsem tu mohl tři roky jezdit. Hodně mi to dalo. Říká se, že letošní sezóna byla úplně nejtěžší ze všech, protože nikdy se nestalo, že by v Rookies Cupu prvního a posledního dělilo v čase na kolo jen 1,3 vteřiny. Kromě Rookies Cupu chci také poděkovat všem partnerům, Ort s. r. o., Montáže Brož, panu Šťovíčkovi, ACCR, rodině a všem, co mi fandí a podporují," dodává Filip Salač na závěr.