Na ostrově Man dnes pokračoval program letošního ročníku Tourist Trophy. Po včerejších zrušených trénincích bylo dnes počasí mnohem příznivější a včerejší program se tak mohl odjet dnes.
Zdroj: IOMTT, Twitter, TZ Michala Dokoupila (Veronika Hankocyová) foto: Dave Kneen

Live timing: https://live.iomttraces.com/
Na ostrově Man začala v sobotu další Tourist Trophy, která patří mezi nejlegendárnější závody na světě. Po sobotních prvních trénincích se všichni těšili na pondělí, kdy se vše mělo rozjet každodenními tréninky, nicméně počasí si řeklo své. Během pondělí hustě pršelo a byla mlha, takže se organizátoři rozhodli tréninky zrušit a harmonogram přesunout na úterý. Dnes naštěstí byly podmínky mnohem lepší, když bylo slunečno a nic nebránilo tomu, aby jezdci vyrazili na trať, i když se začalo o chvíli později.
Dnes jako první vyjeli do svého tréninku jezdci třídy Superbike.
Superbikes are out 🙌🏍🇮🇲 #iomtt @iom_tt pic.twitter.com/2f2cpi4LcM

— Ruairi Mooney (@RuairiJJJJJJ) May 28, 2019
Our mole in the hedge videos Rutter, Hutchy, Davo and MD giving it big licks through the 11th. What a scene! #IoMTT pic.twitter.com/rz9p6ghFSX

— @AHardyBreed (@AHardyBreed) May 28, 2019
Bohužel hned během prvního tréninku měl problém se svou motorkou Conor Cummins, který dostal černou vlajku, protože se mu z jeho motorky kouřilo. Černou vlajku dostal také Gary Johnson a Ian Hutchinson měl pád, ale měl by být v pořádku. Problém měl také Peter Hickman, který musel dvakrát zastavit, ale nakonec se vrátil do depa a ještě poté naskočil na Superstock. Emmett Burke a Jason Corcoran také spadli, Emmet na Goosenecku a poranil si nohu, Jason na Glen Helen a bolel ho krk. Jiní jezdci, kteří spadli, byli v pořádku.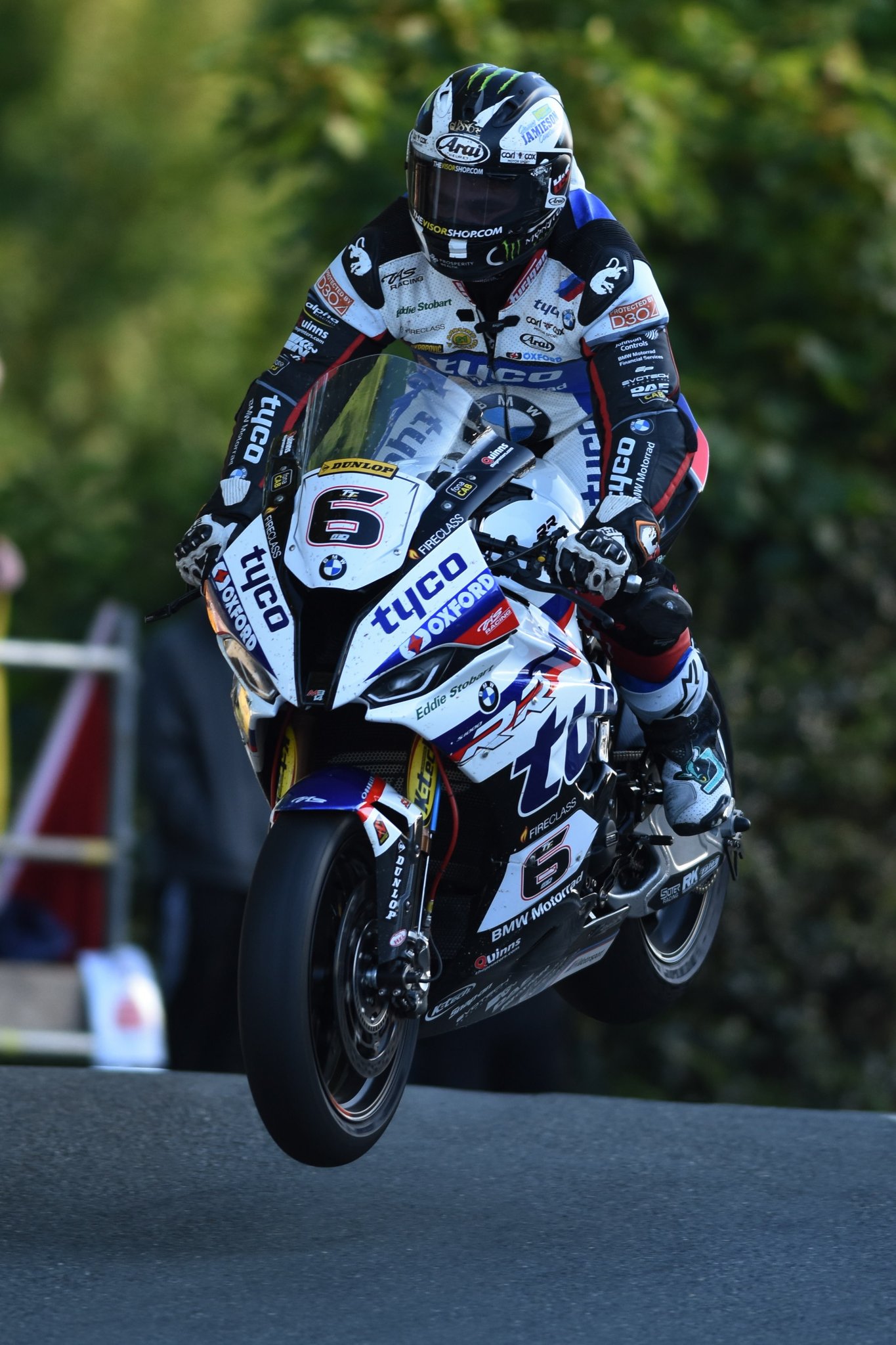 Nejrychlejší čas dnes zajel Dan Harrrison, který zajel nejlepší časy ve třídách Superbike a Superstock. V Supersportech byl nejlepší Peter Hickman. Den ukončili závodníci kategorie sidecar. Kompletní výsledky v tabulkách. Michal "Indi" Dokoupil obsadil ve třídě Supersport 16. místo s průměrnou rychlostí 117,00 mph (188,3 km/h) a časem na kolo 19:20,967. Slovenský závodník Miroslav "Laki" Sloboda ve stejné třídě obsadil 34. místo s průměrnou rychlostí 112,31 mph (180,7 km/h) a časem 20:09,455.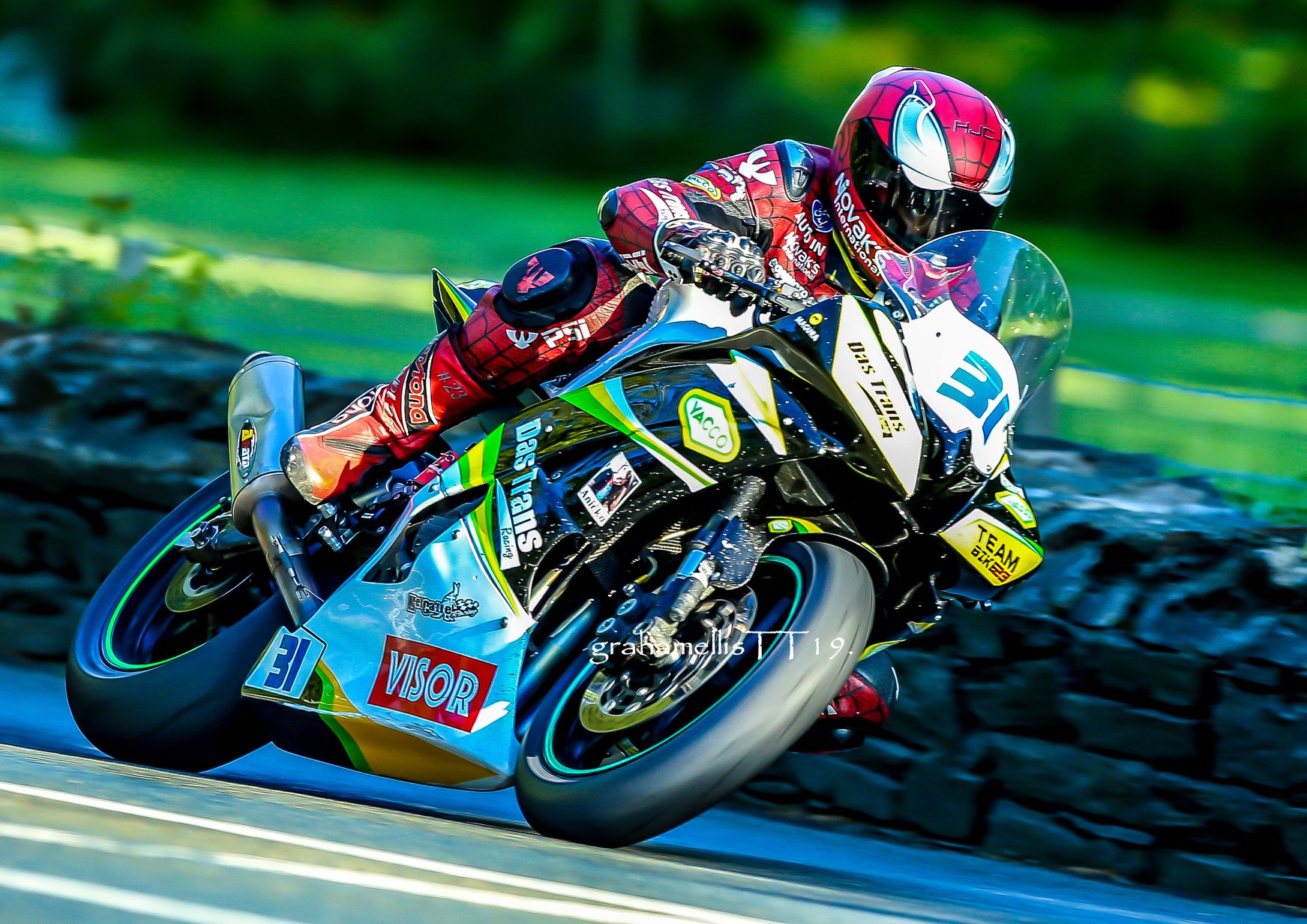 Michal Dokoupil
"Byl jsem moc rád, že se mi letos zase povedlo nějak dát dohromady peníze tak, že jsem si byl jistý tím, že mám pokrytý základní potřebné věci na TT. Dohodli jsme se, že pojedeme benzín z benzínky a pneu, že zaplatí Danny z Austrálie. Proto byl pro mě velký šok, když Danny ztratil peněženku. Byl jsem z toho fakt špatný nejen kvůli nám, ale hlavně kvůli němu, protože celý rok šetří na to, aby nám mohl přijet pomoct. Proto bych chtěl moc poděkovat všem, co pomohli tuhle situaci zachránit a já mohl nasadit na šestku na první trénink novou sadu gum!"
"První kolo jsem si užil, protože jsem jel s litrama a dařilo se mi jich držet. Cítil jsem se skvěle, už jsem dlouho nejel na nových pneumatikách, takže ten pocit jistoty mě fakt uklidnil a hodně jsem si to užíval i přes to, že mě zabrzdily v dalších kolech nehody. Bylo z toho tak šestnácté místo v rámci Supersportů. Překvapilo mě, jak motorka jede dobře, protože má pouze stockový motor a na brzdě 125 koní, ale už teď se těším na další kola!"
Ve středu by měly proběhnout další tréninky, ale předpověď je zatím špatná, tak se uvidí, zda se počasí umoudří nebo budou mít jezdci další pauzu.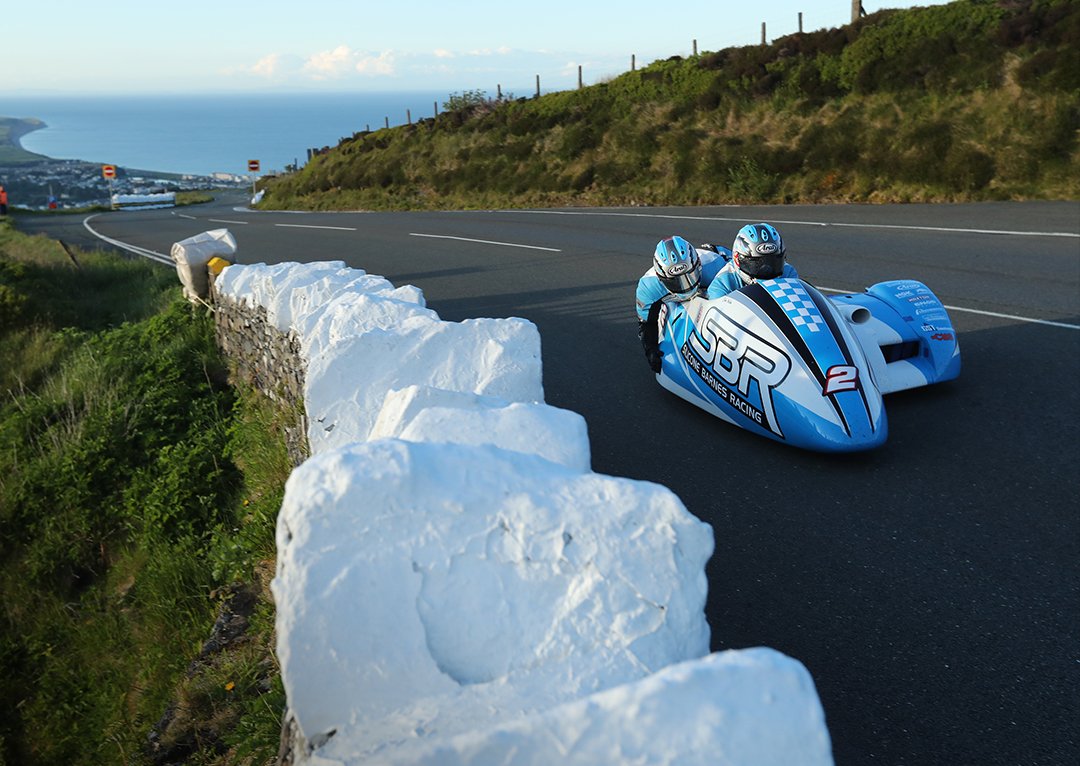 Supersport
| | | | | | |
| --- | --- | --- | --- | --- | --- |
| P | Jezdec | Čas (mph) | Čas (min) | Ztráta | Kola |
| 1 | Peter Hickman | 123.92 mph | 18:16.124 | 00:00.000 | 2 |
| 2 | Derek McGee | 122.04 mph | 18:33.010 | 00:16.886 | 1 |
| 3 | Lee Johnston | 121.38 mph | 18:39.048 | 00:22.924 | 1 |
| 4 | John McGuinness | 119.93 mph | 18:52.535 | 00:36.411 | 1 |
| 5 | Paul Jordan | 118.88 mph | 19:02.547 | 00:46.423 | 1 |
| 6 | Dominic Herbertson | 118.35 mph | 19:07.668 | 00:51.544 | 2 |
| 7 | Mike Browne | 118.29 mph | 19:08.218 | 00:52.094 | 4 |
| 8 | Daniel Cooper | 117.73 mph | 19:13.745 | 00:57.621 | 1 |
| 9 | Barry Lee Evans | 117.71 mph | 19:13.928 | 00:57.804 | 2 |
| 10 | James Chawke | 117.58 mph | 19:15.205 | 00:59.081 | 2 |
| 11 | Forest Dunn | 117.51 mph | 19:15.916 | 00:59.792 | 2 |
| 12 | Darren Cooper | 117.48 mph | 19:16.134 | 01:00.010 | 3 |
| 13 | Rob Hodson | 117.38 mph | 19:17.116 | 01:00.992 | 2 |
| 14 | Michael Sweeney | 117.38 mph | 19:17.121 | 01:00.997 | 2 |
| 15 | Tom Weeden | 117.16 mph | 19:19.338 | 01:03.214 | 2 |
| 16 | Michal Dokoupil | 117.00 mph | 19:20.967 | 01:04.843 | 4 |
| 17 | Jason Corcoran | 116.97 mph | 19:21.184 | 01:05.060 | 2 |
| 18 | Xavier Denis | 116.74 mph | 19:23.527 | 01:07.403 | 1 |
| 19 | Horst Saiger | 116.65 mph | 19:24.366 | 01:08.242 | 1 |
| 20 | Jim Hodson | 115.81 mph | 19:32.858 | 01:16.734 | 2 |
| 21 | Richard Charlton | 115.52 mph | 19:35.765 | 01:19.641 | 2 |
| 22 | Masayuki Yamanaka | 114.78 mph | 19:43.391 | 01:27.267 | 4 |
| 23 | Rob Whittall | 114.70 mph | 19:44.246 | 01:28.122 | 4 |
| 24 | Timothee Monot | 114.06 mph | 19:50.882 | 01:34.758 | 2 |
| 25 | Jonathan Perry | 113.95 mph | 19:52.044 | 01:35.920 | 2 |
| 26 | Mike Norbury | 113.83 mph | 19:53.290 | 01:37.166 | 4 |
| 27 | Dave Moffitt | 113.60 mph | 19:55.660 | 01:39.536 | 3 |
| 28 | Emmett Burke | 113.45 mph | 19:57.268 | 01:41.144 | 2 |
| 29 | Matt Mylchreest | 113.22 mph | 19:59.716 | 01:43.592 | 4 |
| 30 | Raymond Casey* | 112.74 mph | 20:04.841 | 01:48.717 | 4 |
| 31 | Morgan Govignon | 112.57 mph | 20:06.635 | 01:50.511 | 1 |
| 32 | Justin Collins | 112.55 mph | 20:06.793 | 01:50.669 | 4 |
| 33 | Sam Johnson | 112.42 mph | 20:08.232 | 01:52.108 | 3 |
| 34 | Miroslav Sloboda | 112.31 mph | 20:09.455 | 01:53.331 | 3 |
| 35 | Nicolas Pautet | 111.95 mph | 20:13.315 | 01:57.191 | 4 |
| 36 | Barry Furber | 109.96 mph | 20:35.275 | 02:19.151 | 1 |
| 37 | David Datzer* | 106.89 mph | 21:10.742 | 02:54.618 | 4 |
| 38 | Jonathan Goetschy* | 106.59 mph | 21:14.316 | 02:58.192 | 4 |
| DNF | Mark Parrett | – | 00:00.000 | 00:00.000 | 0 |
| DNF | Richard Wilson | – | 00:00.000 | 00:00.000 | 0 |
| DNF | Allann Venter | – | 00:00.000 | 00:00.000 | 0 |
| DNF | Paul Potchy Williams | – | 00:00.000 | 00:00.000 | 0 |
| DNF | Derek Sheils | – | 00:00.000 | 00:00.000 | 0 |
Superstock
| | | | | | |
| --- | --- | --- | --- | --- | --- |
| P | Jezdec | Čas (mph) | Čas (min) | Ztráta | Kola |
| 1 | Dean Harrison | 129.34 mph | 17:30.197 | 00:00.000 | 2 |
| 2 | David Johnson | 126.63 mph | 17:52.643 | 00:22.446 | 2 |
| 3 | Sam West | 124.89 mph | 18:07.547 | 00:37.350 | 4 |
| 4 | Lee Johnston | 124.49 mph | 18:11.075 | 00:40.878 | 3 |
| 5 | Michael Dunlop | 124.11 mph | 18:14.392 | 00:44.195 | 1 |
| 6 | Daley Mathison | 124.09 mph | 18:14.550 | 00:44.353 | 3 |
| 7 | Peter Hickman | 123.08 mph | 18:23.545 | 00:53.348 | 1 |
| 8 | Derek Sheils | 122.78 mph | 18:26.229 | 00:56.032 | 2 |
| 9 | Michael Rutter | 122.42 mph | 18:29.564 | 00:59.367 | 2 |
| 10 | Davey Todd | 122.19 mph | 18:31.627 | 01:01.430 | 2 |
| 11 | James Hillier | 121.11 mph | 18:41.556 | 01:11.359 | 1 |
| 12 | Horst Saiger | 120.08 mph | 18:51.189 | 01:20.992 | 2 |
| 13 | Charles Rhys Hardisty | 118.00 mph | 19:11.131 | 01:40.934 | 2 |
| 14 | Gary Johnson | 117.96 mph | 19:11.489 | 01:41.292 | 2 |
| DNF | Lukas Maurer* | – | 00:00.000 | 00:00.000 | 0 |
Superbike
| | | | | | |
| --- | --- | --- | --- | --- | --- |
| P | Jezdec | Čas (mph) | Čas (min) | Ztráta | Kola |
| 1 | Dean Harrison | 129.53 mph | 17:28.610 | 00:00.000 | 3 |
| 2 | Conor Cummins | 128.09 mph | 17:40.425 | 00:11.815 | 3 |
| 3 | James Hillier | 128.07 mph | 17:40.536 | 00:11.926 | 3 |
| 4 | Michael Dunlop | 126.93 mph | 17:50.110 | 00:21.500 | 4 |
| 5 | Michael Rutter | 126.48 mph | 17:53.894 | 00:25.284 | 3 |
| 6 | Jamie Coward | 126.39 mph | 17:54.671 | 00:26.061 | 4 |
| 7 | David Johnson | 126.19 mph | 17:56.339 | 00:27.729 | 3 |
| 8 | Philip Crowe | 125.52 mph | 18:02.164 | 00:33.554 | 4 |
| 9 | Ian Hutchinson | 125.39 mph | 18:03.247 | 00:22.822 | 1 |
| 10 | Daley Mathison | 125.17 mph | 18:05.119 | 00:36.509 | 2 |
| 11 | Stefano Bonetti | 124.48 mph | 18:11.186 | 00:42.576 | 4 |
| 12 | Derek McGee | 124.40 mph | 18:11.860 | 00:43.250 | 3 |
| 13 | Davey Todd | 124.29 mph | 18:12.838 | 00:44.228 | 2 |
| 14 | Brian McCormack | 124.18 mph | 18:13.759 | 00:45.149 | 4 |
| 15 | John McGuinness | 123.73 mph | 18:17.762 | 00:49.152 | 3 |
| 16 | Rob Hodson | 122.89 mph | 18:25.240 | 00:56.630 | 2 |
| 17 | Jay Lawrence | 122.56 mph | 18:28.231 | 00:59.621 | 4 |
| 18 | Derek Sheils | 122.33 mph | 18:30.363 | 01:01.753 | 1 |
| 19 | Paul Jordan | 122.19 mph | 18:31.637 | 01:03.027 | 3 |
| 20 | David Jackson | 121.78 mph | 18:35.316 | 01:06.706 | 4 |
| 21 | Shaun Anderson | 121.40 mph | 18:38.835 | 01:10.225 | 4 |
| 22 | Michael Sweeney | 121.34 mph | 18:39.362 | 01:10.752 | 3 |
| 23 | Ryan Kneen | 120.81 mph | 18:44.275 | 01:15.665 | 3 |
| 24 | Daniel Cooper | 120.69 mph | 18:45.393 | 01:16.783 | 3 |
| 25 | Dominic Herbertson | 120.64 mph | 18:45.857 | 01:17.247 | 3 |
| 26 | Mike Booth | 120.08 mph | 18:51.130 | 01:22.520 | 4 |
| 27 | Forest Dunn | 120.07 mph | 18:51.205 | 01:22.595 | 2 |
| 28 | Frank Gallagher | 119.72 mph | 18:54.509 | 01:14.084 | 2 |
| 29 | Mark Parrett | 119.28 mph | 18:58.694 | 01:30.084 | 2 |
| 30 | Barry Lee Evans | 119.18 mph | 18:59.649 | 01:31.039 | 2 |
| 31 | Horst Saiger | 119.16 mph | 18:59.854 | 01:31.244 | 2 |
| 32 | Xavier Denis | 119.03 mph | 19:01.105 | 01:32.495 | 3 |
| 33 | Richard Charlton | 118.90 mph | 19:02.356 | 01:33.746 | 2 |
| 34 | David Hewson | 118.86 mph | 19:02.757 | 01:34.147 | 4 |
| 35 | Michael Russell | 118.71 mph | 19:04.220 | 01:35.610 | 3 |
| 36 | Charles Rhys Hardisty | 118.59 mph | 19:05.334 | 01:36.724 | 2 |
| 37 | Jim Hodson | 118.39 mph | 19:07.322 | 01:38.712 | 2 |
| 38 | Julian Trummer | 118.11 mph | 19:10.000 | 01:41.390 | 4 |
| 39 | Marc Ironside | 117.94 mph | 19:11.699 | 01:43.089 | 4 |
| 40 | James Chawke | 117.84 mph | 19:12.677 | 01:44.067 | 2 |
| 41 | Richard Wilson | 117.49 mph | 19:16.123 | 01:47.513 | 4 |
| 42 | Joe Akroyd | 117.20 mph | 19:18.991 | 01:38.566 | 1 |
| 43 | Adrian Harrison | 117.05 mph | 19:20.464 | 01:51.854 | 4 |
| 44 | Josh Daley | 116.80 mph | 19:22.879 | 01:54.269 | 4 |
| 45 | George Spence | 116.77 mph | 19:23.173 | 01:54.563 | 4 |
| 46 | Paul Potchy Williams | 116.76 mph | 19:23.350 | 01:54.740 | 2 |
| 47 | Mark Goodings | 116.29 mph | 19:27.991 | 01:59.381 | 4 |
| 48 | Matt Stevenson | 116.15 mph | 19:29.420 | 02:00.810 | 3 |
| 49 | Thomas Maxwell | 116.09 mph | 19:29.988 | 02:01.378 | 4 |
| 50 | Davy Morgan | 115.79 mph | 19:33.080 | 02:04.470 | 2 |
| 51 | Barry Furber | 115.68 mph | 19:34.138 | 01:53.713 | 1 |
| 52 | Tom Weeden | 115.47 mph | 19:36.322 | 02:07.712 | 2 |
| 53 | Raul Torras Martinez | 115.36 mph | 19:37.407 | 02:08.797 | 4 |
| 54 | Anthony Redmond | 114.91 mph | 19:42.017 | 02:13.407 | 2 |
| 55 | Morgan Govignon | 114.77 mph | 19:43.441 | 02:14.831 | 3 |
| 56 | Lukas Maurer* | 114.50 mph | 19:46.242 | 02:17.632 | 4 |
| 57 | Dean Osborne | 113.86 mph | 19:52.935 | 02:24.325 | 4 |
| 58 | Jonathan Perry | 113.78 mph | 19:53.726 | 02:25.116 | 2 |
| 59 | Gary Johnson | 103.37 mph | 21:54.046 | 04:25.436 | 1 |
| DNF | Timothee Monot | – | 00:00.000 | 00:00.000 | 0 |
| DNF | Peter Hickman | – | 00:00.000 | 00:00.000 | 0 |
| DNF | Sam West | – | 00:00.000 | 00:00.000 | 0 |
Sidecary
| | | | | | |
| --- | --- | --- | --- | --- | --- |
| P | Jezdec | Čas (mph) | Čas (min) | Ztráta | Kola |
| 1 | John Holden | 114.99 mph | 19:41.234 | 00:00.000 | 1 |
| 2 | Peter Founds | 114.40 mph | 19:47.316 | 00:06.082 | 2 |
| 3 | Alan Founds | 112.35 mph | 20:08.953 | 00:27.719 | 2 |
| 4 | Tim Reeves | 112.29 mph | 20:09.605 | 00:28.371 | 2 |
| 5 | Lewis Blackstock | 111.80 mph | 20:14.939 | 00:33.705 | 2 |
| 6 | Ben Birchall | 111.55 mph | 20:17.686 | 00:36.452 | 1 |
| 7 | Ryan Crowe* | 109.76 mph | 20:37.537 | 00:56.303 | 1 |
| 8 | Conrad Harrison | 108.95 mph | 20:46.662 | 01:05.428 | 2 |
| 9 | Gary Bryan | 108.54 mph | 20:51.380 | 01:10.146 | 2 |
| 10 | Estelle Leblond | 108.38 mph | 20:53.216 | 01:11.982 | 2 |
| 11 | Allan Schofield | 107.88 mph | 20:59.121 | 01:17.887 | 2 |
| 12 | Darren Hope | 105.68 mph | 21:25.262 | 01:44.028 | 2 |
| 13 | John Saunders | 105.53 mph | 21:27.103 | 01:45.869 | 2 |
| 14 | John Lowther | 105.14 mph | 21:31.901 | 01:50.667 | 2 |
| 15 | Craig Melvin | 105.02 mph | 21:33.304 | 01:52.070 | 2 |
| 16 | Gregory Lambert | 104.97 mph | 21:34.005 | 01:52.771 | 2 |
| 17 | Wayne Lockey | 104.32 mph | 21:42.078 | 02:00.844 | 2 |
| 18 | Mick Alton | 104.20 mph | 21:43.560 | 02:02.326 | 2 |
| 19 | Gary Knight | 104.16 mph | 21:44.075 | 02:02.841 | 2 |
| 20 | Steve Ramsden | 102.68 mph | 22:02.800 | 02:21.566 | 1 |
| 21 | Gary Gibson | 102.50 mph | 22:05.207 | 02:23.973 | 1 |
| 22 | Bruce Moore* | 101.72 mph | 22:15.303 | 02:34.069 | 2 |
| 23 | Nicholas Dukes | 101.39 mph | 22:19.601 | 02:38.367 | 2 |
| 24 | Michael Jackson | 102.32 mph | 22:07.479 | 02:26.245 | 1 |
| 25 | Roy Tansley | 101.23 mph | 22:21.746 | 02:40.512 | 2 |
| 26 | Francois Leblond | 100.79 mph | 22:27.693 | 02:46.459 | 2 |
| 27 | Andy King | 100.24 mph | 22:35.090 | 02:53.856 | 2 |
| 28 | Dan Knight | 99.75 mph | 22:41.725 | 03:00.491 | 1 |
| 29 | Maria Costello | 99.37 mph | 22:46.910 | 03:05.676 | 2 |
| 30 | Dave Quirk | 97.93 mph | 23:06.930 | 03:25.696 | 2 |
| 31 | Gordon Shand | 97.31 mph | 23:15.848 | 03:34.614 | 2 |
| 32 | Robert Handcock | 97.02 mph | 23:20.008 | 03:38.774 | 1 |
| 33 | John Shipley | 96.14 mph | 23:32.742 | 03:51.508 | 2 |
| 34 | Nigel Smith | 94.69 mph | 23:54.406 | 04:13.172 | 2 |
| 35 | Kevin Thornton | 93.49 mph | 24:12.794 | 04:31.560 | 2 |
| 36 | Mark Saunders | 92.87 mph | 24:22.526 | 04:41.292 | 1 |
| 37 | Kevin Morgan | 85.67 mph | 26:25.565 | 06:44.331 | 2 |
| DNF | Terry O Reilly | – | 00:00.000 | 00:00.000 | 0 |
| DNF | Darryl Rayner | – | 00:00.000 | 00:00.000 | 0 |
| DNF | Brian Alflatt | – | 00:00.000 | 00:00.000 | 0 |
| DNF | Dave Molyneux | – | 00:00.000 | 00:00.000 | 0 |