Výsledky poslední etapy ve třídě motocyklů 42. ročníku rallye Dakar.
Zdroj: Dakar

Live Timing: https://gaps.dakar.com/2020/dakar/haradh-qiddiya-12/aso/ukie/m
Dakar 2020 je u konce, je u konce nejen 42. ročník, ale také 1. ročník na území Saudské Arábie. Dnes závodníky čeká poslední dvanáctá etapa. Při ní míří z Haradh do Quiddiya a čeká je 429 km a z toho 167 km speciálky. Oproti předchozím ročníkům je poslední etapa delší, ale v porovnání s předchozími je přesto o dost kratší. Etapa je navíc rozdělena na dvě části, ale závěrečná 20 km sekce nebude mít dopad na konečné hodnocení, ale jezdec vyhraje "Qiddiyah Trophy."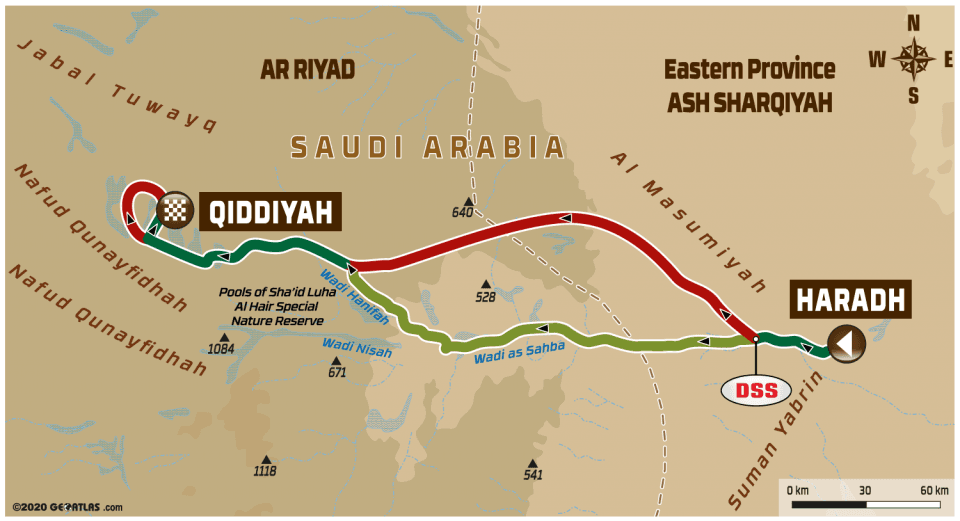 Jako první do etapy vyrazil Pablo Quintanilla. Hned na 19. km speciálky zastavil Kevin Benavides, který možná čekal na svého týmového kolegu Rickyho Brabce, který jel o první celkové vítězství Dakaru. Dobře se rozjel také José Ignacio Cornejo, další jezdec Hondy, který na 69. km měl nejrychlejší čas.
Do cíle dnešní etapy to nebylo daleko a Jose Ignacio Cornejo Florimo oslavil etapové vítězství s časem 1:28:15. Za ním skončil se ztrátou 53 vteřin Ricky Brabec, který tak udržel celkové prvenství a oslavil první vítězství na rallye Dakar. Poté, co předchozí tři závody nedokončil a loni ho od pokračování v soutěži zastavil rozbitý motor, přichází zasloužená odměna. Letos se ve třetí etapě dostal do celkového prvenství a už před sebe nikoho nepustil. Celkem letos vyhrál třetí a šestou etapu a nejhůř byl dvanáctý ve druhé etapě, jinak byl vždy v Top10. Tím byla přerušena 18letá dominance KTM a je zároveň prvním Američanem, který vyhrál tuto soutěž.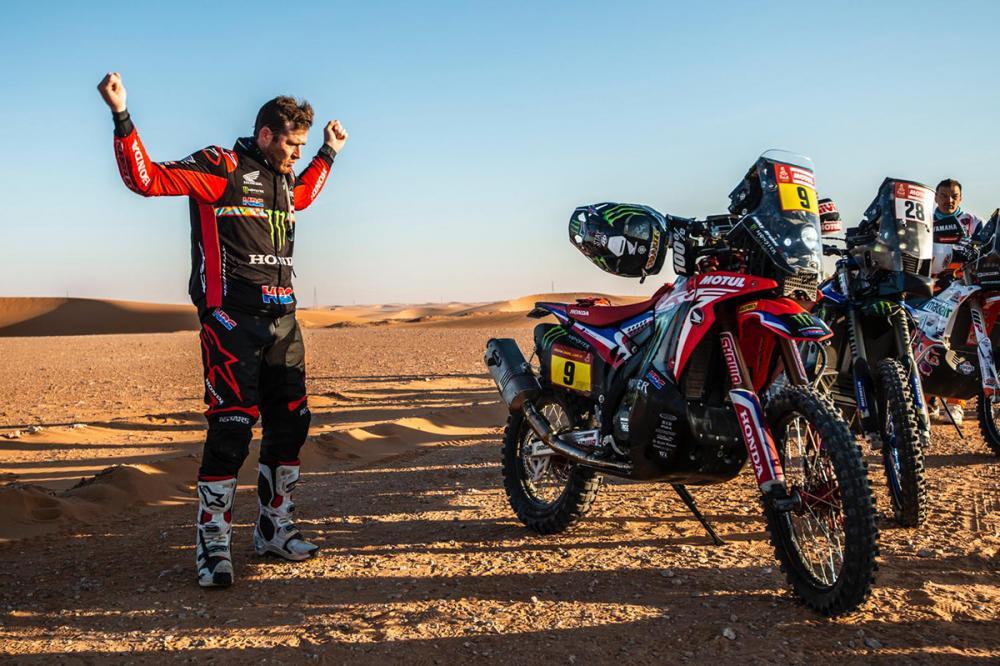 Třetí v cíli dnešní etapy byl Toby Price, nejlepší jezdec na KTM, který skončil třetí celkově. Čtvrtý dojel Luciano Benavides a Top5 uzavřel Pablo Quintanilla, který celkově skončil druhý. Skyler Howes z týmu Ondřeje Klymčiwa dnešní etapu dokončil na 11. místě a celkově obsadil 9. pozici. Jen necelé tři minuty nakonec dělí Štefana Svitka od celkového desátého místa, takže skončil jedenáctý. Z našich jezdců dnes zajel opět nejlépe Martin Michek, který byl znovu nejrychlejším nováčkem na trati. Bohužel kvůli včerejší velké ztrátě, když mu došlo palivo, se v celkovém hodnocení neudržel na pozici nejlepšího nováčka a je až třetím nováčkem letošního roku. Nicméně i tak je nejlepším českým závodníkem, když obsadil 23. místo. Navíc za celou soutěž nedostal ani jednu penalizaci. Jeho týmový kolega Milan Engel v celkovém hodnocení obsadil 26. místo, což je na všechny problémy, které ho provázely, stále dobrá pozice.
Vítězem třídy Original by Motul (malle moto) je Emanuel Gyenes. Petr Vlček v této soutěži obsadil čtvrté místo a celkově je na 38. pozici. Poslední svěřenec Ondřeje Klymčiwa – Korejec Myunggul Ryu – si ve svém debutu připisuje 40. místo a 5. místo mezi nováčky. Jan Brabec i vzhledem k penalizacím ztratil v celkovém hodnocení dost pozic a je z toho výsledné 54. místo. Poslední z českých jezdců na trati byl Jan Veselý, který si připisuje 79. místo. Mezi ženami byla od začátku nejlepší Laia Sanz, která celkově skončila osmnáctá.
Pro motocyklistu týmu Big Shock Racing Jana Brabce byl letošní Dakar velkou zkouškou, ve které nezklamal. S operovaným kolenem se mu hůř chodilo, ale na motorce pokaždé ožil. Možná i díky zdravotnímu omezení projel letošní Dakar úspěšně a s nadhledem, který mu dodal klid. "Projel jsem poslední etapou Dakaru. Po tom všem, co jsem poslední rok zažil. Jel jsem s větší pohodou, šetřil jsem zašroubované koleno, aby vydrželo až do cíle, snažil jsem se rozložit síly. Navigace mi letos dobře fungovala. Ale je to Dakar, letům se tu občas nevyhneš. Jsem rád, že jsem to dal a děkuji všem, kteří mi pomáhali a fandili," říká Jan Brabec.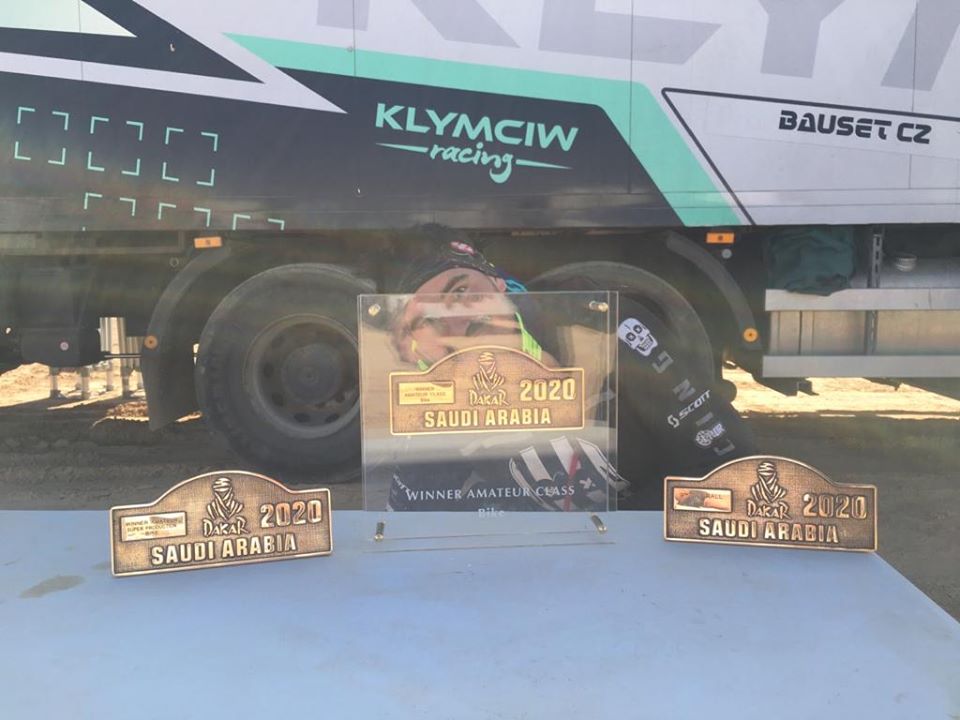 Ondřej Klymčiw:
"Skyler Howes dojel na 9. místě a navíc je 1. mezi amatéry- jen si to představte‼ Na všech pozicích před ním jsou jen tovární jezdci‼ Ten kluk to má prostě v sobě a to, že na motorku sednul opravdu pouhé tři týdny před startem závodu, zní neuvěřitelně… V Peťovi se perou emoce, protože tenhle Dakar mu dal pořádně zabrat. Ani ne tak fyzicky, jako mentálně. Viděl spoustu ošklivých věcí a spousta ošklivých věcí se ještě může stát… Ale dojet čtyři Dakary ze čtyř a s takovým výsledkem- 38.místo!? Panejo. Ryu předvedl obrovskou vůli a odvahu. Je první Jihokorejec, který se do něčeho podobného pustil- a dojel na 40. pozici! Garrettovi se letos nepodařilo po nehodě v 9. etapě dokončit, ale měl výborně nakročeno. Garrett má za sebou operaci, při které mu sešroubovali prasklý obratel ve spodní části zad, a v neděli v noci odlétá zpátky do USA, kde ho čeká ještě operace pánve a zápěstí. Uffff. Ale Garrett je tank, jak mi sám napsal, on to dá a vrátí se. Za celý tým děkujeme za podporu, byli jste úžasní!‼ Stejně tak děkujeme našim partnerům."
Video: Martin Michek
Výsledky 12. etapy
| | | | | | |
| --- | --- | --- | --- | --- | --- |
| P | Č | Jezdec | Tým | Čas | Ztráta |
| 1 | 17 | JOSE IGNACIO CORNEJO FLORIMO | MONSTER ENERGY HONDA | 1:28:15 | |
| 2 | 9 | RICKY BRABEC | MONSTER ENERGY HONDA | 1:29:08 | + 00:00:53 |
| 3 | 1 | TOBY PRICE | RED BULL KTM | 1:30:40 | + 00:02:25 |
| 4 | 16 | LUCIANO BENAVIDES | RED BULL KTM | 1:31:24 | + 00:03:09 |
| 5 | 5 | PABLO QUINTANILLA | ROCKSTAR ENERGY HUSQVARNA | 1:31:38 | + 00:03:23 |
| 6 | 7 | KEVIN BENAVIDES | MONSTER ENERGY HONDA | 1:32:08 | + 00:03:53 |
| 7 | 11 | ADRIEN METGE | SHERCO TVS RALLY | 1:32:08 | + 00:03:53 |
| 8 | 22 | FRANCO CAIMI | MONSTER ENERGY YAMAHA | 1:32:29 | + 00:04:14 |
| 9 | 35 | MACIEJ GIEMZA | ORLEN | 1:32:48 | + 00:04:33 |
| 10 | 6 | ANDREW SHORT | ROCKSTAR ENERGY HUSQVARNA | 1:33:12 | + 00:04:57 |
| 11 | 59 | SKYLER HOWES | KLYMČIW RACING | 1:33:40 | + 00:05:25 |
| 13 | 19 | ŠTEFAN SVITKO | SLOVNAFT RALLY | 1:34:20 | + 00:06:05 |
| 14 | 132 | MARTIN MICHEK | MOTO RACING GROUP | 1:34:35 | + 00:06:20 |
| 31 | 43 | JAN BRABEC | BIG SHOCK RACING | 1:46:28 | + 00:18:13 |
| 36 | 130 | MYUNGGUL RYU | KLYMČIW RACING | 1:49:56 | + 00:21:41 |
| 42 | 52 | PETR VLČEK | PETR VLČEK | 1:52:58 | + 00:24:43 |
| 43 | 29 | MILAN ENGEL | MOTO RACING GROUP | 1:53:00 | + 00:24:45 |
| 82 | 68 | JAN VESELÝ | IVAR CS | 2:16:31 | + 00:48:16 |
Konečné výsledky 42. ročníku rallye Dakar
| | | | | | | |
| --- | --- | --- | --- | --- | --- | --- |
| P | Č | Jezdec | Tým | Čas | Ztráta | Penalizace |
| 1 | 9 | RICKY BRABEC | MONSTER ENERGY HONDA | 40:02:36 | | |
| 2 | 5 | PABLO QUINTANILLA | ROCKSTAR ENERGY HUSQVARNA | 40:19:02 | + 00:16:26 | |
| 3 | 1 | TOBY PRICE | RED BULL KTM | 40:26:42 | + 00:24:06 | 0:02:00 |
| 4 | 17 | JOSE IGNACIO CORNEJO FLORIMO | MONSTER ENERGY HONDA | 40:34:19 | + 00:31:43 | 0:01:00 |
| 5 | 2 | MATTHIAS WALKNER | RED BULL KTM | 40:37:36 | + 00:35:00 | |
| 6 | 16 | LUCIANO BENAVIDES | RED BULL KTM | 40:40:10 | + 00:37:34 | |
| 7 | 12 | JOAN BARREDA BORT | MONSTER ENERGY HONDA | 40:53:33 | + 00:50:57 | 0:15:00 |
| 8 | 22 | FRANCO CAIMI | MONSTER ENERGY YAMAHA | 41:45:11 | + 01:42:35 | 0:05:00 |
| 9 | 59 | SKYLER HOWES | KLYMČIW RACING | 42:06:37 | + 02:04:01 | |
| 10 | 6 | ANDREW SHORT | ROCKSTAR ENERGY HUSQVARNA | 42:13:16 | + 02:10:40 | 0:30:00 |
| 11 | 19 | ŠTEFAN SVITKO | SLOVNAFT RALLY | 42:16:08 | + 02:13:32 | |
| 23 | 132 | MARTIN MICHEK | MOTO RACING GROUP | 44:33:17 | + 04:30:41 | |
| 26 | 29 | MILAN ENGEL | MOTO RACING GROUP | 46:05:45 | + 06:03:09 | |
| 38 | 52 | PETR VLČEK | PETR VLČEK | 51:51:33 | + 11:48:57 | 0:05:00 |
| 40 | 130 | MYUNGGUL RYU | KLYMČIW RACING | 52:40:26 | + 12:37:50 | 2:22:00 |
| 54 | 43 | JAN BRABEC | BIG SHOCK RACING | 56:14:54 | + 16:12:18 | 6:56:00 |
| 79 | 68 | JAN VESELÝ | IVAR CS | 64:07:52 | + 24:05:16 | 0:03:00 |
Celkové výsledky: https://www.dakar.com/en/rankings/stage-12/bike