Čtvrtý závod letošní sezóny mistrovství světa silničních motocyklů uspořádaný ve španělském Jerezu skončil pro Filipa Salače předčasně. Kvůli technické poruše na své KTM musel přibližně v polovině závodu odstoupit. Nyní se připravuje na následující testy, které v Jerezu budou hned v úterý.
Zdroj: TZ, Foto: Ronny Lekl (Redox Prüstel GP Team)
Ve španělském Jerezu se dnes odjela čtvrtá Velká cena letošní sezóny mistrovství světa silničních motocyklů. Jako první vyrazili na trať jezdci nejslabší třídy Moto3, které čekal závod na 22 kol. V Jerezu se od rána držely stabilní podmínky, když bylo polojasno s teplotou vzduchu i trati kolem 19°C.
Filip Salač spolu s mechaniky týmu Redox Prüstel GP zkoušel změny v nastavení do ranního Warm Upu, ale ty se ukázaly jako krok špatným směrem, protože byla okamžitě zničena zadní pneumatika. Do závodu proto přišly další změny, které se naopak ukázaly jako správné a Filip se cítil velice dobře. Během úvodních kol závodu získal několik pozic a začal stahovat skupinu, která jela o mistrovské body. Bohužel poté přestala jeho KTM jet a ze závodu musel odstoupit. Nyní se připravuje na nadcházející testy, které se v Jerezu rozjedou již za dva dny.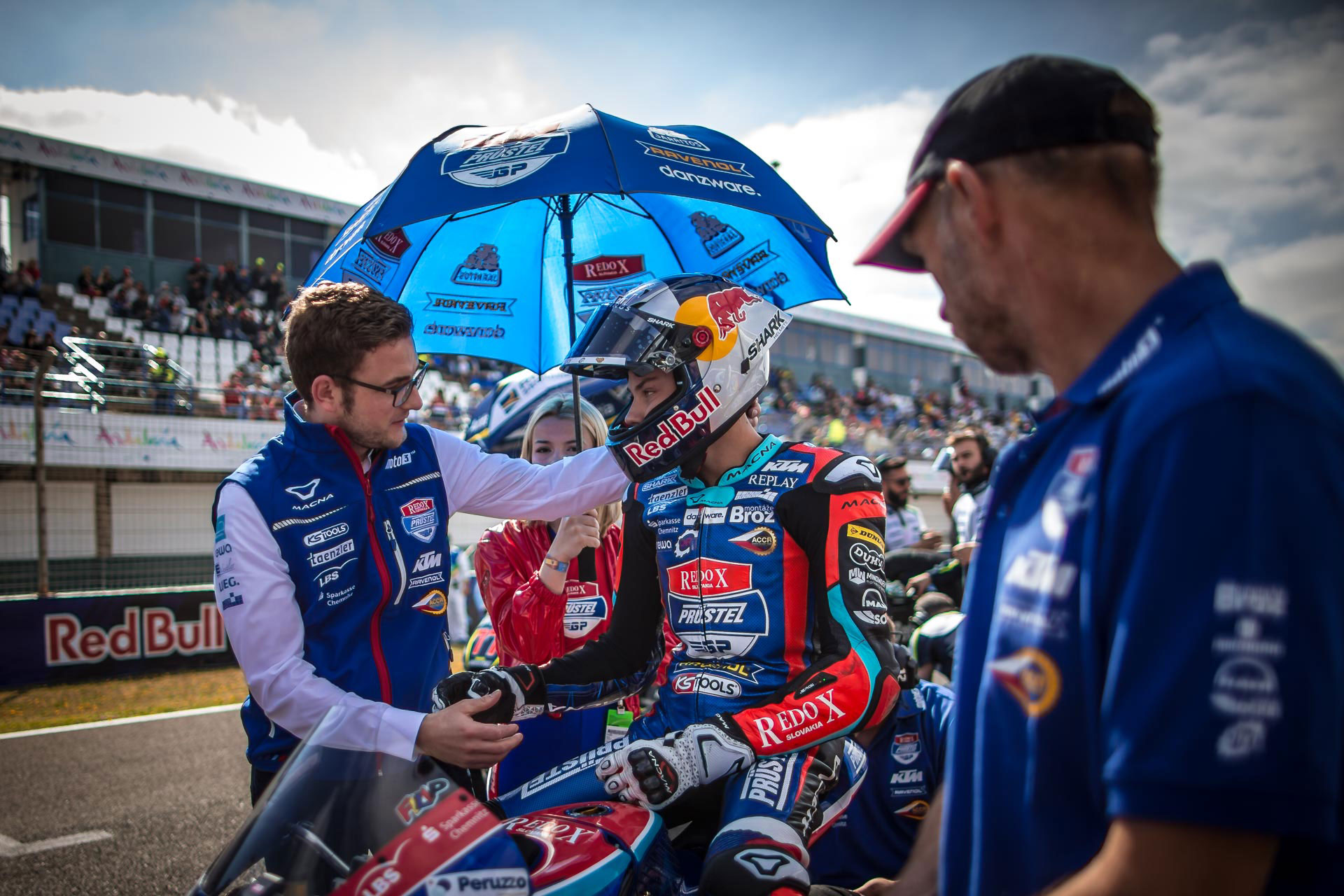 Filip Salač
"Dnes ráno jsme ve Warm Upu zkoušeli nějaké změny, které mi po dvou kolech roztrhaly pneumatiku. Kvůli tomu jsme museli hned přezout na jinou, již použitou, pneumatiku, protože na tamté se nedalo vůbec jet. Poté jsem měl dobře rozjeté kolo, ale zavřel se mi předek a málem jsem spadl. Naštěstí jsem to ustál, ale skončil jsem na 28. místě. Věděli jsme, co změnit a již v zaváděcím kole před závodem jsem se na motorce cítil mnohem lépe. Do závodu jsem neměl moc dobrý start, ale začal jsem to dohánět a s Kaitem Tobou jsme sjížděli skupinu, která bojovala o 14. místo. Poté mi ve dvou kolech začala chybovat motorka, úplně ztratila výkon a všichni mě předjeli. Nakonec se vypnula úplně a já musel odstoupit. Přišli jsme na to, že to byla technická závada s elektronikou. V závodě jsem zajel celkem dobrý čas – 1:47 nízkých – což není úplně špatné, byl vidět progres a zajel jsem si osobní rekord. V úterý nás čekají testy, ve kterých bych se chtěl ještě více časově zlepšit. Děkuji všem fanouškům, sponzorům, rodině, panu Šťovíčkovi a všem, co mě podporují. Uvidíme se v Le Mans."
Příští Gran Prix se jede ve francouzském Le Mans od 17. do 19. května 2019.