Druhé závody letošní sezóny Cuna de Campeones se o uplynulém víkendu odjely na světovém okruhu ve Valencii. V kategorii PreMoto4 nastoupili Štěpán Zuda a Jakub Gurecký, kteří opět patřili mezi nejvýraznější jezdce na trati, nicméně v dobré výsledky se to nakonec neobrátilo.
Zdroj: TZ
Letošní sezóna španělské motocyklové školy Cuna de Campeones se během posledního dubnového víkendu přesunula na známý okruh ve Valencii, kde se jezdí i závody MotoGP. Dříve v této škole závodil Filip Salač a letos jdou v jeho stopách Štěpán Zuda a Jakub Gurecký, kteří závodí ve třídě PreMoto4.
Závodní víkend začal volnými tréninky, ve kterých se u Štěpána Zudy nepodařilo dobře nastavit motorku. V sobotu jezdce čekaly dvě kvalifikace a první závod. Do závodu Štěpán startoval ze sedmé pozice, ale provázely ho technické problémy, takže dojel na 12. místě. V nedělním závodě se opět pustil do soubojů v početné skupině a výsledkem toho bylo 8. místo.
Druhý český zástupce Jakub Gurecký víkend rozjel dobrými časy ve dvou pátečních trénincích. Na to navázal v sobotních kvalifikacích, kdy byl v první kvalifikaci nejrychlejší. Druhá kvalifikace byla po poledni a bylo jasné, že všichni zrychlí. Jakub dlouho držel vedení, o které přišel až v posledním možném kole a skončil druhý. V závodech ale zažil úplně opačné pocity. Po nevydařeném startu do prvního závodu se propadl o několik pozic vzad. Při snaze vše napravit přišel pád a tím pro něj závod skončil. V neděli bylo cílem smůlu z prvního závodu otočit a přivést lepší výsledek, ale start se znovu nevydařil. Došlo ke kolizi přímo na startovním roštu a závod byl zastaven. Jakub tak z Valencie odjíždí potlučený a s nula body.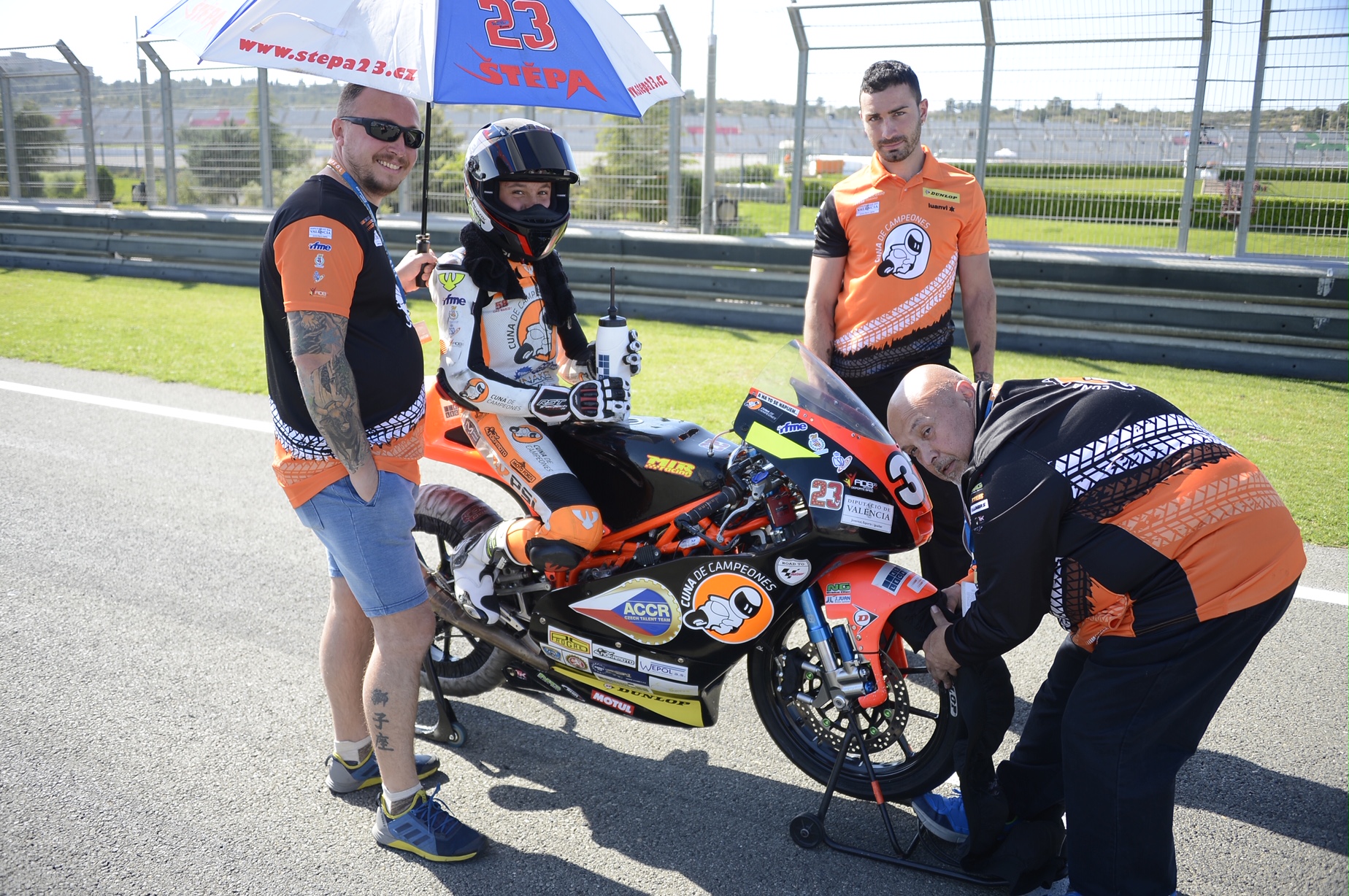 #37 Štěpán Zuda
"Závodům ve Valencii předcházely dva volné tréninky, ve kterých se nám nepodařilo nastavit motorku. V sobotu byly dvě kvalifikace a jeden závod. V první kvalifikaci jsem měl asi v pátém kole pád a tím pro mě skončila. Do té druhé jsme udělali ještě nějaké změny k lepšímu a bylo z toho 7. místo na startovním roštu. Trať ve Valencii jsem znal, ale pouze mokrou a suchá byla úplně něco jiného."
"V prvním závodě jsem se potýkal s problémy s řazením. Odstartovat se mi povedlo dobře a již ve druhé zatáčce jsem byl na 4. pozici a lehce jsme se trhli skupince za námi. Při nájezdu do druhé zatáčky ve druhém kole přede mnou spadli dva jezdci – jeden na předek, tak jsem musel změnit stopu, abych ho netrefil a druhý z výjezdu dostal highsider a já opět musel ven. V tom mne předjela celá osmičlenná skupina. Postupně jsem ztrátu stáhnul a bojoval o čtvrté místo, ale dvě kola před koncem mi před druhou zatáčkou upadla řadící páčka a já jel rovně. Kolo jsem dojel až do boxu, kde mi rychle páčku připevnili a já alespoň dokončil závod na 12. místě. To mne dost naštvalo, protože to byl druhý závod, který mi pokazila technika."
"V neděli jsme měli ranní desetiminutový Warm Up, díky kterému jsem začal motorce zase věřit. Závod jsme jeli až v 17. hodin. Start se mi povedl i přes komplikace přede mnou, kde byl pád a já se jezdcům jen tak tak vyhnul. Závod byl ihned zastaven červenou vlajkou. Po restartu závodu, který byl zkrácen na 6 kol, jsem se zapojil do skupinky osmi jezdců bojující o 6. místo. Ve druhém kole jsem v sedmé zatáčce špatně podřadil a díky pomalému výjezdu se vedle mne dostal soupeř na vnitřní stopu a já se nechal vyvézt až do kačírku. Propadl jsem se až na 11. místo a dvě kola mi trvalo, než jsem se dostal přes dva jezdce na 8. místo. I přes stíhací jízdu se mi nepovedlo dotáhnout skupinu bojující o stupně vítězů. Ze závodů si však připisuji 4+8 bodů."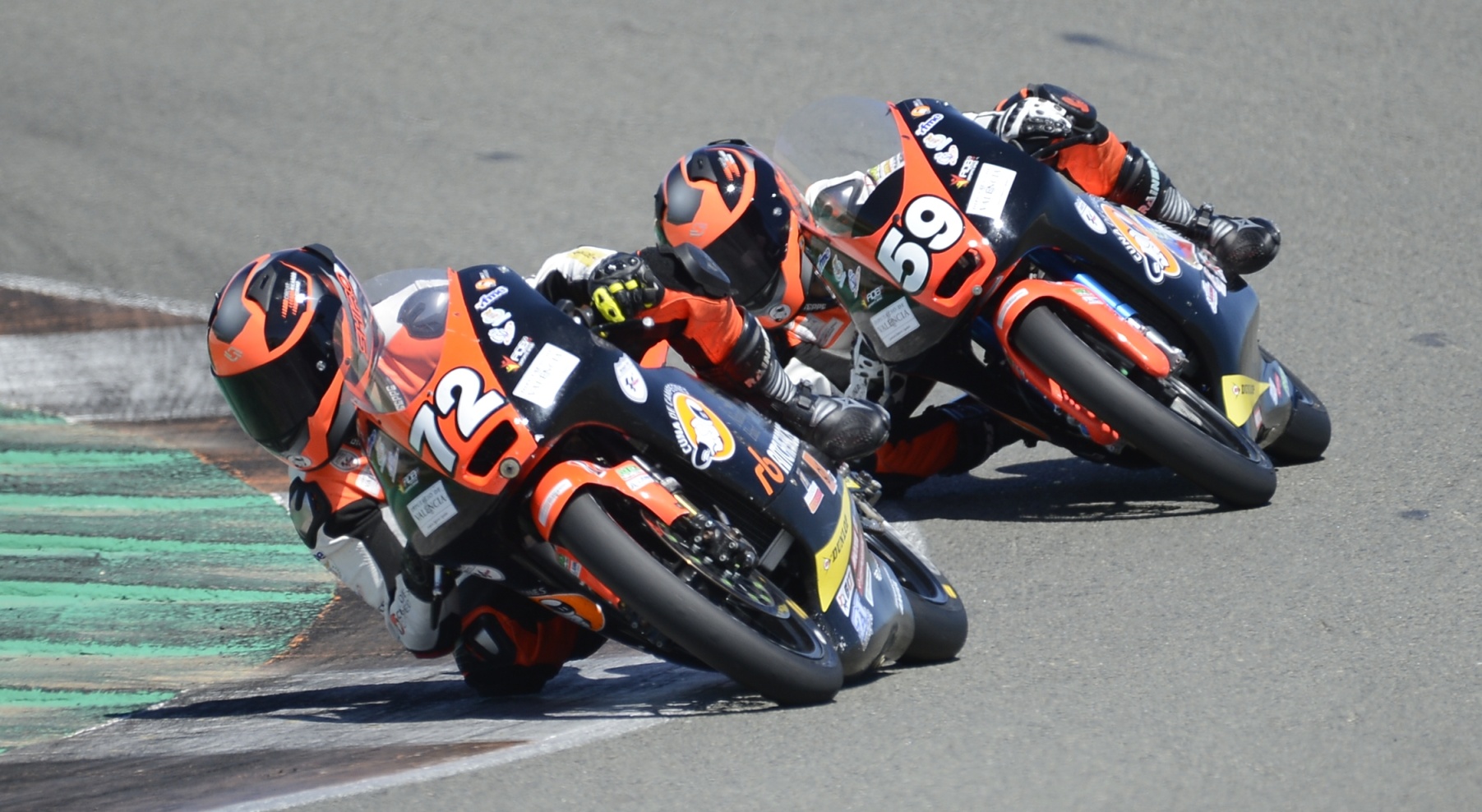 #59 Jakub Gurecký
"Na trati ve Valencii jsem byl poprvé a cítil se dobře. Vyšla mi výborně kvalifikace, na rozdíl od posledních závodů. V sobotním závodě mi nevyšel ideálně start a v prvním kole jsem se propadl na sedmé místo. Rychle jsem se snažil vrátit zpátky dopředu, ale na konci třetího kola jsem udělal chybu a následoval pád. V neděli jsem chtěl napravit sobotní neúspěch, byl jsem trochu nervózní a pokaženým startem vše skončilo. Po zhasnutí světel jsem vlastní chybou neodjel ze startu a po nárazu jezdce ze zadních pozic pro mě i druhý závod skončil předčasně. Musím poděkovat mechanikům za dobře připravenou motorku. Mrzí mě, že jsem ji nedovezl až do cíle. Děkuji moc i všem, kteří mě podporují. "
Příští závody Cuna de Campeones se pojedou na okruhu v Cartageně od 11. do 12. května 2019.