Minulý víkend se na okruhu Circuit de Barcelona – Catalunya odjely další dva závody seriálu Mistrovství světa juniorů FIM CEV Repsol, který se tím přehoupl do svojí druhé poloviny. Český jezdec IgaX Teamu Ondřej Vostatek, který letos startuje v prestižní kategorii MJ juniorů Moto3 poprvé, předvedl solidní výkony. V těžké konkurenci však na body zatím nedosáhl.
Zdroj: TZ
Na rozdíl od předchozího závodního víkendu v Le Mans, kde byl program juniorům zkrácen kvůli souběžnému konání závodů MotoGP, se v Barceloně pořadatelé drželi klasického formátu. Ve čtvrtek a v pátek Ondra spolu s mechaniky ladil techniku během volných tréninků, v sobotu následovaly dvě kvalifikační čtyřicetiminutovky a v neděli pak dva závody na 16 kol.
Do prvního ze tří čtvrtečních tréninků vyjel Ondra jako vždy na motorce se základním nastavením a byl schopen s časy kolem 1:53,3 konkurovat všem soupeřům. V pátek udělali mechanici podle čtvrtečních dat z telemetrie několik změn v nastavení, což umožnilo zlepšit čas na 1:51,3. Všechno v tu chvíli vypadalo pozitivně, protože podle loňských výsledků kvalifikace by čas 1:49 vysokých stačil na start z první řady a 1:50 by znamenalo 5. až 30. místo na startu. Plán tedy byl použít na kvalifikaci jiný motor, nové pneumatiky a ještě trochu vylepšit nastavení podle telemetrie.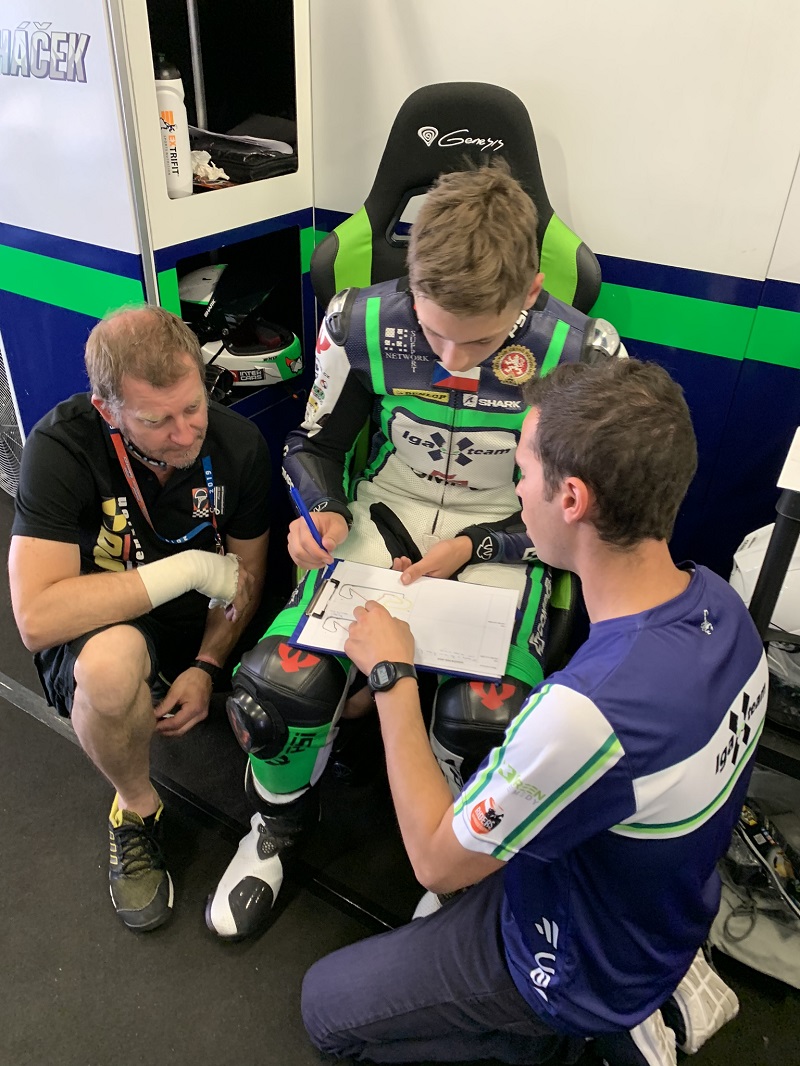 "Do první kvalifikace jsme v sobotu šli optimisticky s tím, že to nebude jednoduché, ale hratelné o nějaké slušné umístění na startu. Bylo to ale přesně naopak. I když jsme nasadili čas 1:50,9 což je myslím na první rok na novém motocyklu KTM velmi dobrý čas, nestačilo to na lepší než na 29. místo na startu. Pole bylo velmi vyrovnané a nejrychlejší kvalifikační čas v naší kategorii měl hodnotu traťového rekordu Moto3 a byl rychlejší než loňské časy v dospělém MotoGP třídy Moto3. Letošní startovní pole je opravdu hodně nabité. Pro Ondřeje je samozřejmě hodně těžké prosadit se hned v prvním roce v tak skvěle obsazeném MS juniorů, ale na druhou stranu sbírá zkušenosti, které se mu do budoucna budou velmi hodit", uvažuje Jan Vostatek.
V druhé sobotní kvalifikaci se sice podařilo provést další přínosné změny v nastavení, ale teplota se proti dopolední rozjížďce rapidně změnila a Ondřej zaostal za svým nejlepším časem cca o 0,3 s. Zbytek pole sice zpomalil více než o vteřinu a zlepšili se jen dva jezdci, jeden z nich však bohužel Ondru přeskočil.
Podle výsledného času tak měl Ondra startovat z 30. místa, po udělených penalizacích se posunul o jedno místo dopředu.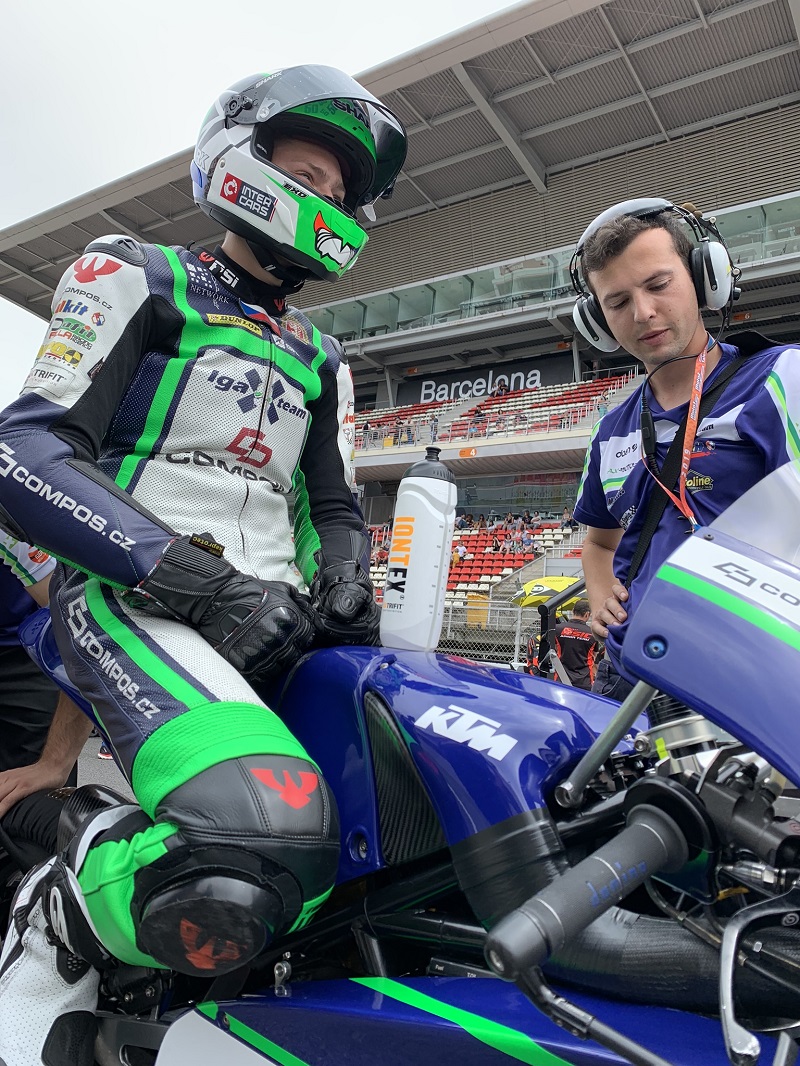 A jak hodnotí závodní víkend Ondřej? "Pro nedělní warm-up jsme úplně předělali nastavení, ale bohužel mi nesedlo. Hlavně na brzdách a při předjíždění se přední pérování chovalo tak odlišně, že jsem v prvním kole dopoledního závodu při nájezdu do 10. zatáčky nedokázal dobrzdit, najel jsem do jiného jezdce a upadl. Motorka naštěstí fungovala, takže jsem mohl pokračovat dál. Kvůli vážné havárii jiného jezdce byl závod ve třetím kole přerušen, a díky tomu mechanici stihli mojí motorku před opakovaným startem dát trochu do pořádku. Po restartu jsem bojoval o co nejlepší místo ve svojí skupince, když přímo přede mnou spadl jezdec a já se mu sotva vyhnul. Nakonec z toho bylo 23. místo.
V odpoledním závodě jsme po poradě s týmem nastavili motorku přesně podle druhé kvalifikace, kdy mi nastavení nejvíce vyhovovalo, a mohl jsem konečně začít závodit. Startovní pole se od začátku závodu roztrhalo na 4 skupiny a já jsem se ve třetí skupině v každém kole se soupeři doslova mydlil o každou pozici. Byli to všechno velmi zkušení kluci a v každém sektoru se měnilo pořadí. Tři kola před koncem jsem si našel správnou výchozí pozici na závěrečný boj o vedení ve skupině a vyšlo mi to vcelku dobře. Cílem jsem projel druhý ve skupině o 0,029 vteřiny a dokončil závod na 22. místě. Před námi je Aragon, tam už se snad zadaří vybojovat body."
"Je za námi další závod, který pro tým i pro Ondru znamenal v první řadě spoustu nových zkušeností. Poznali jsme opět pár věcí, které je třeba zlepšit, na kterých je třeba zapracovat, a víme, že je třeba vždy koukat nahoru a makat. Velmi důležité je, že Ondra dokáže závodit s výrazně zkušenějšími jezdci v takovém tempu a jeho časy ve 14 letech jsou do budoucna opravdu velmi slibné. I když umístění nejsou z pohledu fanouška tak oslnivá, porovnání časů musíme hodnotit kladně. Ondra má ještě všechno před sebou", optimisticky uzavírá Jan Vostatek.
Okruh MotorLand Aragon bude hostit další dva závody juniorského MS v neděli 14. července.