Mezinárodní mistrovství České republiky – Miniracing o víkendu pokračovalo osmými závody, které se konaly ve Vysokém Mýtě. Závody pro třídy Mini GP, Jawa 50 a Minimotard byly opět pěknou podívanou a někteří jezdci si již dojeli pro své tituly.
Zdroj: TZ, Foto: Jindřich Škopek
Letošní osmé závody mezinárodního mistrovství České republiky – Miniraicng byly minulou sobotu uspořádány na okruhu ve Vysokém Mýtě. Závody se konaly pod záštitou starosty města Ing. Františka Jiranského. Velice známý areál patří mezi nejoblíbenější závodní okruhy u nás díky svému rychlému charakteru, převýšení a prudkým vracečkám. Závody se jely jako mezinárodní mistrovství ČR ve třídách Mini GP Stock, Mini GP Open, Jawa 50 RS, Jawa 50 GP, Minimotard a mezinárodní přebor ČR ve třídě Mini GP O.
Mini GP Stock
Ve třídě Mini GP Stock sváděli v letošní sezóně souboj o titul hned tři jezdci: Matyáš Eliáš, Jan Gurecký a Daniel Tureček. Rozdíly mezi nimi byly minimální a vedení v MMČR si držel Dan Tureček. Tomu bohužel závod ve Vysokém Mýtě nevyšel a za čtvrté místo bral pouhých 29 bodů, čímž spadl na průběžné třetí místo za Matyáše Eliáše. V sobotu byl suverénní Jan Gurecký a za dvojité vítězství si připsal maximálních 50 bodů. To Honzíkovi zajistí titul šampiona ČR, neboť se na konci sezóny budou odečítat body z prvního závodu v Písku pro nedostatečnou účast závodníků. Gratulujeme!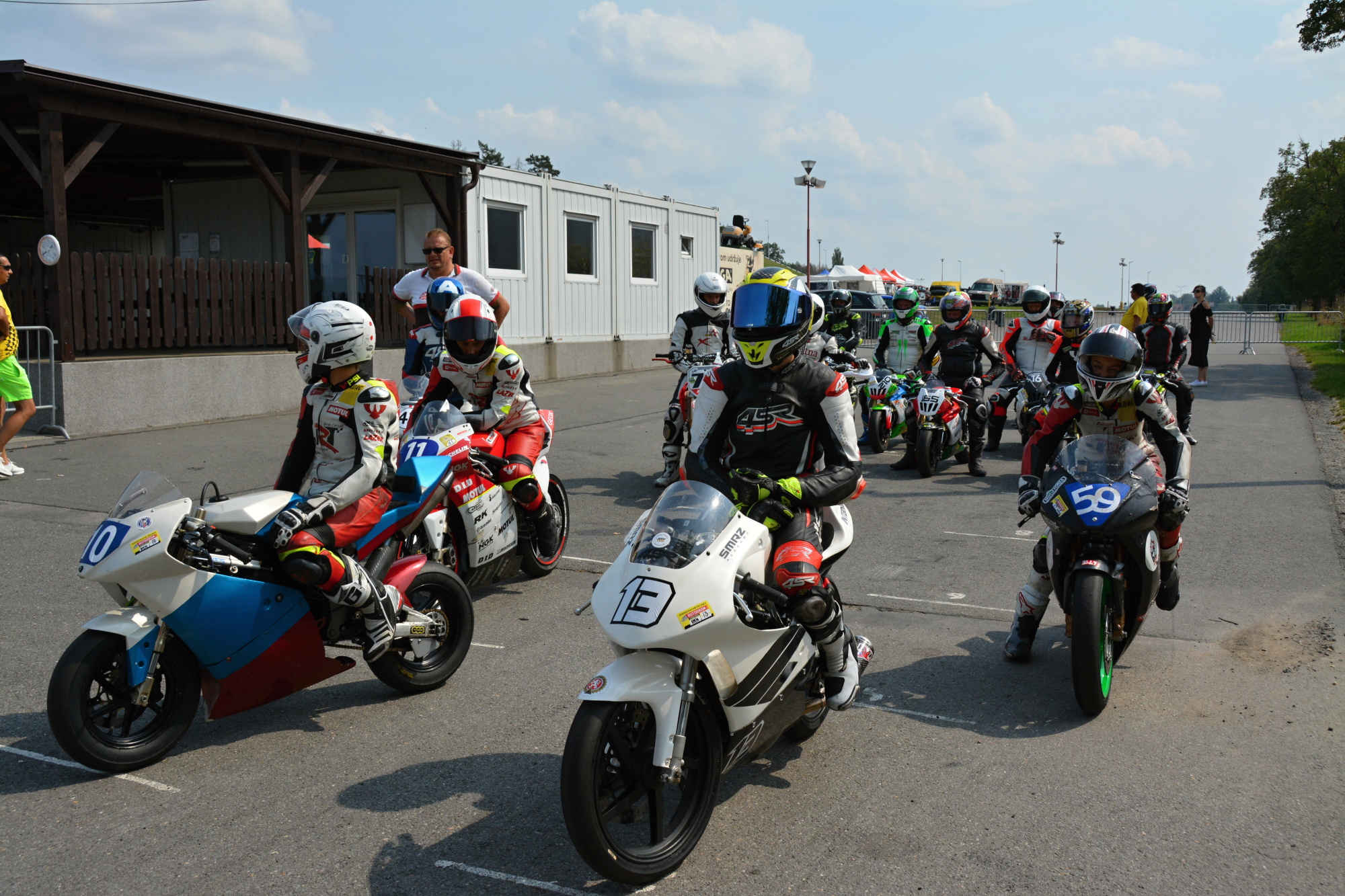 Mini GP O
V pohárové třídě Mini GP O celou sezónu dominuje Lukáš Kubík, což potvrdil i při závodech ve Vysokém Mýtě. Zde si dojel pro dvě vítězství, 50 bodů a titul přeborníka ČR. I jemu proto patří naše gratulace! Souboj o druhé místo je však stále otevřený a rozhodne se mezi Brunem Kissem a Ditou Štipčákovou a to již při příštích závodech v Třinci.
Mini GP Open
Vedení v MMČR třídy Mini GP Open si stále drží Michal Prokeš, který sváděl fantastické souboje s Jakubem Gureckým. Oba dva si odvezli shodně 45 bodů za jedno vítězství a jedno druhé místo, což potvrzuje jejich celkovou vyrovnanost. Do posledního závodu si Míša veze náskok pouhých devíti bodů a o titul v této nejlépe obsazené třídě bude muset s Kubou tvrdě bojovat. To je samozřejmě skvělou pozvánkou na příští závody. Třetí příčku obsadil Marek Kindermann, který si tím upevnil třetí místo v mistrovství.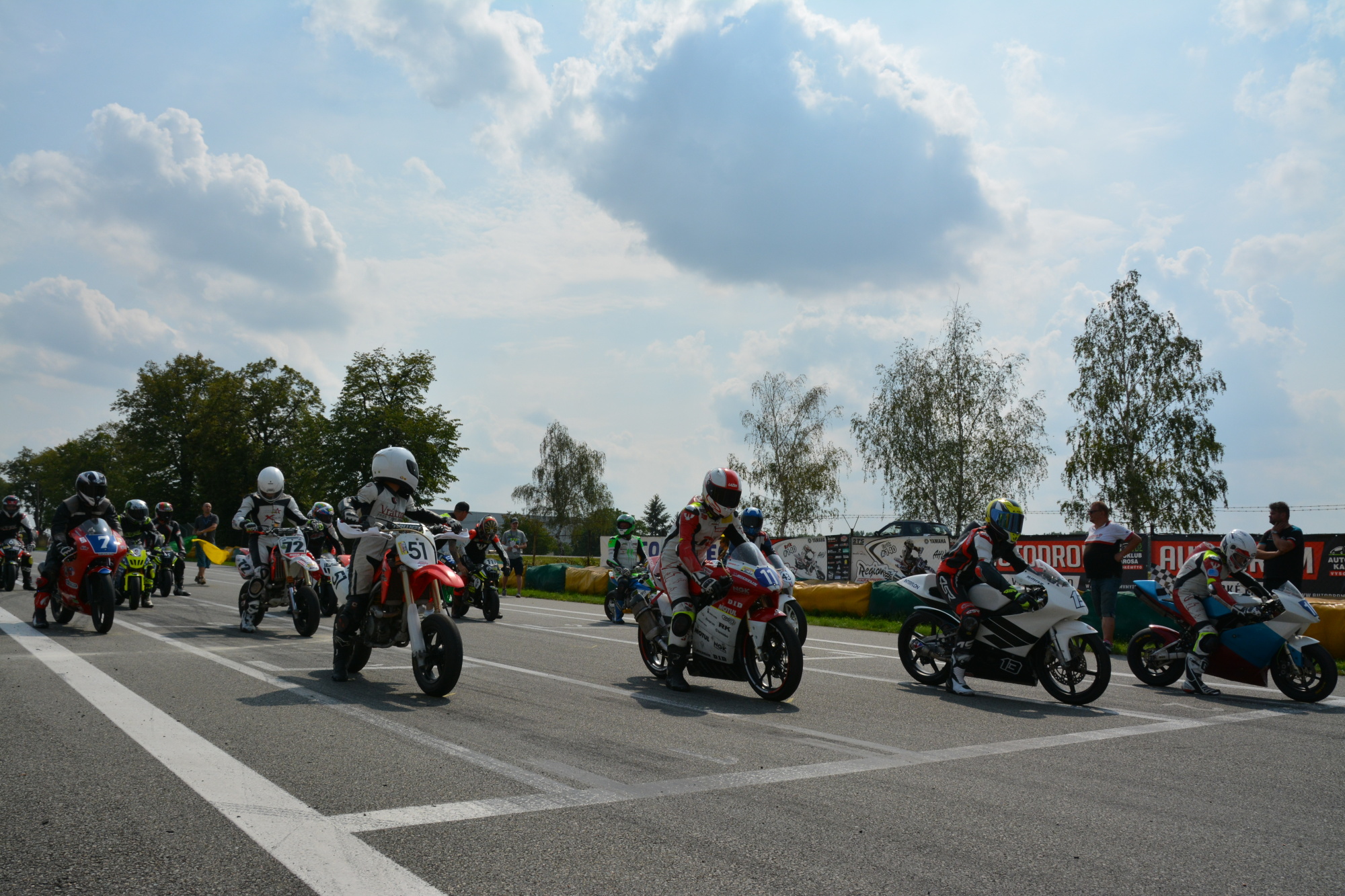 Jawa 50 RS, GP
Ve třídě Jawa 50 RS si tentokrát vítězství odváží Radek Krpec před Miloslavem Vlčkem a Romanem Koppem. O mistrovi však zdaleka rozhodnuto není a o posledních 50 bodů se v Třinci pánové poperou. Rozdíl jedenácti bodů slibuje tuhý boj a je se na co těšit.
Jindra Ulčák, který se mohl zúčastnit pouze dvou závodů MMČR ve třídě Jawa 50 GP dokázal, že ani Lukáš Plíšek, který vyhrál všechny dosavadní závody, není neporazitelný. V obou jízdách Jindra vyhrál a zaslouženě si připsal 50 bodů. Ty mu dávají ještě naději na celkové třetí místo v šampionátu, což by byl husarský kousek. Aleš Opatrný si třetím místem pojistil pozici vicemistra.
Minimotard
Kategorie Minimotard letos trpí na slabou účast a ve Vysokém Mýtě byli jen dva jezdci. Vítězství v obou závodech oslavil Adam Havlín a Matúš Kotteš byl druhý.
Průběžné hodnocení šampionátu
http://motojunior.cz/data/race/pdf/1566975766-190824-mmcr-mpcr-vysledky-2019-sloucene-pdf
Video: MMČR Miniracing – Vysoké Mýto 24.8.2019
Aleš Eder – člen komise SZM za Miniracing
"Areál ve Vysokém Mýtě patří k nejoblíbenějším závodním okruhům v našem kalendáři. Jde o velice rychlou trať, kde je spousta míst k předjíždění. Díky tomu jsme si užili další pěkné závody. V některých třídách už se rozhodlo o letošních celkových vítězích, takže jezdcům gratulujeme. Sezóna se nám dostává ke konci a všechny srdečně zvu na předposlední závody v Třinci, kde už se letos jelo. I přes nepřízeň počasí to byly pěkné závody v perfektním areálu, což můžeme očekávat i tentokrát."
Další závody MMČR – Miniracing se pojedou 7. 9. 2019 v Třinci. Zde se představí všechny třídy a pro některé půjde o poslední závody sezóny.
Další informace k šampionátu naleznete na webu: http://www.motojunior.cz/