Na okruhu v Jerezu právě skončil dvoudenní test MotoGP, který opět opanoval španělský jezdec Yamahy Maverick Viñales.
Zdroj: MotoGP, týmy
Sezóna MotoGP 2019 skončila posledním závodem ve Valencii, který byl před necelými dvěma týdny. Hned poté se ale všichni začali soustředit na novou sezónu. Ta se rozjela hned v úterý poté při oficiálním testu na stejné trati. Na to navázal další test, který právě dnes skončil v Jerezu. I přes to, že se neustále tvrdí, že při testech nejde o zajetí nejlepšího času, Maverick Viñales byl v obou testech nejlepší. Dvoudenní test v Jerezu ukončil s časem 1:37,131. Se ztrátou 0,689 s za ním skončil úřadující mistr světa Marc Marquez. Trojici nejlepších doplňuje Alex Rins, jehož ztráta je 0,706 s. Díky tomu máme na čele tři různé tovární motorky. Fabio Quartararo navázal na svou perfektní nováčkovskou sezónu a v Jerezu byl čtvrtým nejlepším. Dobře zajel také Joan Mir, který doplnil Top5.
Druhý den testu v Jerezu značně ovlivnilo počasí, když pršelo. Suché trati si jezdci užili jen chvíli během dopoledne a krátce po poledni začalo pršet. Mokrá trať ale byla skvělou příležitostí pro nováčky Alexe Marqueze, Ikera Lecuonu a Brada Bindera, aby si stroje královské třídy poprvé vyzkoušeli i za těchto podmínek.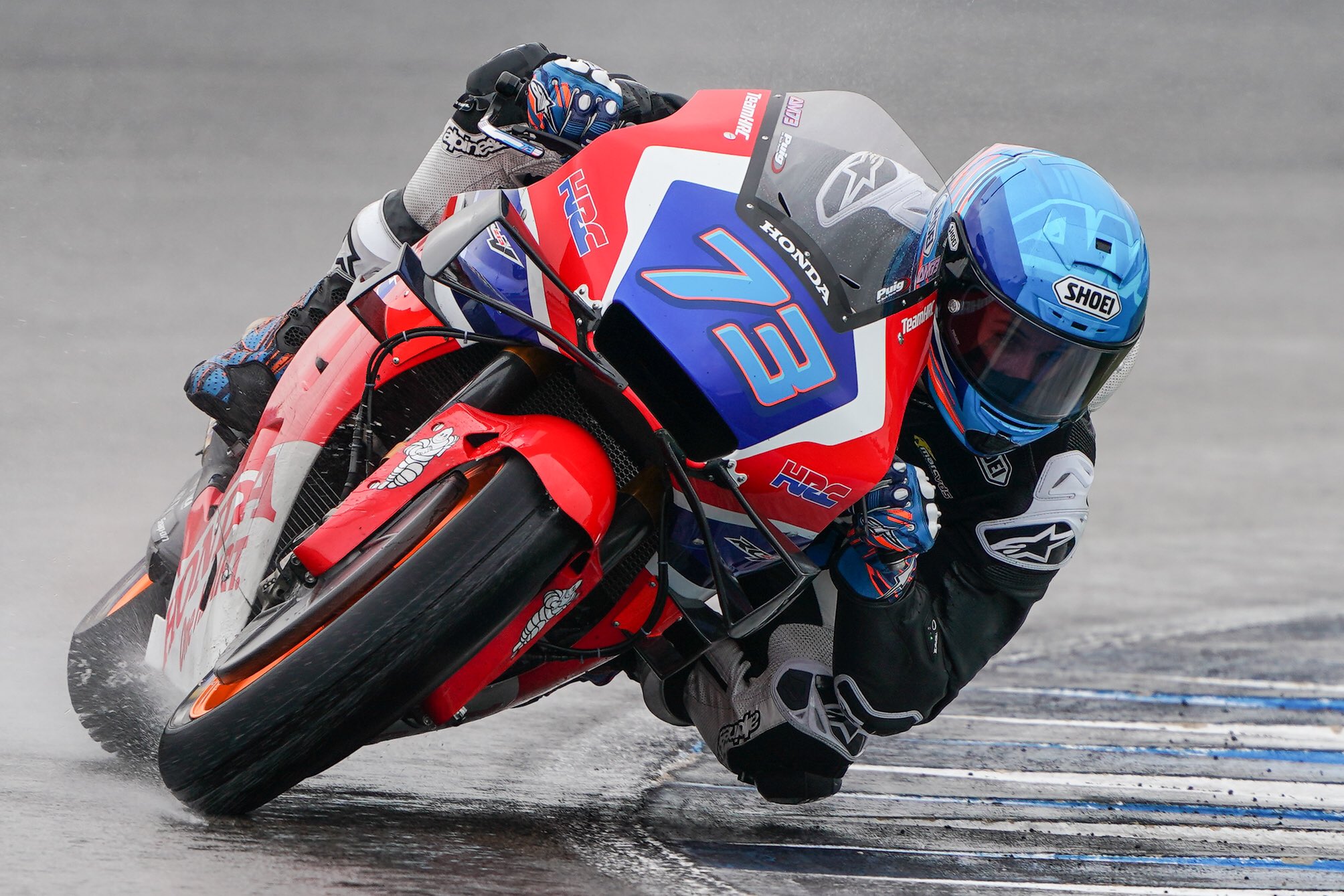 V továrním týmu Yamahy měli oba jezdci k dispozici jednu verzi YZF-M1 2020, která má oproti letošní variantě jinou nádrž. Během včerejšku Valentino Rossi jezdil hodně s karbonovou kyvkou, ale druhý den měl naopak hliníkovou na obou svých motorkách. Jeho týmový kolega Maverick Viñales většinu testu používal hliníkovou kyvnou vidlici. Oba dále uvedli, že lehký krok vpřed udělal nový motor, ale že je nutné přes zimu ještě hodně pracovat. Valentino nakonec skončil jedenáctý se ztrátou 1,221 s na týmového kolegu. Satelitní tým Yamahy potvrdil, že měl také k dispozici novou specifikaci motorky. U Hondy měl velice napilno Marc Marquez, který i přes potíže s částečně vykloubeným pravým ramenem (subluxace) testoval hned tři motorky. Nyní ale míří na operaci ramene do Barcelony, která proběhne ve středu 27. listopadu. Operace by měla být podobná té, kterou podstoupil loni s levým ramenem. Jeho týmový kolega a bratr Alex jezdil na letošní verzi RC123V a důležité bylo najezdit co nejvíce kol. S díly pro rok 2020 pracoval také Cal Crutchlow, který v kombinaci časů obou dní uzavřel Top10.
Tým Suzuki Ecstar se zdá být spokojený s novou specifikací motoru, což potvrdili i jezdci, když oba skončili v Top5. Testu se účastnil i testovací jezdec Sylvain Guintilo. U Suzuki pracovali na porovnání současných a nových dílů, aby se mohli přes zimu finálně rozhodnout, co budou používat. Andrea Dovizioso z týmu Ducati obsadil šestou příčku a jeho týmový kolega Danilo Petrucci skončil dvanáctý. V Jerezu Ducati testovala nové šasi a oba jezdci potvrdili, že je to krok správným směrem. Během druhého dne používal testovací jezdec Michele Pirro nové aerodynamické prvky na předním kole. Velice rychlý konec testu měl Jack Miller, který během druhého dne zajel jen čtyři kola, ale i tak dokázal zlepšit svůj čas a je posledním ve ztrátě jedné vteřiny.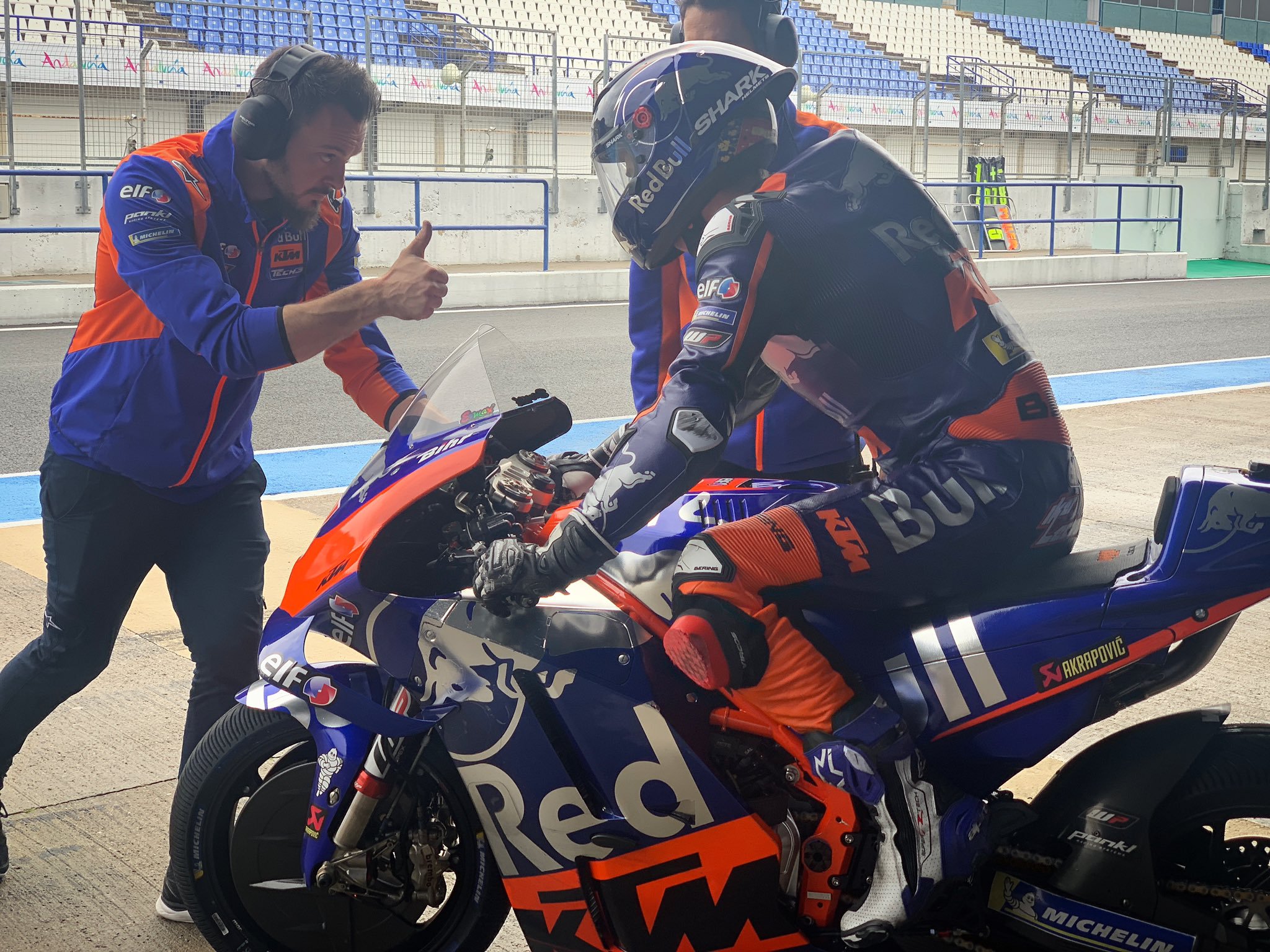 Kvůli nemoci musel první den testu vynechat Dani Pedrosa, testovací jezdec KTM. Pol Espargaro měl na své KTM spoustu nových dílů – nový oranžový rám, nové kapoty s novými aerodynamickými prvky. Zatím to vypadá, že je rakouská továrna spokojená s výsledky. Brad Binder a Iker Lecuona jezdili na starých motorkách, aby se právě co nejlépe seznámili s novou třídou. Aleix Espargaro měl na své Aprilii kryty předního kola. Na trati byli také testovací jezdec Bradley Smith a Andrea Iannone, i když ten druhý den najezdil také jen pár kol.
MotoGP tak ukončilo letošní akci na trati. Nyní přichází zimní přestávka a všichni se budou připravovat na únorový test v Sepangu. I to zmínil Francesco Bagnaia v ohlasu po testu, když po Jerezu stroze uvedl: "Uvidíme se v Malajsii, Pecco."
Výsledky testu v Jerezu