Marc Marquez již dvakrát oslavil titul mistra světa s předstihem v Japonsku a nyní má nakročeno k tomu samému. Co se musí stát, aby mohl zítra opět slavit – nyní již sedmý titul v kariéře?
Zdroj: MotoGP
Marc Marquez z týmu Repsol Honda má v letošní sezóně první šanci, kdy může s předstihem oslavit titul mistra světa 2018. Jeho nejbližším soupeřem je Andrea Dovizioso, který na něj v tuto chvíli ztrácí 77 bodů s tím, že se nyní hraje ještě o 100 bodů. Matematickou šanci na titul má proto i třetí jezdec v šampionátu, kterým je Valentino Rossi a který nyní ztrácí 99 bodů. Po závodě v Motegi tak Marc musí na svém kontě udržet náskok 75 bodů, protože budou do konce sezóny zbývat už jen tři závody.
Marc Marquez bude v neděli letošním mistrem světa MotoGP pokud:
vyhraje
skončí druhý, třetí nebo čtvrtý a Andrea Dovizioso neskončí před ním
skončí pátý a Andrea Dovizioso nebude lépe, než čtvrtý
skončí šestý a Andrea Dovizioso nebude lépe, než pátý
skončí od sedmého do patnáctého místa a Andrea Dovizioso nebude o více, než dvě pozice před ním
nedokončí závod a Andrea Dovizioso neskončí lépe, než čtrnáctý a Valentino Rossi nevyhraje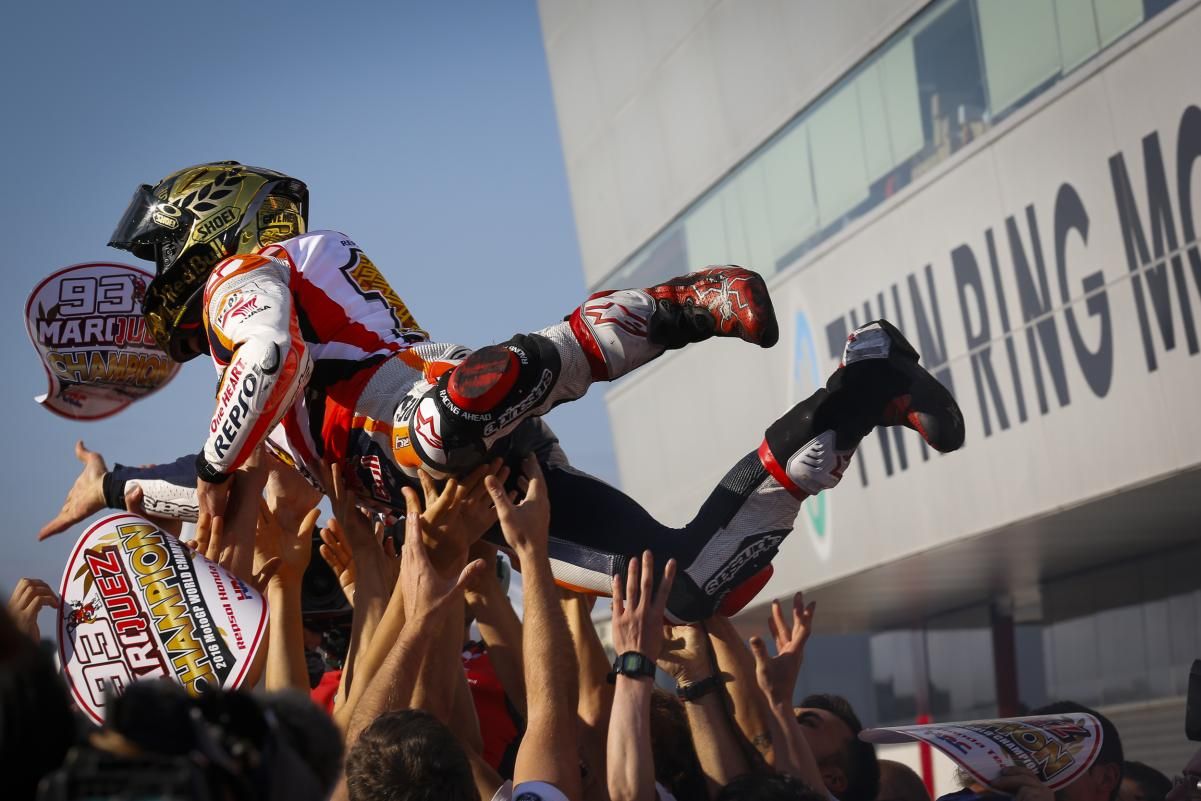 Další zajímavosti k MotoGP v Japonsku
Pokud Marc Marquez oslaví titul – svůj pátý v MotoGP a sedmý v kariéře Grand Prix – bude nejmladším jezdcem, kterému se to podařilo ve věku 25 let a 246 dní.
Andrea Dovizioso dnes získal 20. pole position v kariéře Grand Prix.
Karel Abraham zítra odstartuje do svého stého závodu MotoGP, do kterého se kvalifikoval na 18. místo. Abája je první český jezdec, který tohoto milníku dosáhl.
Okruh Twin Ring Motegi se do kalendáře Grand Prix dostal v roce 1999 a od té chvíle hostil každý rok závody MotoGP. Nyní je to tedy 20. příležitost, kdy pořádá závody Grand Prix.
Od zavedení třídy MotoGP v roce 2002 Honda na svém domácím okruhu vyhrála sedm závodů. Ducati vyhrála pětkrát, včetně loňského mokrého závodu, který vyhrál po souboji v posledním kole Andrea Dovizioso. Yamaha tu vyhrála čtyřikrát a Suzuki naposledy v roce 2000.
Nejúspěšnějším jezdcem v Motegi je Dani Pedrosa, který tu vyhrál pětkrát – třikrát v MotoGP a jednou ve třídách 250 ccm a 125 ccm.
Marc Marquez vítězstvím v Thajsku vyhrál po 68. v kariéře a tím vyrovnal Jorgeho Lorenza v počtu vítězství napříč všemi třídami. Tím, že Jorge v Japonsku nestartuje kvůli zranění, má Marc příležitost ho v tabulce překonat. Nyní jsou na společném 5. místě v počtu nejvíce vítězství GP. Pokud jde o počet výher jen v královské třídě MotoGP, tam má Marc Marquez 42 vítězství a Jorge Lorenzo 47 vítězství.