Čekání je u konce – 41. ročník rallye Dakar byl dnes odstartován. Prověrkou první etapy dobře prošli všichni jezdci týmu Klymčiw Racing, kteří v pořádku dorazili do cíle a někteří z nich si zároveň vylepšili pozici oproti rannímu startu.
Zdroj: TZ
V pondělí 7. ledna 2019 se již naplno rozjel další ročník slavné dálkové rallye Dakar. Jako první do úvodní etapy v kategorii motocyklů vyrazil Gee Motzkin z Klymčiw Racing, kterého postupně následovali i ostatní jezdci našeho týmu. Všechny čekalo první seznámení se s písčitými dunami a také navigací. Dnes se po přejezdu 330 kilometrů z Limy do Pisca rozjeli do rychlostní zkoušky, která byla vypsána na 84 kilometrů.
"Celý tým dorazil v pořádku, kdy je čekalo více než osmdesát navigačních kilometrů. Všichni si to užili a já jako manažer jsem spokojený," řekl hned po dojetí všech jezdců do bivaku Ondřej Klymčiw. Ten je nyní v opačné pozici, než v minulých ročnících a s napětím sleduje počínání svých jezdců.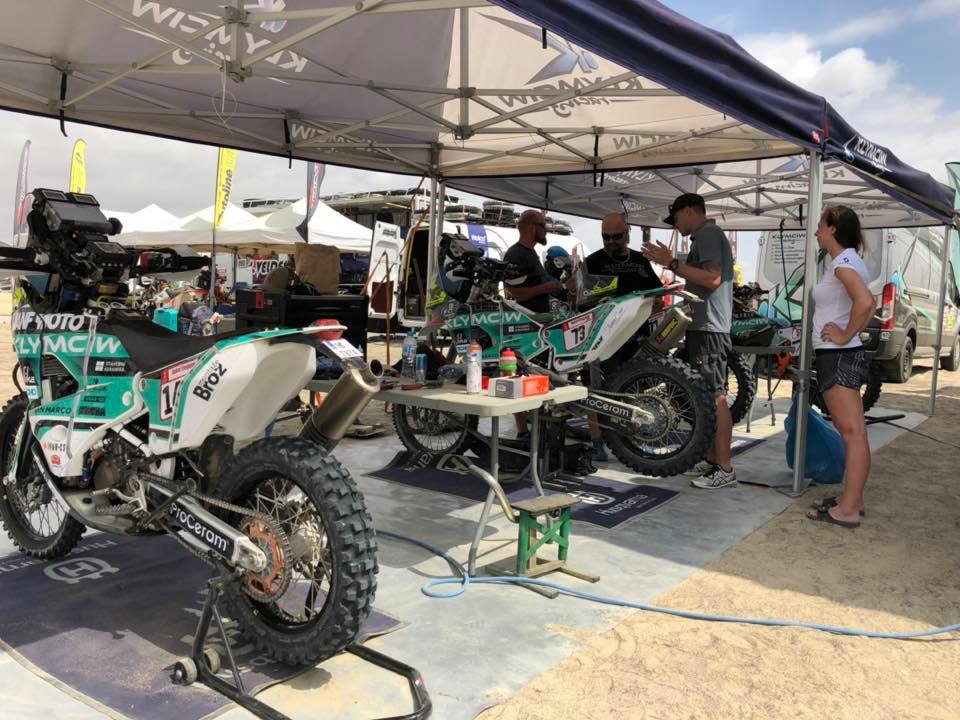 Dnes se celé dakarské zázemí přesunulo do města Pisco na místo, které si Ondra pamatuje z loňska, když závodil. "Nyní jsme v zaprášeném bivaku, který jsem zažil i minulý rok. Zítřejší start mi navíc připomíná loňskou druhou etapu."
I přes počáteční nadšení Ondra apeluje na to, aby všichni stáli nohama pevně na zemi a dodává: "Kluci si to užívají. Zatím tu jsou samé superlativy, ale bylo to prvních osmdesát kilometrů, což znamená, že z toho nemůžeme dělat žádné závěry. To platí i o výsledcích, první den se nevyhrává. Všichni si vyzkoušeli navigaci a hlavně poznali roadbook, protože pokaždé ho kreslí trochu jinak."
Díky tomu, že nikdo z našich jezdců během první etapy nepoškodil motorku, mají mechanici méně práce, než kdyby je hned čekaly větší opravy. "Motorky opravdu fungují dobře. Je vidět, že se příprava vyplatila, kdy jsme v Čechách makali i patnáct hodin denně: od šesti ráno do devíti, deseti do večera, dva až tři měsíce. Vše se podařilo připravit a je to až podezřelé, jak je to skvěle nachystané. Kluci na motorkách jen zkontrolují běžné věci, nic se nerozbilo, ale i tak je samozřejmě práce dost. Celému týmu přeji nadále hodně štěstí a našim partnerům děkuji za podporu," řekl na závěr Ondřej Klymčiw a předal slovo dál.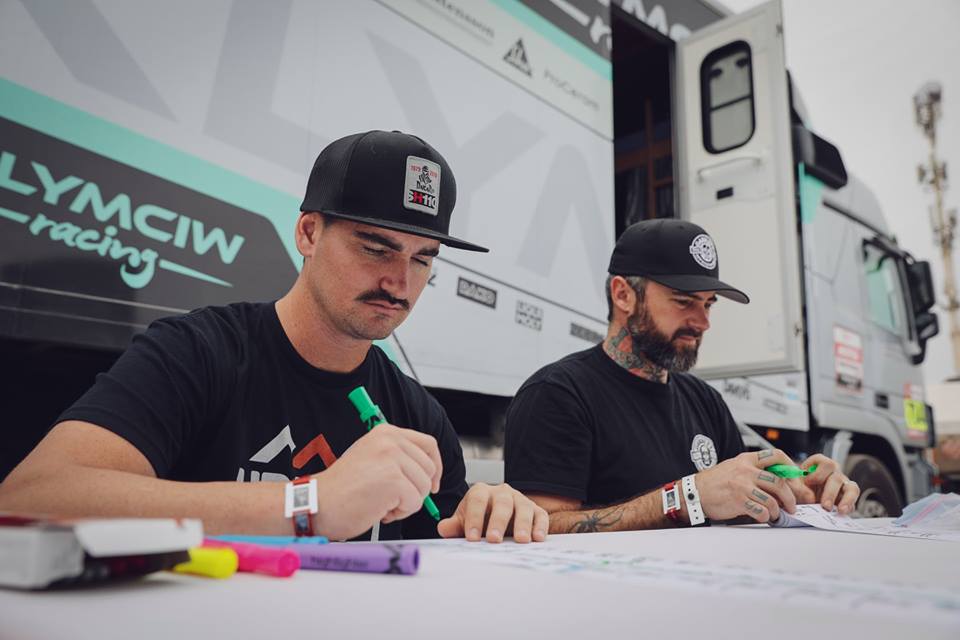 Český jezdec Petr Vlček si dnes poprvé vyzkoušel model motorky 2019, takže šlo hlavně o seznámení se s tím, jak funguje v porovnání s minulým modelem. "Jelo se mi dobře. Motorka byla perfektně připravená. Na trase nás čekalo dost písečných dun, ale víceméně jsme jeli na jistotu. Dnes se nevyhrává, naopak se toho může hodně rozbít," řekl "Anděl" po příjezdu do bivaku a pokračoval: "Všichni z týmu dojeli, takže tu panuje dobrá nálada. Teď už nás opět čeká příprava na další etapu. Zítra to bude mnohem více kilometrů, ale těším se na to, protože se budu stále více sžívat s motorkou a dunami. Zítra začne závod!"
Výsledky dnešní etapy z pohledu týmu:
45. místo – #71 Garrett Poucher (+00:19:22)
46. místo – #73 Skyler Howes (+00:19:28)
51. místo – #59 Petr Vlček (+00:22:31)
108. místo – #57 Gabriela Novotná (+00:47:03)
133. místo – #149 Gee Motzkin (+01:21:39 / penalizace 00:20:00)
Celým Dakarem 2019 vás nadále provázíme prostřednictvím vlastních videí zveřejněných na YouTube kanálu. Zde je video ze slavnostního zahájení a rozhovory se zahraničními jezdci:
Video: OK Dakar 2019 / Podium, rozhovory, stroje (Den 07)
#KLYMCIWRACING #ONDREJKLYMCIW #DAKAR2019
Další aktuality a informace o dění v týmu kromě tiskových zpráv zveřejňujeme také prostřednictvím sociálních sítí:
Facebook: https://www.facebook.com/klymciwondrej/
YouTube: https://www.youtube.com/channel/UCdYyH3NIi9jOcKyHqAYZJVA
Instagram: https://www.instagram.com/ondrejklymciw/