Český závodník Jakub Kornfeil dobře rozjel osmou Velkou cenu letošní sezóny mistrovství světa silničních motocyklů. Kuba se dokázal udržet v Top10 a den ukončil na 8. místě.
Zdroj: FB Jakuba Kornfeila, Foto: Rony Lekl
V holandském Assenu se právě dnes rozjel další závodní víkend šampionátu MotoGP. Letos jde již o osmou Grand Prix a na legendárním okruhu jsme mohli sledovat také českého závodníka Jakuba Kornfeila. Ten ve třídě Moto3 vybojoval celkové osmé místo. Během prvního volného tréninku zajel čas 1:43,440, který během odpoledne zlepšil o půl vteřiny, když v závěru druhého volného tréninku objel kolo za 1:42,987. Kuba za vítězem Aronem Canetem zaostal jen o 0,310 s. S dnešními tréninky je spokojený a rád by na to zítra navázal během ranního tréninku a hlavně během kvalifikace, ve které se rozhodne o postavení na startovním roštu.
"Dneska to šlo docela dobře." uvedl Jakub Kornfeil při zhodnocení pátečních tréninků. "Nebylo to tedy úplně stoprocentní, protože pořád je ještě dost věcí, na kterých musíme máknout. V prvním tréninku jsem se snažil po prvním vyjetí zůstat na trati co nejdéle, abych si ji najel co nejlépe. Nakonec jsme tam měli pár kontaktů ve skupině, tak jsem zajel dřív. Zbytek tréninku šel dobře. Motorka fungovala fajn a taky se podařilo zajet slušný čas. Odpolední program nám ukázal hned několik slabých míst. Nastavení nefungovalo úplně ideálně. Myslím ale, že jsme našli řešení. Doufám tedy, že zítra navážeme na dnešek a ještě se o něco zlepšíme.''
Jakub Kornfeil nakonec dostal penalizaci a bude odsunut o 12 míst na startovním roštu kvůli pomalé jízdě ve třech nebo více sektorech při druhém volném tréninku.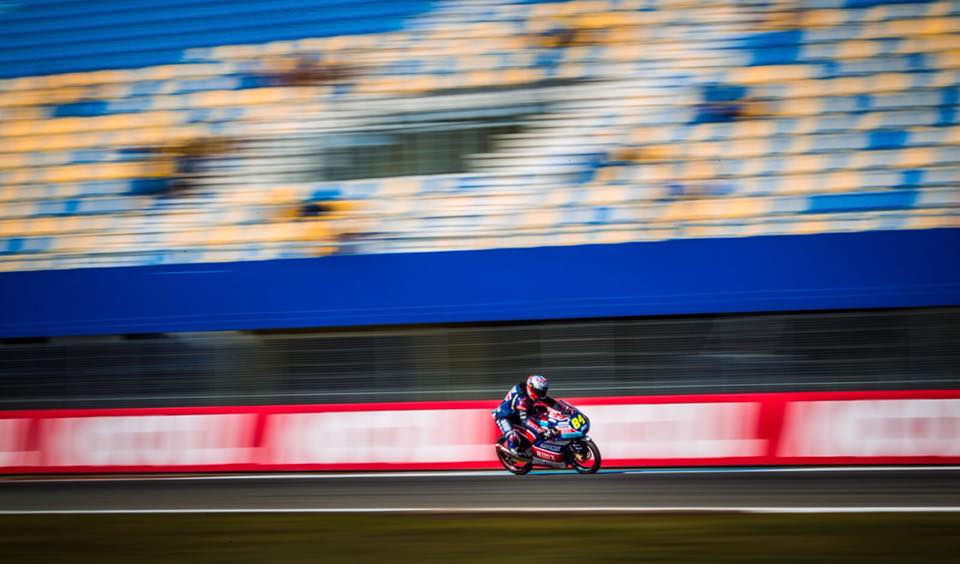 EN:
Jakub Kornfeil: "I feel positive after practices today. We were facing some issues but hopefully, we've managed to fix them all. In the first practice, I tried to extend my first run as much as I could to adapt the track in the best possible way. Eventually, It didn't quite work because we had some contact in the group so went in. Towards the end of the session, I was happy because we improved the bike and my laptime likewise. Afternoon practice brought some work to do as the settings didn't work in expected way. Anyways, I think we found a good solution with my crew chief and believe we can keep the pace up and even improve tomorrow."