Havířovský Zlatý kahanec byla pro Michala Dokoupila i Veroniku Hankocyovou příprava na nejrychlejší silniční závody světa. V srpnu je čekají hned dva prestižní závody – Ulster Grand Prix a ManxGP & Classic TT.
Zdroj: TZ
V termínu 5. – 10. 8. 2019 se bude konat již 66. ročník Ulster Grand Prix v Severním Irsku na okruhu Dundrod jen kousek severně od Belfastu. Tento závod se každoročně "přetahuje" s Tourist Trophy na ostrově Man o titul "nejrychlejšího závodu světa," kdy nejvyšší průměrné rychlosti se pohybují okolo 135 mil v hodině.
Stejně jako loni se těchto závodů zúčastní i český tým Indiracing s podporou týmu DAS TRANS a také ARIANE Racing Factory. Právě v kategorii Moto3 jel Michal Indi Dokoupil loni poprvé v sedle Ariane 3 a dokázal zajet nejen v prvním závodu druhý, ale ve druhém získat první "international win" na tomto okruhu.
Michal Indi Dokoupil #23:
"Naposled jsem stál na Ulsteru na stupních vítězů jako nováček v roce 2009, kdy se ještě závody dělily na národní a mezinárodní a pak až loni v sedle Ariane 3, na které jsem se předtím svezl jen dvě půlhodiny v Mostě a pak se šlo rovnou na věc. Neměli jsme dohromady vůbec žádné zkušenosti. Já nikdy neseděl na Moto3 a Ariane zase nikdy nebyla na roadracingu. Sladili jsme se ale vcelku rychle a bylo z toho pro mě úžasné druhé a ve druhém závodu nakonec i první místo."
V letošním roce bude sice na Ulsteru konkurence v této třídě ještě o něco těžší, protože se ve startovním poli objeví nejen stálice jako Christian Elkin, několikanásobný vítěz, či Gary Dunlop, syn legendárního Joeyho Dunlopa, ale i například několikanásobný mistr Irska Derek McGee, který momentálně vyhrává v sedle Moto3 italského týmu Faraldo racing všechny irské podniky. Indi si letos vyzkoušel Ariane v Hořicích, kde získal celkové první místo, a jako trénink pojal i závody na těrlickém okruhu u Havířova, kde cíl protnul s více než půlminutovým náskokem.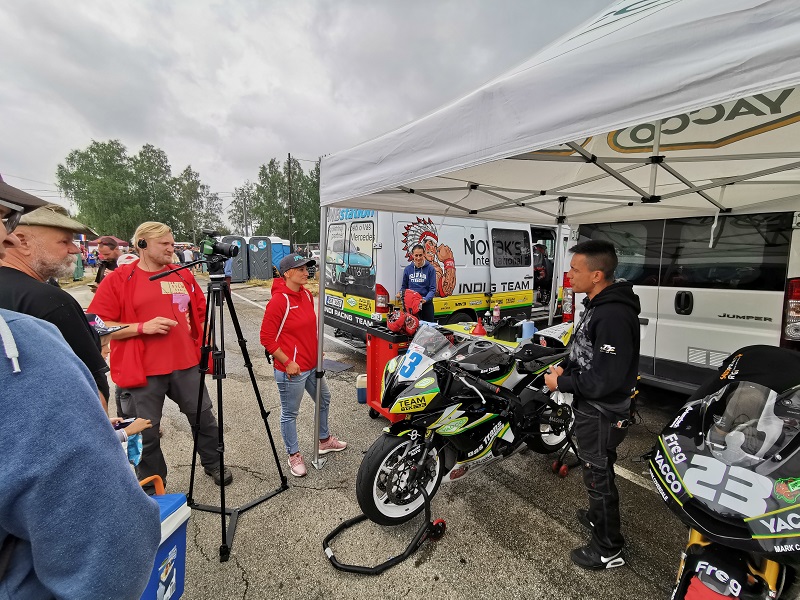 Michal Indi Dokoupil #23
"Zlatý Kahanec mám moc rád a rád se do Těrlicka vracím. Momentálně máme motorky v Irsku, a tak jsem byl rád, že se mohu svézt na 'Aruně' a hlavně si ještě zatrénovat takhle těsně před Ulsterem. Rád bych byl zase na bedně, a samozřejmě když to půjde, tak si zase zopakoval vítězství, ale je mi jasné, že to nebude jednoduché, protože konkurenti jsou výborní závodníci a pojedou na hodně dobré technice. Uvidíme po prvních trénincích, do kterých mámě z loňska alespoň nějaká data a představu s čím vyrazit."
Kromě Moto3 pojede Indi i na Yamaze R6, na které jel i letošní TT. Na Ulster se chystá i Veronika Hankocyová, která v Těrlicku nedokončila závod supersportů a musela ze 13.místa odstoupit kvůli technické závadě na dobíjení. Na Ulsteru pojede opět ve třídě UGP Supertwin v sedle Kawasaki, na které jela už loni a následně i Manx Grand Prix na ostrově Man, odkud si odvezla dvě stříbrné repliky Niké a také trofej za nejlepší ženský výkon.
Veronika Hankocyová #53
"Na Ulster se moc těším, je to jedna z mých nejoblíbenějších tratí, a i když často nevyjde počasí, moc ráda se svezu i na vodě. Loni jsme koupili supertwin na poslední chvíli přímo až na místě, který byl navíc tak trochu střep, ale byla to poslední šance, jak získat motorku na Manx GP, protože ostatní plány nečekaně padly těsně předtím. Přesto z toho bylo loni 16. místo a letos doufám samozřejmě v lepší umístění, aby se mi odjíždělo na Man s dobrým pocitem. Dostala jsem i nabídku jet za tým Magic Bullet třídu Supersport, ale v tuto chvíli je to proti pravidlům ManxGP, takže zůstanu jen u supertwinu, který je pro mě momentálně nejdůležitější."
Hned po Ulsteru nezbude moc času, a tým se po návratu domů bude muset znovu vypravit na ostrov Man, kde pojede nejen Veronika ve třídě MGP Lightweight dva závody, ale také Michal Indi Dokoupil v rámci Classic TT ve třídě Classic Superbike!