Malajský závodník Hafizh Syahrin zůstává v královské třídě MotoGP i pro sezónu 2019. S týmem Monster Yamaha Tech3 prodloužil smlouvu o další rok a zároveň se stává čtvrtým jezdcem KTM.
Zdroj: Tech3
Francouzský tým Monster Yamaha Tech3 s hrdostí oznamuje, že Hafizh Syhrin spolu s nimi otevře novou kapitolu v roce 2019. Poté, co do MotoGP naskočil na poslední chvíli prokázal, že má dobrou rychlost, výkon a je od začátku sezóny v boji o nováčka roku. V týmu nahradil nemocného Jonase Folgera a je vidět, že svou příležitost náležitě využil. V příští sezóně tak bude týmovým kolegou Miguela Oliveiry, ale se stejnou podporou, jakou budou mít tovární dvojice Pol Espargaro a Johann Zarco.
Hafizh Syahrin
"Je těžké tomu uvěřit. Nejprve chci poděkovat Hervému za to, že mi věřil a dal mi tuto příležitost zůstat s Tech3 a současně se připojit ke KTM. Chci také moc poděkovat mému manažerovi Datovi Razlanovi, který mi pomohl dosáhnout tohoto snu dostat se do třídy MotoGP. Navíc také děkuji KTM, že věřili Hervému i ve mě. V roce 2019 budu tvrdě pracovat a budu lépe připraven, protože to nebude sezóna, kdy jsem byl překvapen. Jsem neuvěřitelně šťastný, že jsem získal tuto šanci a nemám daleko k tomu, abych se rozplakal radostí. Všem děkuji, zejména Hervému a Datovi Ralanovi, kteří mi vždycky věřili."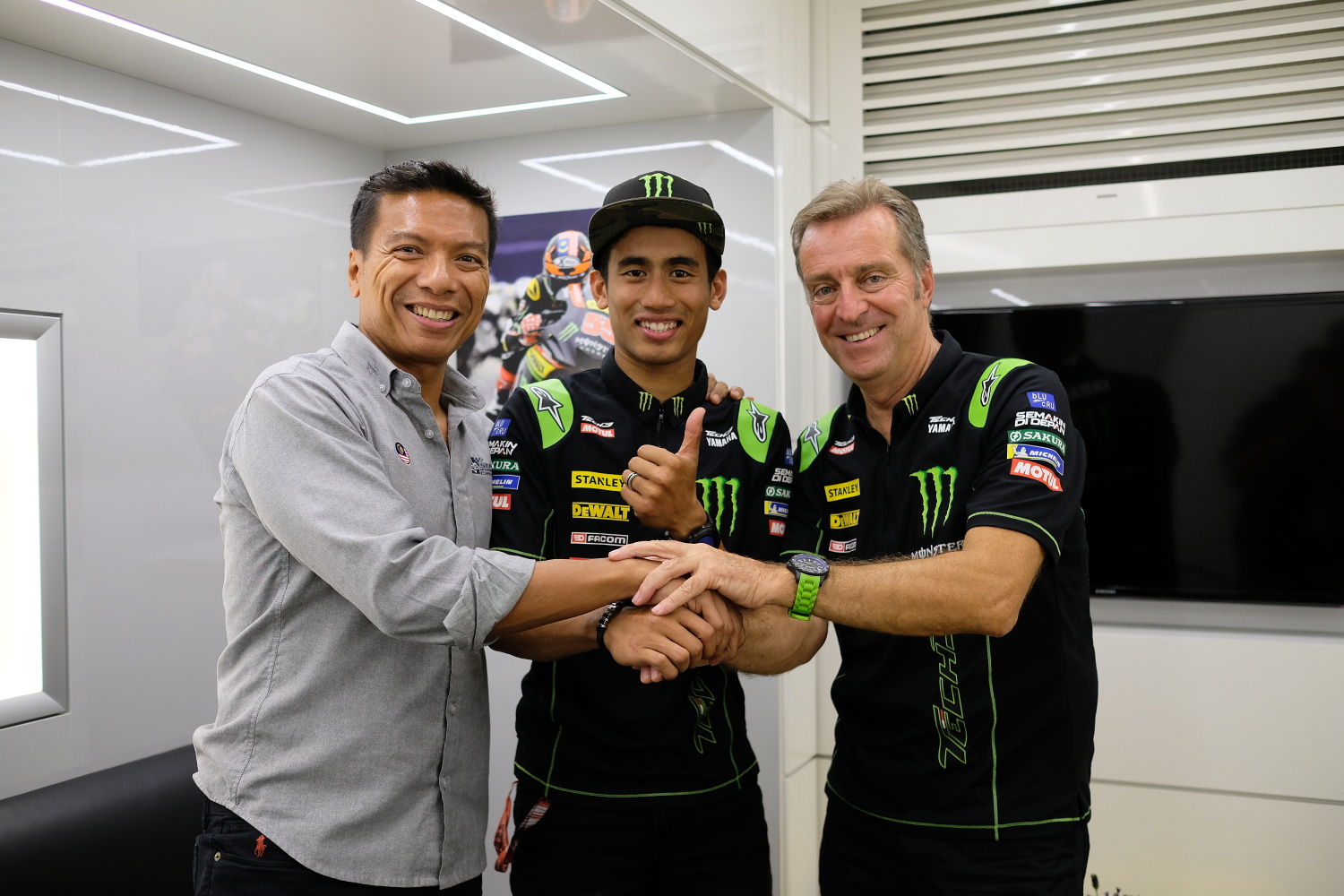 Dato' Razlan Razali – výkonný ředitel SIC (Sepang International Circuit)
"Jsem maximálně nadšený z toho, že Hafizh získal tuto příležitost jet v kategorii MotoGP i ve druhém roce. Musím opravdu poděkovat Hervému za jeho víru, kterou měl v tohoto kluka. Cesta Hafizha Syahrina do MotoGP je jako příběh z pohádky. Je to něco, co by mohlo inspirovat mladé Malajsijce. Když tvrdě pracujete, když jste trpěliví a soustředíte se, můžete dosáhnout svého snu a to je přesně to, co Hafizh dělá. Upoutal na sebe letos hodně pozornosti, zejména u Hervého, který mu nadále spolu s KTM věří. Moc si ceníme této podpory. Jako Malajsijec a také jako fanoušek jsem neuvěřitelně nadšený, zejména kvůli tomu, že Hafizh pojede tovární motorku. Je tovární jezdec a nyní můžeme často říkat, že máme malajského jezdce, který jel s tovární MotoGP. Jsme opravdu šťastní a těšíme se na to, až přijedeme do Sepangu a v roce 2019 oblékneme nové barvy Tech3 KTM."
Hervé Poncharal
"Dnes je to velice speciální den pro mě a celý tým Tech3! Od té chvíle, co Hafizh skočil na motorku MotoGP, to bylo jako sen, každý den, protože byl velice rychlý a mnohem rychlejší, než si někteří lidé mysleli a jsme na něj velice hrdí za to, co předvádí. Vím, že to byla pro malajského jezdce velká věc, když se jako první ze své země dostal do třídy MotoGP, odjel první závod MotoGP, získal body a od té chvíle pravidelně bojuje o titul nováčka roku. Kromě toho má Hafizh velice speciální charakter. Je velmi mladý muž, dobře vzdělaný, velmi pokorný, ohleduplný na všechno, tvrdě pracující a chce se toho hodně naučit, což právě děláme. Navíc je hodně vtipný kluk, ve skutečnosti ho mám hodně rád.
Všichni, kdo trochu znají Tech3, tak vědí, že můj tým funguje jako rodina a vždycky se snažím v garáži vytvořit rodinnou atmosféru. Hafizh do toho velice dobře zapadá a všechny rozesmívá. Už od prvního dne, kdy jsme s ním začali pracovat, jsem chtěl Hafizhovi nabídnout druhou sezónu, protože první rok je důležitý k učení, ale druhý rok je možná ještě důležitější, abyste se mohli ukázat.
Nyní se přesouváme k novému projektu s KTM, se kterou budeme mít na startovním roštu roku 2019 čtyři KTM ve stejné verzi. Bude to pro Hafizha obrovská podpora. Pojede na stejné motorce, jakou budou mít Miguel Oliveira, Johann Zarco a Pol Espargaro a to je velká výzva. Jsem velmi hrdý na společnou výzvu spolu s Hafizhem, který byl vždycky podporován Razlanem. Myslím, že jsme získali nejlepšího jezdce, jakého jsme mohli dosadit do našeho jezdeckého složení pro rok 2019. Jsem si docela jistý, že Miguel Oliveira a Hafizh Syahrin budou silným balíčkem nových talentovaných a ambiciózních jezdců. Dnes večer jsme šťastný tým, protože je všechno jasné a rozhodnuté, takže Hafizha vítáme do dalšího roku!"