Ve španělském Jerezu dnes byly na programu volné tréninky a kvalifikace. Filip Salač do zítřejšího závodu odstartuje z 28. místa a je odhodlaný zajet jak nejlépe to půjde.
Zdroj: TZ, Foto: Ronny Lekl (Redox Prüstel GP Team)
Závodníci mistrovství světa silničních motocyklů dnes pokračovali v programu čtvrté Grand Prix letošní sezóny. Na okruhu v Jerezu je dopoledne čekaly třetí volné tréninky, ve kterých se rozhodlo o postupu do druhých částí kvalifikací. Odpoledne se pak v kvalifikacích bojovalo o co nejlepší pozice na startovním roštu pro zítřejší závody. Podmínky na trati byly trochu chladnější, než během pátečních tréninků, kdy se teplota vzduchu pohybovala kolem 20°C a trati okolo 25°C.
Filip Salač začal ranní trénink s dobrými pocity a s týmem Redox Prüstel GP měli v plánu jen jednu zastávku v boxech. Nakonec musel zajet o chvíli dříve kvůli problému s motorkou. V tu chvíli bohužel došlo k nedorozumění, což ovlivnilo závěrečný výjezd na trať. Filip trénink ukončil s časem 1:47,824 na 28. místě. Hned po polední pauze se pustil do první části kvalifikace třídy Moto3, ve které i přes veškerou snahu zajel čas 1:47,999. To stačilo na 28. místo na startovním roštu, takže start z 10. řady. Filip je odhodlaný si zítra spravit chuť a zabojovat o mnohem lepší pozice.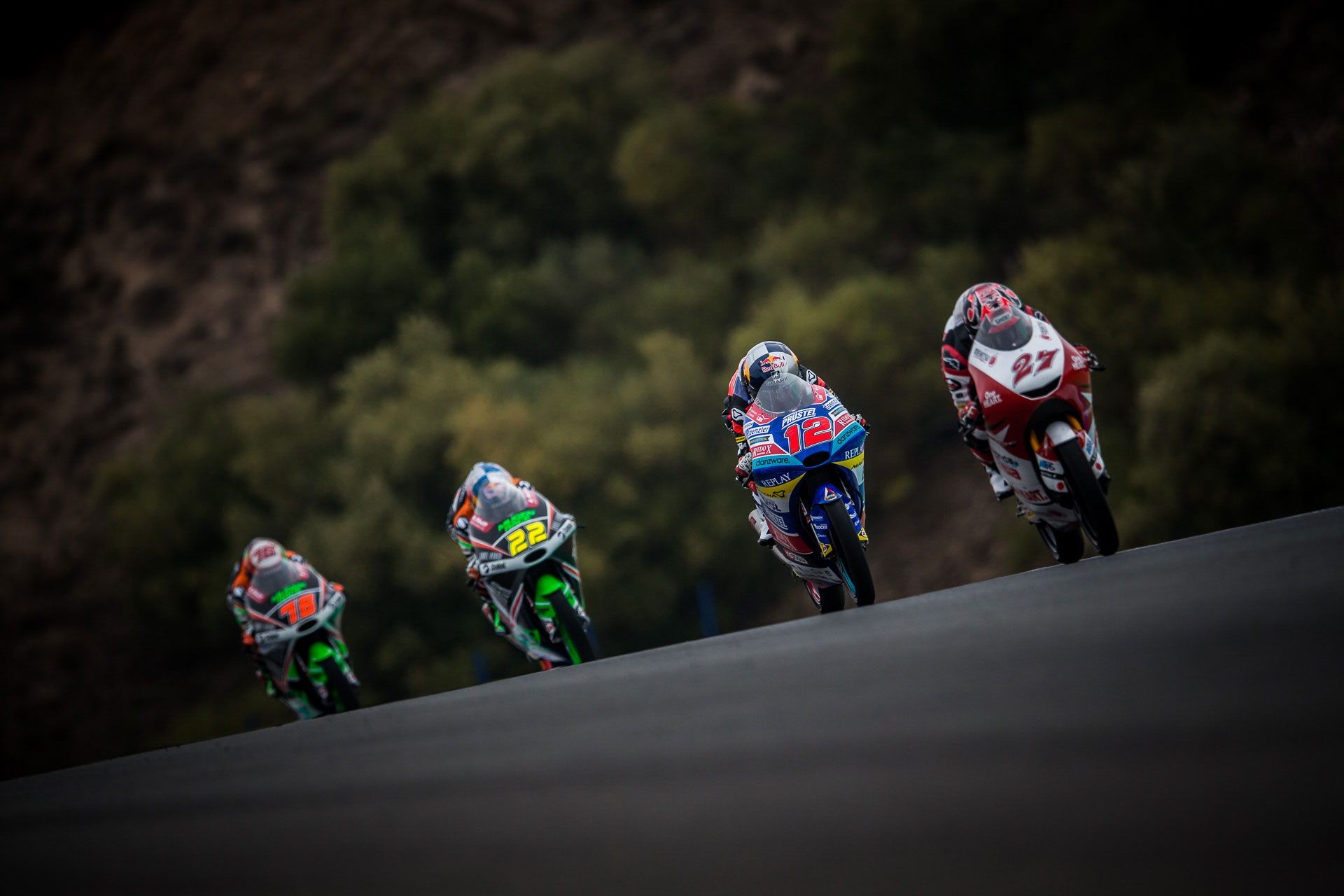 Filip Salač
"Ve třetím tréninku jsem nezačal vůbec špatně a byli jsme domluvení na jedné zastávce. Chtěli jsme zajet přibližně deset a osm kol. Kvůli problému v motorce jsem zastavil dřív. Řekli jsme si, že počkáme na posledních deset až dvanáct minut na ostatní a zkusíme ještě jednu změnu. S mechaniky jsme se špatně domluvili a ti mi v polovině tréninku vyměnili pneumatiky, které jsme měli pošetřit na závěr. Pokud bych v tu chvíli věděl, že mám nové pneumatiky, tlačil bych na to úplně jinak. Tyto pneumatiky mi zůstaly na motorce i do závěrečného výjezdu, kdy se nejvíce tlačí na časy. Na zajetí rychlého kola fungují maximálně dvě až tři kola, ale tyto měly odjetých čtyři nebo pět kol. Když jsem jel ve skupině, nemohl jsem se ostatních udržet a největší rozdíly byly hlavně na výjezdech ze zatáček. Kvůli tomu jsem přišel o zlepšení."
"V kvalifikaci jsem věděl, že musím hodně zatáhnout a dát do toho všechno. Všechno jsem do toho dal, ale nevyšlo to a ztráta je poměrně velká. Teď musíme najít chyby, které musím zlepšit já a co musíme změnit na motorce. Jak jsem říkal před víkendem, Jerez nemám moc rád a na Moto3 se mi tady moc nelíbí. Zítra dám do závodu všechno a doufám, že do ranního Warm Upu přijdeme na zlepšení. Děkuji všem za podporu."
Nedělní harmonogram třídy Moto3 Gran Premio Red Bull de España (časy uvedeny v SEČ):
Neděle 5. 5. 2019: Warm Up (08:40 – 09:00), závod (11:00 / 22 kol)