Filip Salač má za sebou nejlepší závod sezóny. V dnešním závodě Moto3 v holandském Assenu si připsal body za 14. místo, navíc byl stále v kontaktu s vedoucí skupinou a zajel čtvrtý nejlepší čas na kolo.
Zdroj: TZ, Foto: Ronny Lekl (Redox Prüstel GP Team)
V holandském Assenu se dnes odjela osmá Velká cena letošní sezóny mistrovství světa silničních motocyklů. Podmínky na trati byly dobré, když bylo 25°C a trať měla 38°C. Do závodu třídy Moto3 nastoupil Filip Salač, který neměl dobrou výchozí pozici. Jezdec týmu Redox Prüstel GP vše rychle napravil hned v úvodu závodu, kdy předjel několik jezdců. Kvůli několika kontaktům pár míst ztratil, ale nakonec je opět získal a v cíli byl čtrnáctý. Díky tomu zajel nejlepší výsledek tohoto roku a co víc, byl v kontaktu s vedoucí skupinou a na přední jezdce ztratil opravdu málo. O dobrém tempu svědčí také to, že zajel čtvrté nejrychlejší kolo závodu v hodnotě 1:42,704.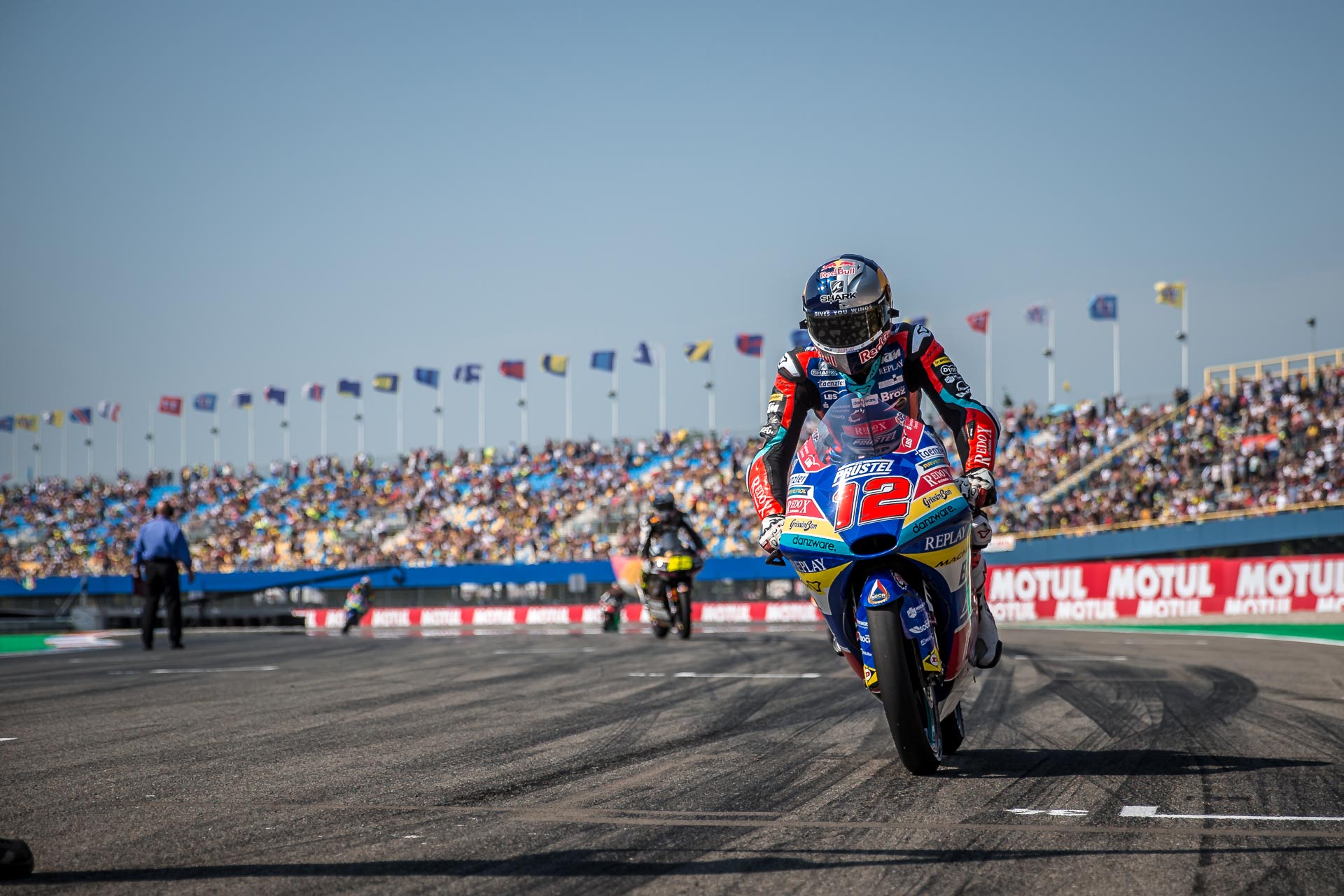 Filip Salač
"Dnes to pro mě byl nejlepší den z celé letošní sezóny. Jsem za to moc rád. Vše začalo již ráno ve Warm Upu, kde jsem zajel čtvrtý nejlepší čas, navíc jsem takových kol zajel více. Měl jsem dobrý pocit a věděl, že jsme dobře připraveni na závod. Do závodu jsem dobře odstartoval. V první zatáčce mi to vyšlo tak, že jsem jel z venku a předjel asi čtyři lidi, což bylo skvělé. Poté jsem předjel ještě další dva jezdce, ale v poslední šikaně mě jeden z jezdců vystrčil a nechtěně jsem to projel rovně, navíc jsem si ani nepomohl. V tu chvíli jsem začal přemýšlet nad tím, jak to bude dál, zda mám jet rovnou na penalizaci dlouhého kola, protože čím dřív, tím lépe. Kvůli tomu jsem se úplně nesoustředil na závod."
"Postupně jsem začal dojíždět jezdce před sebou, ale přišel další kontakt na výjezdu z páté zatáčky. Tam mi jeden soupeř drkl do řidítka a málem jsem spadl z motorky. Najel jsem na trávu, ale neubral jsem a jel pod plným. Protáčelo se mi zadní kolo, málem jsem spadl a ztratil pět pozic. Závod jsem nakonec dokončil čtrnáctý. Nejsem ani rád za toto místo, ale za to, že jsem se celý závod držel v první skupině a na vedoucího jezdce ztratil jen tři vteřiny a byl vteřinu od čtvrtého. Navíc jsem zajel čtvrtý nejlepší čas, takže mám opravdu radost. Děkuji všem za podporu a příští závod nás čeká na německém Sachsenringu."
Devátá Grand Prix letošní sezóny se pojede již příští víkend na německém Sachsenringu.