V posledním závodě mistrovství Španělska ve třídě PreMoto 3 potvrdil Filip Řeháček celkové skvělé umístění.
Zdroj: TZ
Mistrovství Španělska Campeonato de España Cetelem de Velocidad dopadlo pro českého závodníka Filipa Řeháčka, člena Brno Circuit Junior Racing Team, nad očekávání dobře. Na začátku sezony byly ambice zajet v jednotlivých závodech minimálně na body, po posledním závodním víkendu v Jerezu potvrdil Filip skvělým sedmým místem vzrůstající formu a udržel si celkové osmé místo.
Celý závodní víkend bylo hodně proměnlivé počasí a většina neměřených tréninků ve čtvrtek a pátek probíhala na vodě nebo na vlhké trati.
"V prvním tréninku jsme měli problémy a neobjel jsem prakticky žádné celé kolo. Po vyjetí z boxu jsem musel vždycky zpět, motorka nefungovala a měl jsem problémy s elektronikou. Kluci z týmu ale naštěstí na motorce zamakali a na druhý trénink už všechno fungovalo výborně. Ve čtvrtek i pátek se kvůli počasí nedaly zajet žádné rozumné časy. Ale vzhledem k předpovědi, která i na víkend hrozila deštěm, to byly aspoň dobré tréninky na vodě. Letos jsem měl jen velmi málo příležitostí tréninků na mokru, při posledních mokrých závodech mistrovství Evropy se mi sice podařilo zajet skvěle na body, ale chtěl jsem tuhle situaci využít k dalším najetým kolům," prohlásil v pátek Filip Řeháček.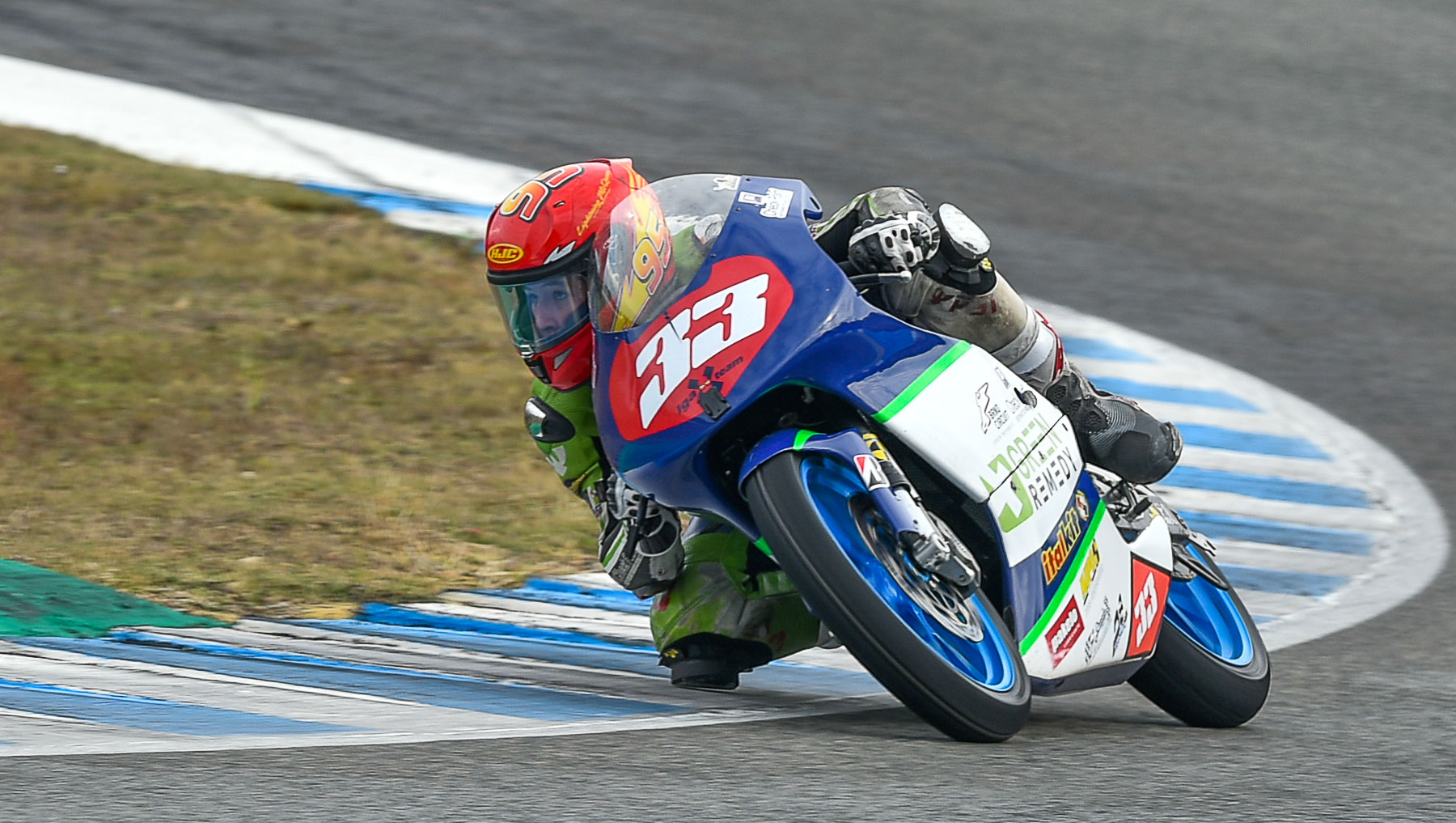 V první sobotní kvalifikaci, typicky pro tento víkend na mokru, si Filip vyjel slušné osmé místo, i když v jejím průběhu byl na průběžném šestém místě a tempo dávalo naději tuhle pozici udržet. V posledních dvou kolech ale někteří soupeři zrychlili, zatímco Filipovi nevyšel závěr posledního kola a snaha chytit se rychlejšího jezdce a využít jeho slipstreamu. Druhá kvalifikace se jela odpoledne za deště, a i když ji Filip dojel na parádním šestém místě, všichni jezdci asi o vteřinu zpomalili a v kombinovaném pořadí z toho pak bylo osmé místo z první, rychlejší kvalifikace a třetí řada na startu.
"S kvalifikací jsem i nejsem spokojený," komentoval své výsledky v sobotu Filip. "Šesté místo na vodě v druhé kvaldě je určitě skvělé, v té první, kdy byly o něco lepší podmínky, mě mrzí, že jsem na závěr nechytil žádného z rychlejších jezdců, abych využil jejich slipstreamu a o pár desetin si polepšil čas. I tak jsem s třetí řadou spokojený, všechno bude zítra o počasí, které může výsledkem hodně zamávat."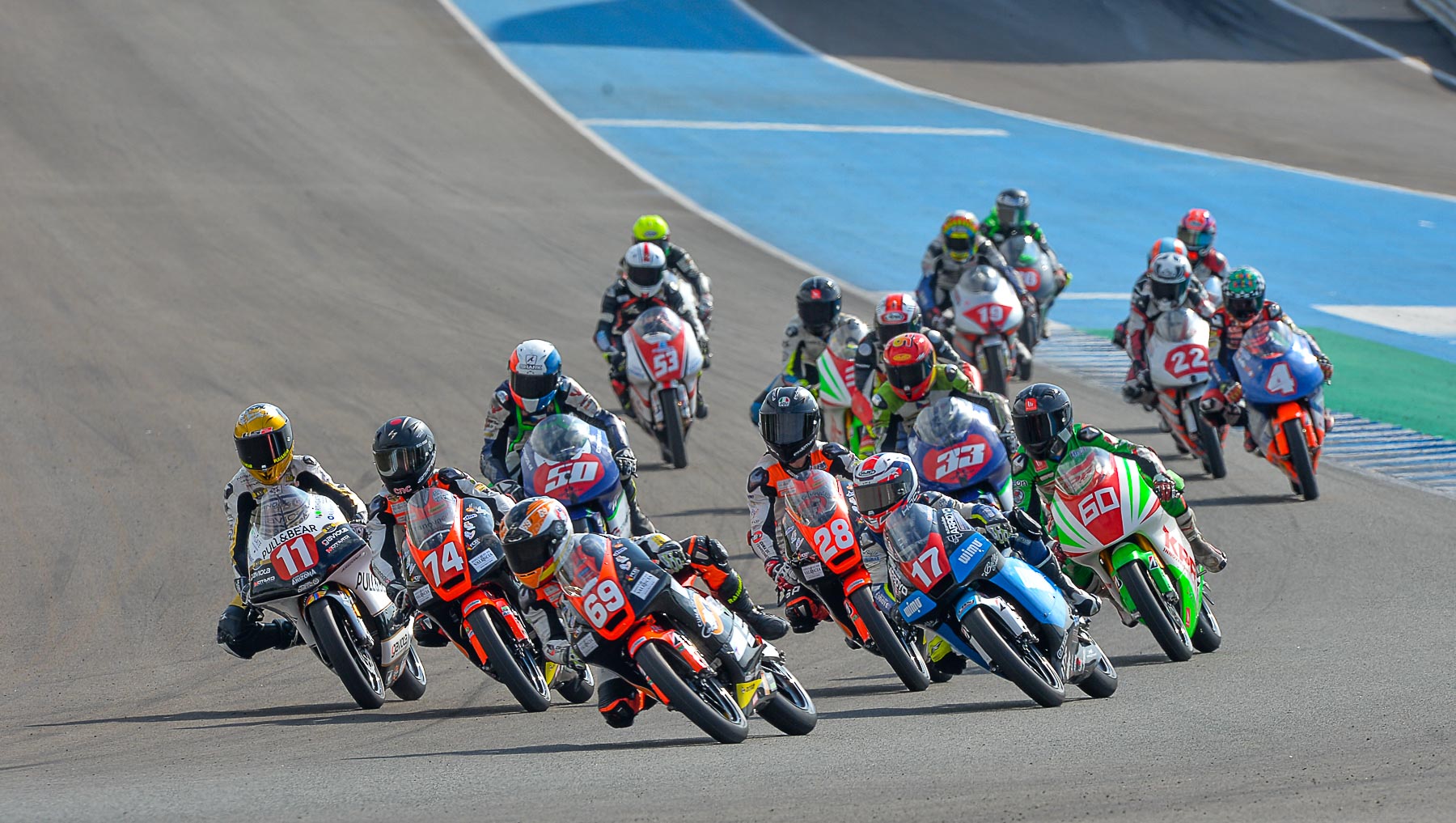 V neděli se počasí umoudřilo a na závod Filipovi kategorie PreMoto 3 byla trať prakticky suchá. Start se Filipovi podařil a v prvním kole se držel ve vedoucí skupince. Bohužel se mu nepodařilo rychle předjet před ním jedoucího závodníka.
"Po dobrém startu, kdy jsem se držel ve vedoucí skupince, začal Escrig přede mnou ztrácet s ostatními kontakt a skupinka se roztrhla. Nebylo lehké ho předjet, trvalo mi to dvě kola a až se mi to podařilo, byla už mezera moc velká a já musel bojovat sám bez výhody slipstreamu. Escrigovi jsem se trhnul, ale na dojetí vedoucí skupiny už to nestačilo. Zbytek závodu jsem si tak musel odbojovat sám. Sice z toho bylo na závěr slušné sedmé místo, ale byl jsem zklamaný, protože jsem cítil, že mám na to se špičkou držet krok," komentoval poslední závod letošního mistrovství Španělska PreMoto 3 Filip. "Rád bych poděkoval týmu i všem, co mě během této sezony podporovali. Na začátku byli moje ambice nižší, ale výkonnost celou sezonu postupně rostla a jsem moc rád, že se podařilo udržet výborné osmé místo. V první sezoně je to pro mě v tak silně obsazeném šampionátu vynikající výsledek."
Poslední listopadový víkend čeká na Filipa ještě jeden závod, tentokrát závěrečný podnik neoficiálního mistrovství Evropy FIM CEV Repsol European Talent Cup Moto 3 ve Valencii. V posledních dvou závodech tohoto seriálu Filip bodoval a ve Valencii chce svou dobrou formu ze závěru sezony potvrdit.