Mistrovství světa silničních motocyklů se s 16. Velkou cenou přesunulo do Japonska, kde se na okruhu Motegi rozjely první volné tréninky a jak to probíhalo?
Zdroj: MotoGP
Páteční program na okruhu Twin Ring Motegi začal prvními volnými tréninky, i když se tentokrát jelo v pozměněném harmonogramu a jezdci královské třídy MotoGP vyjeli jako poslední. Nejrychlejším z nich byl nakonec Fabio Quartararo ze satelitního týmu Yamahy, který den ukončil s časem 1:44,764, navíc s pěkným náskokem 0,321 s na dalšího jezdce na Yamaze Mavericka Viñalese. Celý den panovalo celkem dobré počasí, když bylo pod mrakem, vzduch měl 18°C a trať 21°C.
Za oběma jezdci Yamahy skončil letošní mistr světa Marc Marquez se ztrátou 0,336 s. Andrea Dovizioso a Valentino Rossi nakonec doplnili pětici nejlepších, takže Yamaha má v Top5 tři své jezdce. Do provizorní Top10 pro postup do zítřejší druhé části kvalifikace se ještě dostali Franco Morbidelli, Jack Miller, Danilo Petrucci, Joan Mir a Aleix Espargaro. Jen o 9 tisícin vteřiny dál skončil jedenáctý Alex Rins, který je zároveň posledním jezdcem do ztráty jedné vteřiny. Karel Abraham skončil na 16. místě s časem 1:46,576 a ztrátou 1,812 s. Jen Andrea Iannone a Mika Kallio si čas během odpoledne nezlepšili. V závěru dne spadl Jack Miller. Jemu se nic nestalo, ale motorka dopadla hůř.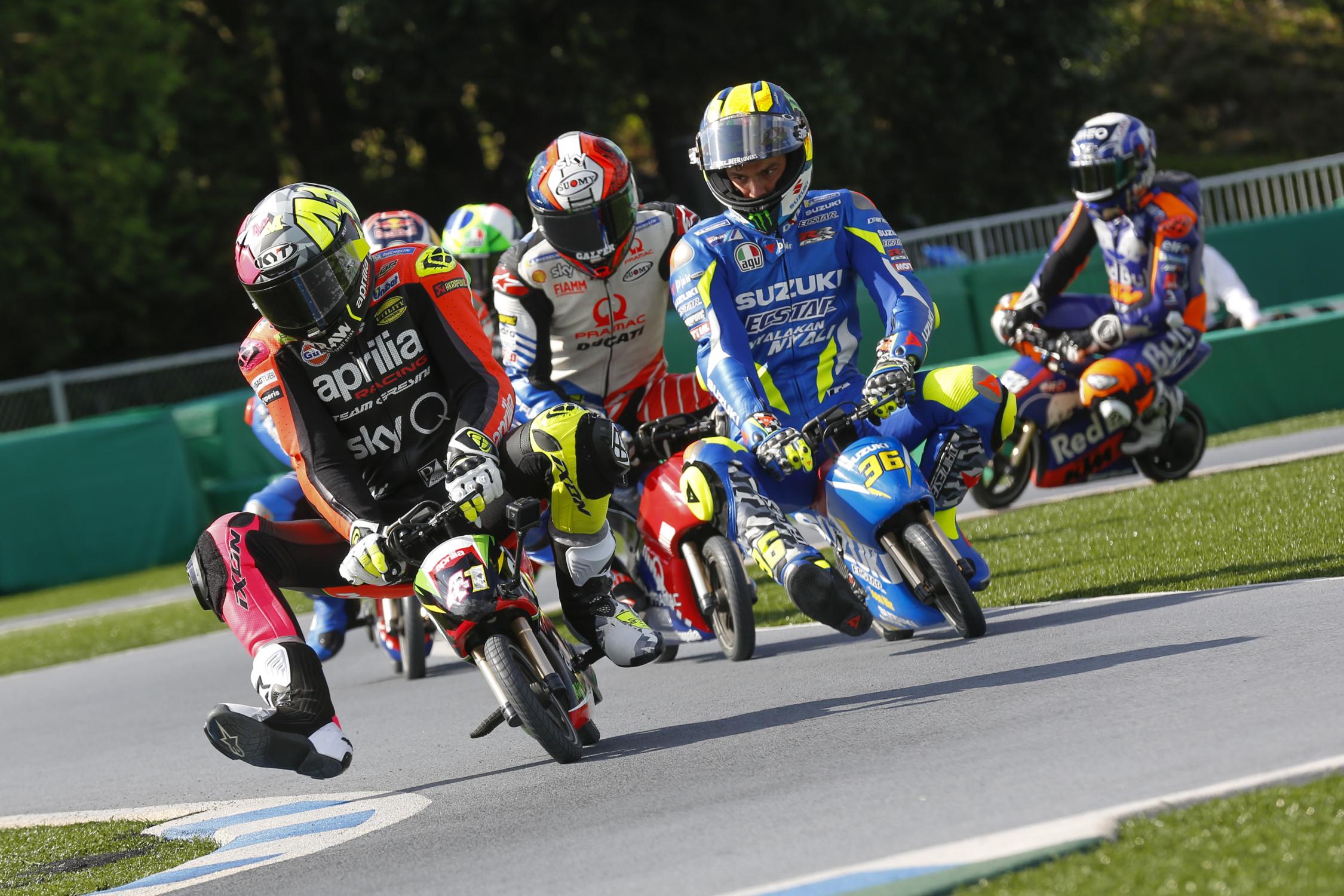 Fabio Quartararo
"Dnes ráno jsem měl problém najít referenční body, protože se tady v Motegi hodně tvrdě brzdí, což na poprvé nebylo jednoduché. Krok za krokem jsem našel svou stopu a poznal, kde se potřebuji zlepšit. Ke konci jsme odvedli úžasnou práci, nejen při útoku na čas na kolo, ale také v závodním tempu. Nicméně stále to může být lepší, pokud nebude pršet. Dnes jsme najeli čtyřicet kol. Čím víc toho uděláte, tím víc se toho naučíte a pokud bude dobré počasí, je jasné, že budu schopný jet rychleji. Pokud zítra nebude pršet, tak prostě pojedu a dám do toho všechno. Nemám moc zkušeností v MotoGP za mokrých podmínek, takže uvidíme, co se stane, ale už jsme se dostali do druhé části kvalifikace, takže můžeme mít za cíl se v kvalifikaci dostat do prvních tří řad."
Maverick Viñales
"Jsem opravdu spokojený. Dnes se cítím velice pozitivně. Na motorce jsme vyzkoušeli spoustu věcí, což je velice pozitivní, protože nevíme, jaké bude zítra počasí. Na motorce jsem se cítil opravdu dobře, jak v prvním, tak ve druhém volném tréninku. Nyní musíme udělat další krok, ale více mechanicky. Potřebuje poznat nejlepší možný způsob, jak se zlepšit. Zkusíme být rychlí na mokru. Obvykle to je jedna z našich silných stránek a obvykle býváme na prvních místech. Takže naším cílem pro zítřek je dostat se do první řady, i když bude pršet. Dnes jsem měl monitor, který ukazoval, jak je na tom mé srdce. Cítím, že moje srdce někdy tluče víc, hlavně při brzdění, kde mám nejvíce problémů. Když zajedete kolem deseti až jedenácti kol, začnete to cítit."
Marc Marquez
"Je skvělé být po Thajsku zpátky na motorce! Dnes to pro nás nebyl nejlepší den, protože nám něco chybělo a druhý volný trénink nebyl nejlepší trénink roku, ale pořád máme dobrou pozici a jsme blízko. V tuto chvíli se soustředíme na závodní víkend a pochopení několika myšlenek, které máme ke geometrii. Potřebujeme trochu víc poznat pneumatiky, takže doufejme, že zítřejší počasí bude dobré."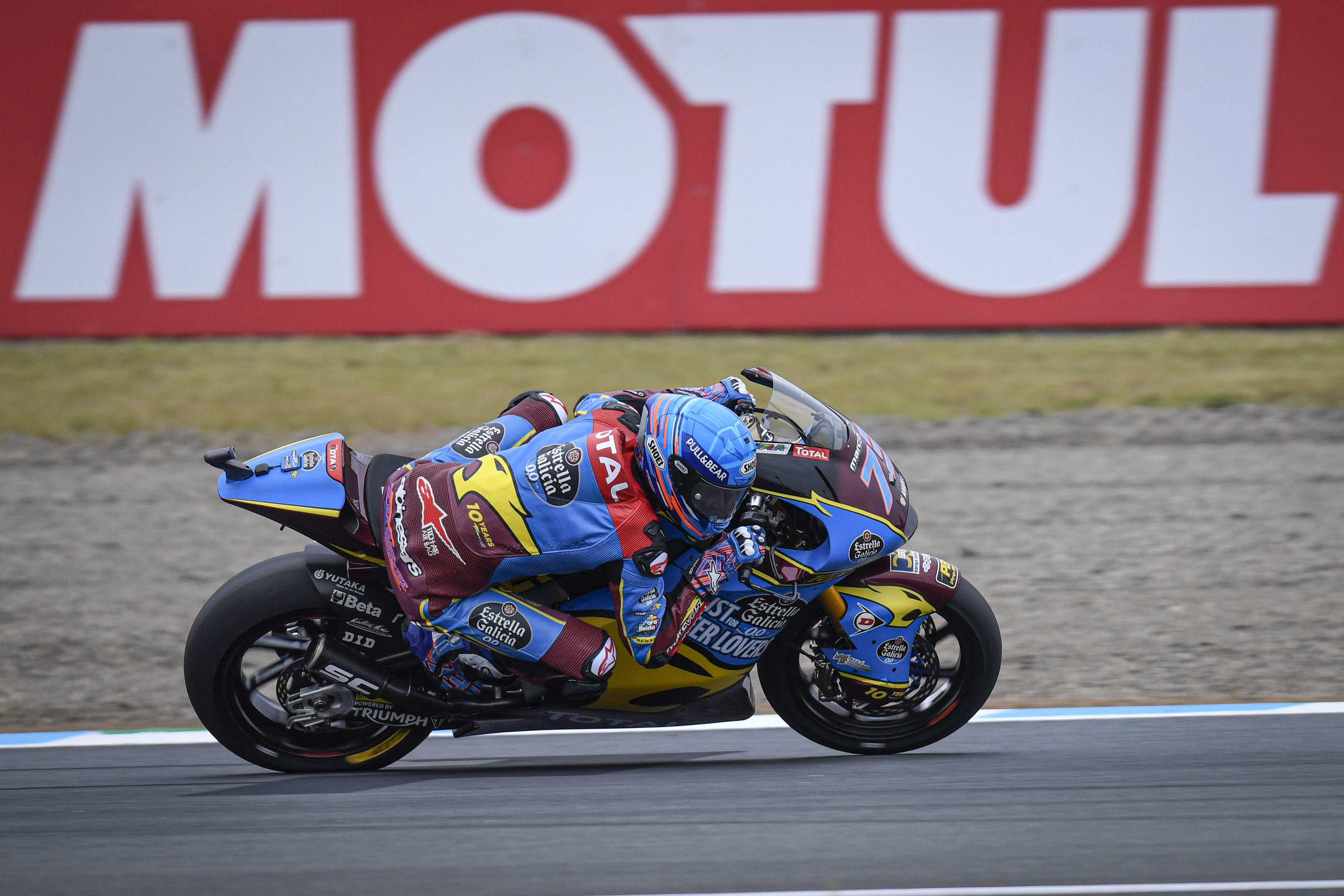 Ve střední třídě Moto2 zářil Alex Marquez, vedoucí jezdec šampionátu, který zajel čas 1:50,647. Se ztrátou 0,181 s za ním skončil Brad Binder s KTM a třetí skončil další jezdec na KTM Jorge Martin se ztrátou 0,254 s. Z vedoucí desítky se během druhého volného tréninku nezlepšil jen domácí závodník Tetsuta Nagashima, který v kombinaci časů skončil devátý.
V nejslabší třídě Moto3 byl dnes nejrychlejší Andrea Migno s časem 1:56,742. Jen o 0,097 s z ním skončil Marcos Ramirez a třetí byl John McPhee s rozdílem 0,135 s. Velice dobré tempo měl v obou trénincích Jakub Kornfeil, který nakonec obsadil čtvrtou příčku s časem 1:57,037 a ztrátou 0,295 s. Stejný čas jako Kuba zajel také Gabriel Rodrigo, který obsadil pátou pozici. Oproti Kubovi neměl dnes dobrý den jeho týmový kolega Filip Salač, který se zranil při těžkém pádu. Po velkém highsideru si zlomil malíček na pravé noze a navíc byl dost potlučený. Uvidí se, zda vůbec ještě nastoupí do další akce na trati.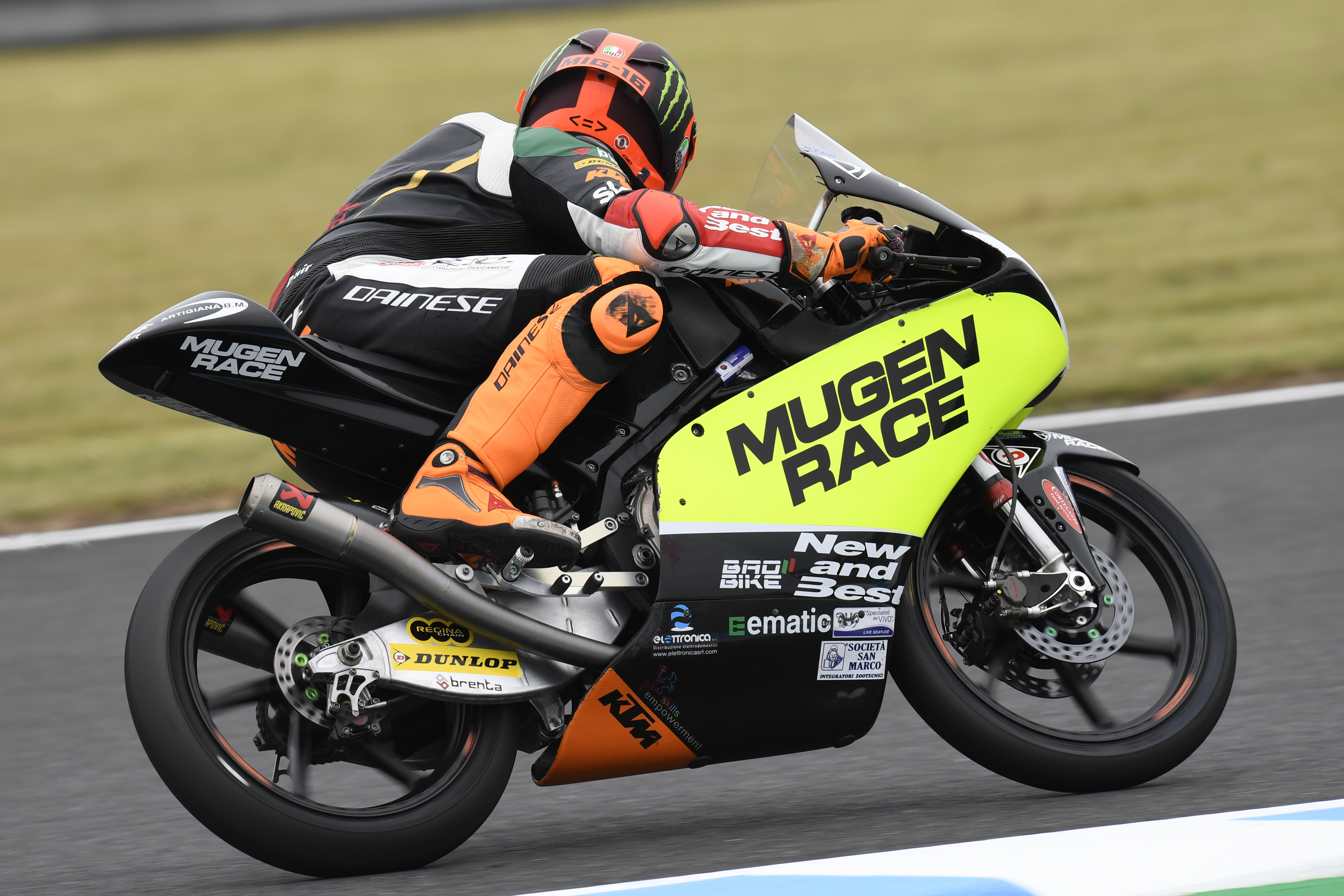 Kombinované časy pátečních tréninků třídy MotoGP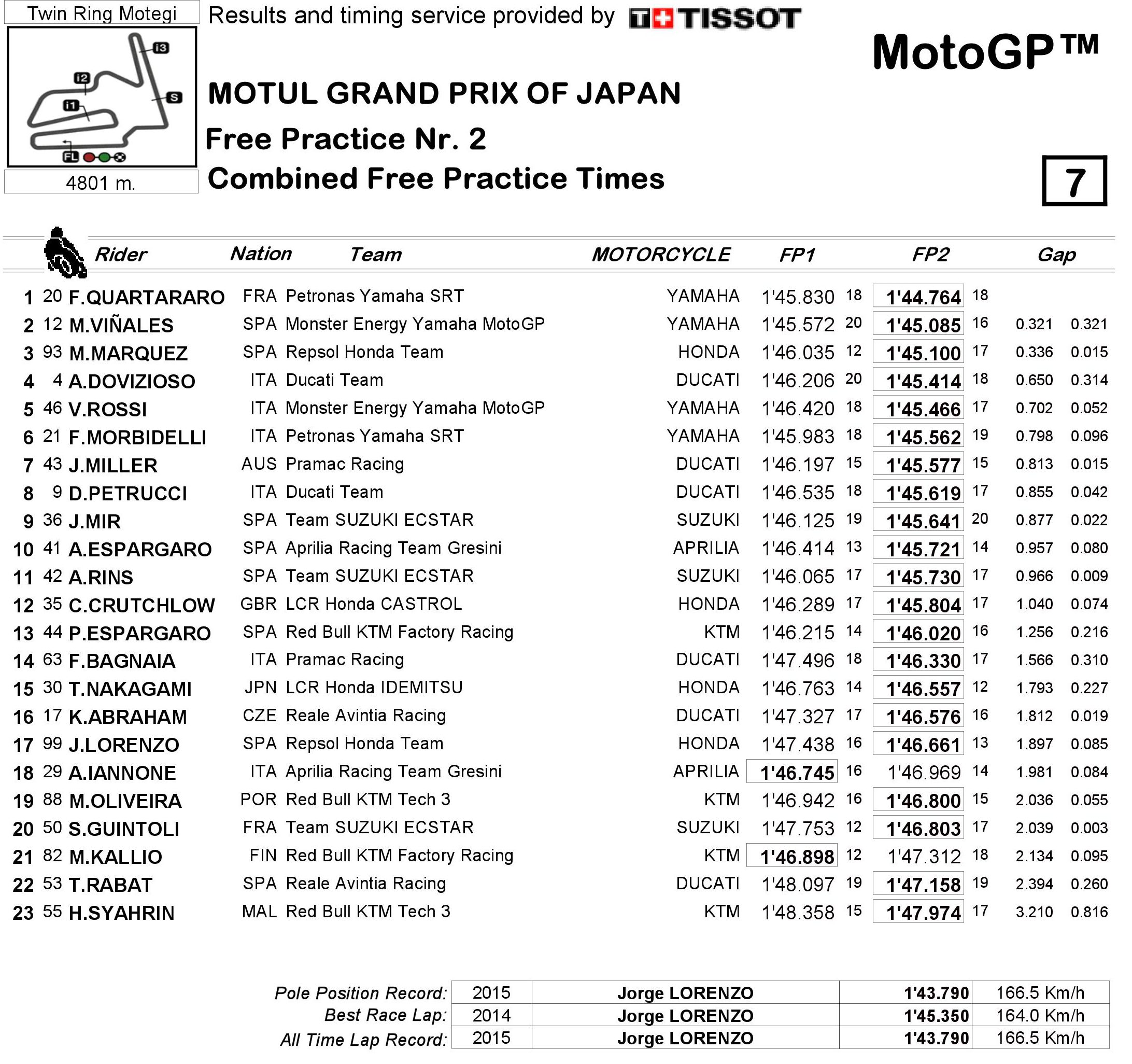 Kombinované časy pátečních tréninků třídy Moto2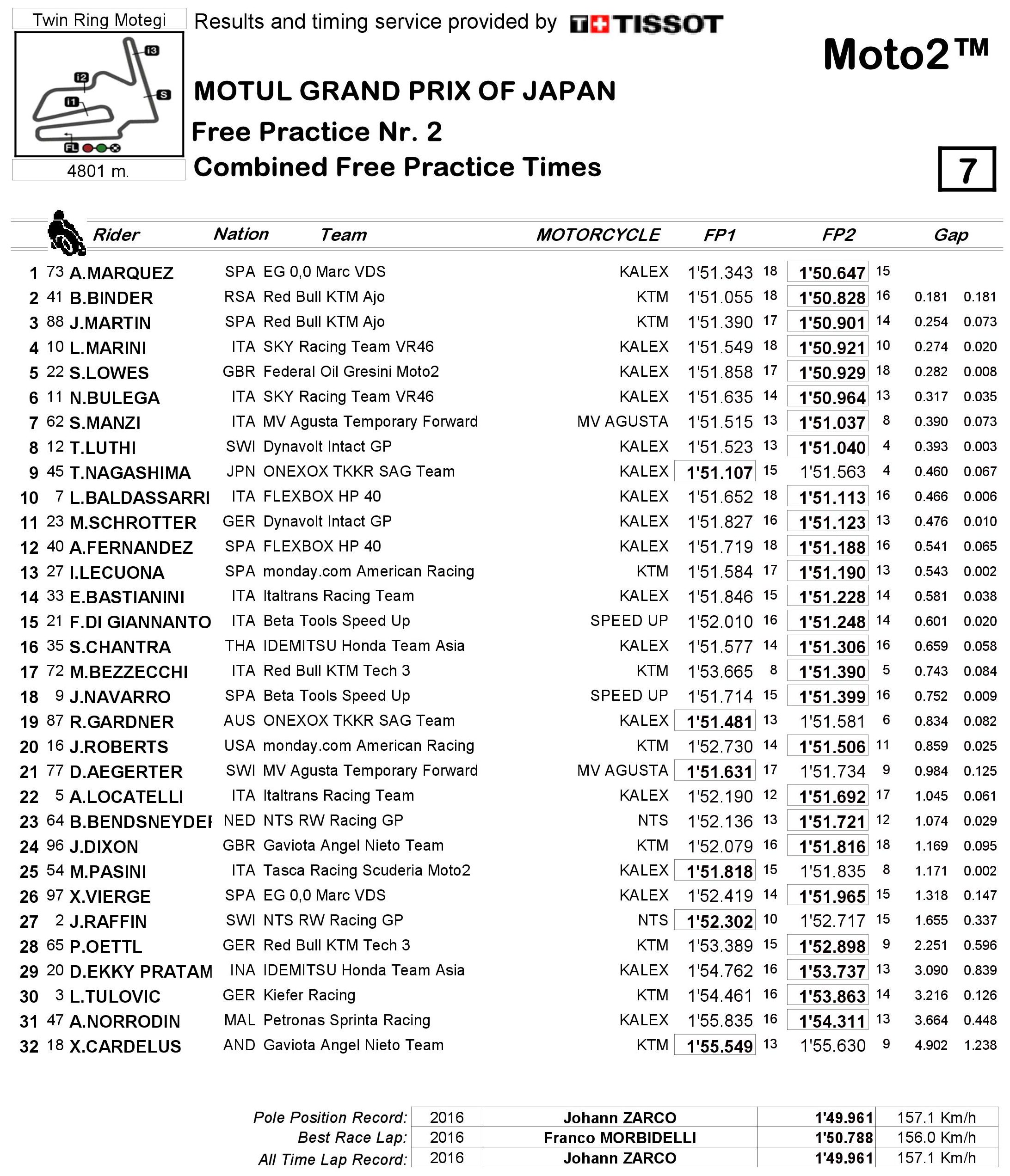 Kombinované časy pátečních tréninků třídy Moto3